Seismique Interactive Art Museum: Houston's Out-of-this-World Experience for Families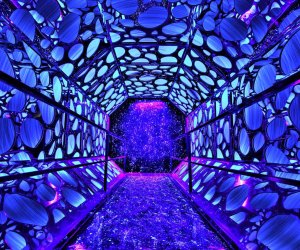 In what might be described as the inside of Dr. Seuss' imagination fused with Tron, with some added Bladerunner for a kick, Seismique is Houston's newest interactive museum, with enough LED lights to give Clark Griswald envy. Located in a massive former Bed Bath and Beyond space in West Houston, Seismique houses 40 state-of-the-art gallery exhibits and experiences designed by local and international artists. Even among Houston's many wonderful museums, this new addition stands out as a welcome distraction and escape from reality.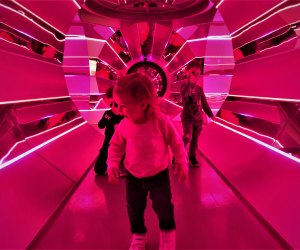 Traveling through the Wormhold, which is a hallway connecting galleries inside Seismique.
Inside Seismique and Its Immersive Exhibits
Similar to recent pop-up experiences Candytopia and Color Factory, Seismique describes itself as a museum but is more like a playground for the senses—wild colors and imagery abound in every room. But unlike other similar interactive museums and experiences that offer guests a linear path through their facilities, Seiemique lets visitors wander as aimlessly as they see fit. This is especially great for families with younger kids, because if they run through a room too fast, you can always revisit!
Inside the 40 galleries there are 9 million LED lights, more than 100 projectors, and immersive elements designed by 65 artists and craftspeople. You can choose to navigate this mystifying space with the Seismique mobile app, available on Apple and Android devices. The app includes a map of the facility on which you can actually control parts of various rooms, like lighting and sounds. For my family during our visit, however, we did not make much use of it, as the existing sensory overload was enough to keep everyone entertained.

In one room, pressing different buttons on the wall shoots a rainbow of colors and sounds in all directions.
We visited with my 6, 4, and 1-year-old kiddos, and it's hard to say who had more fun: the kids or their grandmother. The fact that we could take our time and there was not a worker present to push us along to the next space was welcome, as we often had to backtrack when the kids spotted a dazzling light display in the distance and ran past the current room.
One space called Venus features a massive crochet playscape. Yes, you read that right. I have never seen anything like it. We crawled through openings at the bottom to climb to the top while other guests were swinging from ball-like extensions below. I'm telling you, Dr. Seuss material right there.

Swinging in the crochet room
In the Acid Rain room, green LED lights shine down onto streams of water flowing from the ceiling, revealing one dry path around the edge of the room—or, if you are feeling brave, through the center. In another room, buttons line the walls at various heights and control the speed, direction, and color of lights shooting along the diagonal designs. In Eden, we walked through an extraterrestrial garden where every turn features a new glow-in-the-dark surprise.
Truly, every room holds surprises and visually stunning effects you'll want to devour. It was both mesmerizing and inspiring. You can also read the stories of Seismique's creators, 12 of which are Houston natives. Ultimately, it was an experience we will never forget and hope to visit again soon where we can discover new interactions and secrets to enjoy.

There is something different to discover in every room.
Tickets & the VIP Experience at Seismique
Buying tickets beforehand online is strongly recommended, to reserve a timeslot. Guests should arrive 15 minutes early. While the lobby of Seismique is fairly large, guests line up outside the building until it is their time to enter, so more than 15 minutes early isn't worth it.
Free parking is available, but leave the stroller in the car; strollers are not allowed inside, and there is no stroller parking on site. And just in case you were tempted: high heels are not allowed either.
The VIP Experience allows guests to enter at any time on the day of the ticket, and to skip lines at any queued attraction. VIP tickets also include food and merchandise discounts at the cafe and in the gift shop.

Before leaving Seismique, check out the intergalactic gift shop! These picked up some new alien friends to take home.
Tips for Families and COVID Safety
Masks are required for all guests over age 2.
Strollers are not allowed.
While the official policy is that large bags and purses must remain in your vehicle, you can bring in a diaper bag/backpack.
No outside drinks or snacks allowed. The visit likely won't last longer than an hour and a half, and there is a small cafeteria with light snacks and drinks.
Many of the rooms feature strobe-like effects, flashing lights, and sudden sounds. This may not be a good experience for sensory sensitive children.
The space is deep-cleaned each night.
Workers have their temperature checked, and capacity is limited.
Hand sanitizer stations are located throughout the museum.
Seismique is closed on Tuesdays.

All photos are by the author unless otherwise noted.