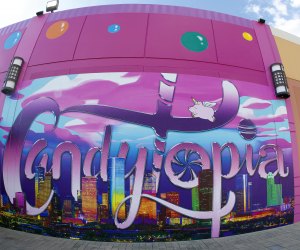 Inside Candytopia Houston: Is It Worth Visiting With Kids?
If you are looking for an air-conditioned summer escape, then YES - Candytopia is definitely worth the money. It's a one-of-a-kind experience kids of all ages will be talking about for the rest of the summer.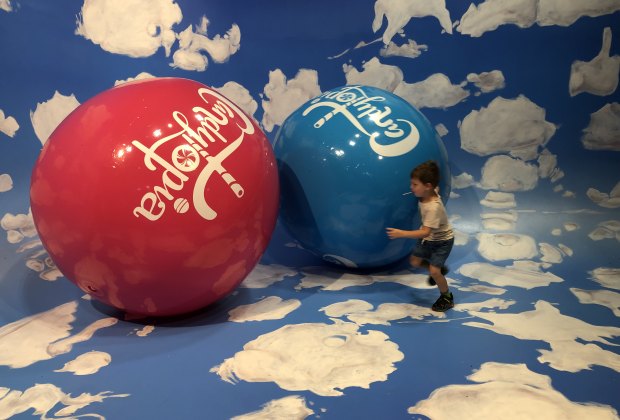 Having fun pushing around massive inflatables.
Candytopia may be a bit much for children who are easily overstimulated. Once we crossed through Candytopia's golden gates, we entered the first room to be greeted by lots of sounds (I think train whistles?) and staff. My 2-year-old immediately started bawling and both kids were covering their ears. We essentially ran to the second room, which was much quieter - the kids perked up and were enthralled by the room's centerpieces: a hanging cauldron filled with chocolate and a towering candy dragon.
Related: Indoor Fun Guide for Houston Families
If your kids can brave the first room's thematics, it's here where you learn the ropes of Candytopia from staff members. Candytopia has an app with the same name guests are encouraged to download to fully appreciate the experience. The app has an augmented reality function that makes some of the candy statues literally come to life. That lifesize candy dragon, when you view it while holding up your phone, breathes fire! The app also allows you to take advantage of the unique photo opportunities in some of the rooms. It generates a QR code you scan to save all of the whacky photos you can take, like this one of my kids and I: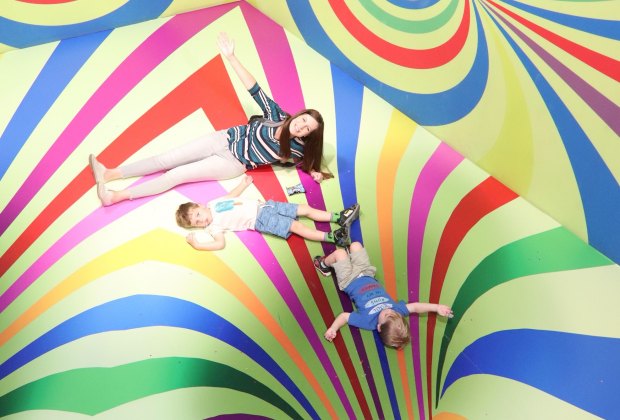 Ceiling cameras offer crazy angles.
Each of Candytopia's rooms has a distinct theme with decorations and interactive elements made entirely from candy. There are staff members dressed in Willy Wonka-esque outfits who offer to show you around and take your picure - lots of pictures. The price of admission essentially pays for a family photo shoot by the time all is said and done.
Teens will love the Instagram-able factor, and younger children will love the whimsy decor.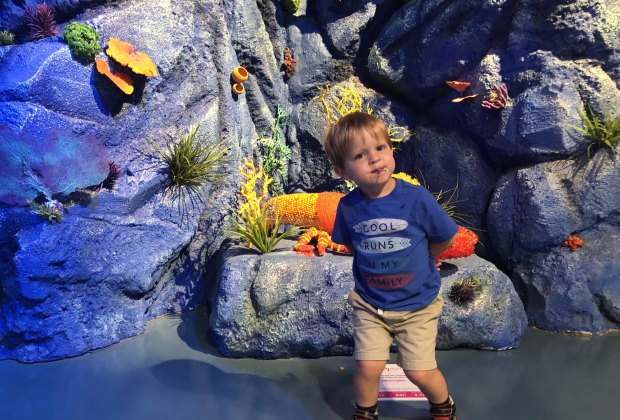 Exploring the candy-filled undersea wonderland.
And of course, there's all of the candy. While you can't actually eat the candy constructs (although my 2-year-old certainly tried), each room has a treasure basket of sorts filled with candy for the taking, from gummy bears to candy bracelets to pixi stix.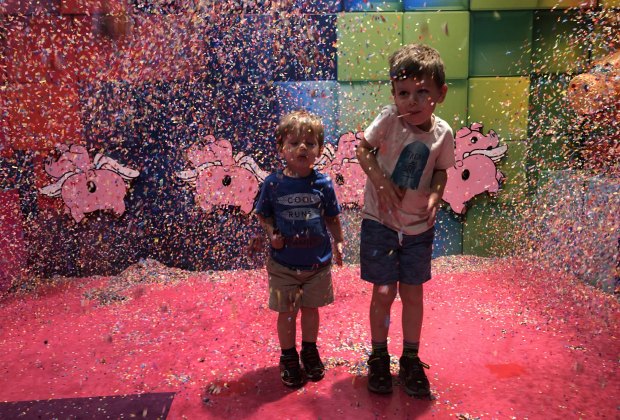 The 2-year-old wasn't sure how he felt about pigs "pooping" confetti.
The most fantstical rooms are the confetti room - where pigs "poop" out confetti and where you can take a selfie under a confetti shower - and the marshmallow pit, where you can swim through a massive pit of foam marshmallows.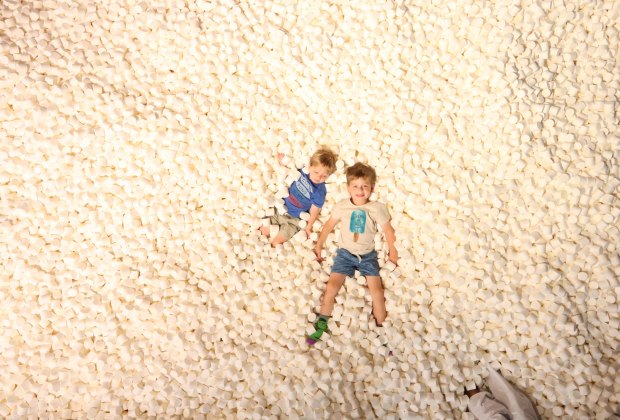 Marshmallow pit pic via another ceiling camera.
The marshmallow pit holds more than a quarter million foam marshmallows. That means if you lined them all up, they would stretch eight miles - one and a half times the size of Mt. Everest! There's also a chalkboard wall for entertainment while you wait to swim in the pit.
Candytopia, a product of TLC's "Candy Queen" Jackie Sorkin, has previously visited California and New York with more 2019 destinations scheduled.
Important details
Tickets will run you $30 for adults (a little steep, but this looks worth it), $23 for children ages 4-12, and free for children ages 3 and under.
If you arrive more than 30 mintues past your admission time, you will not be able to enter! Plan accordingly.
It takes about an hour to tour Candytopia (maybe add on some extra minutes if you have toddlers).
Strollers are not allowed.
Top photo courtesy Candytopia. All other photos by the author.