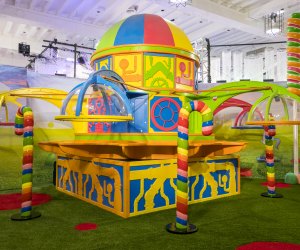 Kids Can Play in This Insane Candy 'Sanctuary' Coming to Houston This Summer
You read that right - Candytopia, a candy museum, sanctuary and interactive exhibit, is coming to Houston this summer. Kids of all ages will love this sugary experience, and it makes for an exciting indoor break from the excrutiating Houston summer heat.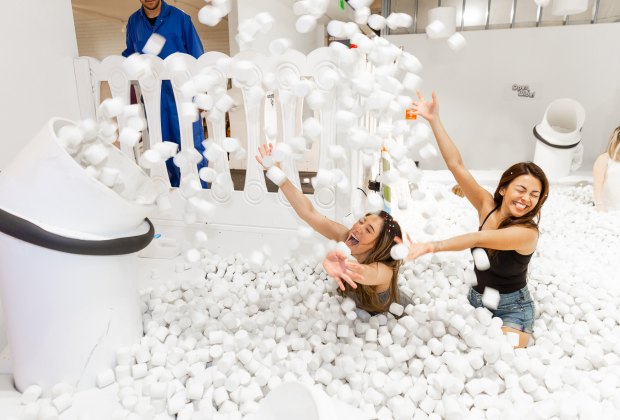 Playing in the marshmallow pit. Photo courtesy Candytopia.
Opening June 14, Candytopia is setting up shop at the Marq-E Entertainment Center through the end of the month and tickets are on sale now. The sweet exhibit has 14 rooms and environments where kids can explore or take selfies, which makes it appealing for toddlers who love bright colors and teens who love colorful Snapchat shots.
Touring the museum you'll be showered in confetti and get the chance to swim in a pool of hundreds of thousands of marshmallows. Who doesn't want to swim in a pool of marshmallows? Guests also get to sample candy.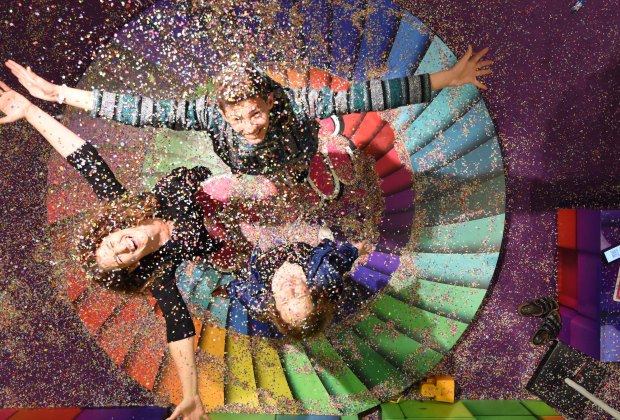 Showered with candy at Candytopia in Los Angeles. Photo by Roberta Brown/Mommy Poppins
The pop-up exhibit has already visited cities across the country. Our Mommy Poppins team in Los Angeles and New York highly recommend seeing Candytopia for yourself. According to our LA team, the tour begins in a hosted waiting area replete with selfie ops, where guests have an opportunity to sign up for a scan code, included with admission, that gives access to a few ceiling cameras located throughout the experience. Take a moment to sign up for the code to take advantage of photos you wouldn't get any other way.
And of course, photos are what this place is mostly about. The photo ops are phenomenal, and in every room there are attendants dressed like workers in the Wonka factory who are happy to take photos for you. You can collect so many fabulous family photos in an hour that the price of admission would be most fairly compared to a photo shoot; not only was this cheaper but it was more fun.
Important details
Tickets will run you $30 for adults (a little steep, but this looks worth it), $23 for children ages 4-12, and free for children ages 3 and under.
If you arrive more than 30 mintues past your admission time, you will not be able to enter! Plan accordingly.
It takes about an hour to tour Candytopia (maybe add on some extra minutes if you have toddlers).
Strollers are not allowed.