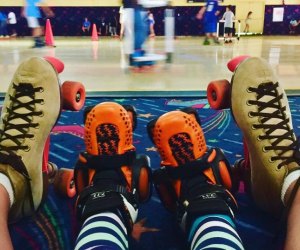 Retro Fun: Roller Rinks Around Houston
Being a child of the late 80s and early 90s meant I partook in a lot of awesome and awesomely horrible trends. Feathered bangs: check. Acid-wash jeans: check. Walkman: check. Roller skates and afternoons spent at the roller rink: check, check, check. While some of these things are now rightfully obsolete (feathered bangs and Walkman, I'm looking at you), some of them are making a resurgence in popularity. Acid-wash jeans: suddenly - and questionably - cool again. Roller rinks: ALL OVER IT.
Disco music, retro carpet, strobe lights, a smell that is entirely unique to roller rinks everywhere, and hours spent rolling in circles around the skate floor are making a BIG comeback, and there are a ton of roller rinks around Houston. Want to double down on your skating skills? Be sure to check out our list of Houston area ice rinks!
Inner Loop
Lockwood Skating Palace
3323 E Lockwood Drive, Houston
713-673-2232
Lockwood Skating Palace is committed to providing a safe environment for the whole family to enjoy, and to do so they offer not only a traditional skating rink but also a skate floor just for the kids. Everyone can agree that good music makes the atmosphere on the skate floor, and Lockwood guarantees all R&B and old school music that's appropriate for kids of all ages. Birthday party and special event packages are available as well.
North & East Houston
Skate Champions
5504 Fellowship Lane, Spring
281-370-0750
Public skating throughout the week, party times available Thursday through Sunday for a roller world of fun, daycare group field trips on weekdays, and group classes to learn the basics and refine your rolling skills on Saturday mornings make Skate Champions your one stop shop for skating fun.
RELATED: Indoor Fun Activity Guide for Houston Families
Great Time Skate
14417 Aldine Westfield Road, Houston
281-442-0720
Looking for an active outing for the family? Look no further than Great Time Skate. You won't just be spinning your wheels here; in addition to open skate time, there are also family activities, games, and prizes. The roller rink is reserved for private parties Monday through Wednesday and open to the public Thursday through Sunday with a dedicated Family Night on Thursdays.
The Skate Machine
13831 Longview St, Houston
713-451-4185
The Skate Machine promises to give you an unparalleled skating experience, whether you're rolling into the rink for open skate, having a party or taking a field trip. Live music from the DJ, games and a light show that's touted as the best make every night at The Skate Machine one for the books.
Northwest Houston
Bear Creek Roller Rink
5210 Highway 6 N, Houston
281-463-6020
Twenty five years in business are a testament to this skating rink's popularity, making it a top contender for places to visit when you want to skate. First time testing out the wheels? Roll out on Cheap Skate Sunday, where you can enjoy five solid hours of skating for a discounted admission. Specials also run on Tuesday and Friday nights and on Super Saturday, and both birthday and private parties can be booked at the rink.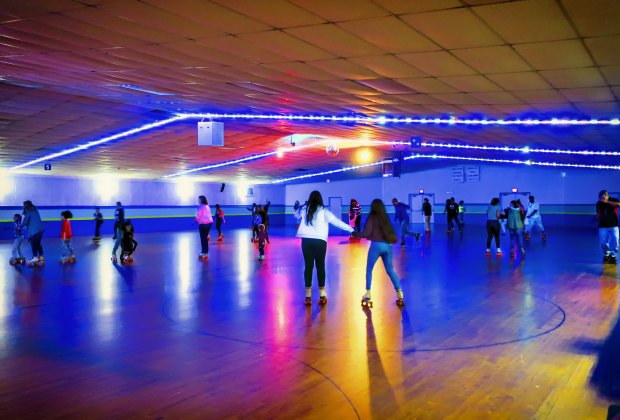 Flashing lights and a full floor make for a night of skating fun/Photo courtesy of Flickr
Southeast Houston
Houston Just Rolling Skating Rink
7505 S. Sam Houston Pkwy East #B, Houston
713-991-0284
New to the skating scene, Houston Just Rolling Skating Rink opened its' doors in 2016 with a passion to share the owners' love of skating, and it's not unusual to see the owners skating circles around the skate floor throughout the week! Classes, parties and group discounts are available, and there's always a fun event on the calendar, so be sure to check ahead of time to see what's in the works.
RELATED: Top 5 Places to Go Bowling in Houston
Skate World
Two locations in Deer Park and Pasadena
There's always something fun happening at Skate World, such as Cheap Skate Tuesdays and Praise and Worship Thursdays, Jamtastic Fridays and Discount Sundays. You can also book birthday parties and group events, take lessons - both group and private, host a FUNdraiser at the rink, or book a field trip for your school or daycare.
Alvin Skate-and-Party
1701 TX-6, Alvin
281-756-0507
Skate your sillies out at Alvin Skate-N-Party. You can spin around the rink during public skate, host your birthday party on the skate floor, watch a game of Roller Derby, and even attend a lock-in complete with games, a movie on the big screen and all the skating you can handle.
Southwest Houston
FunPlex Amusement Park
13700 Beechnut St, Houston
281-530-7777
Recently renovated, FunPlex Amusement Park is the ultimate event destination, offering patrons access to a state of the art roller rink, bowling alley, go-karts, video and arcade games, rides and even an indoor "playport" for the kids. With something for everyone, you definitely won't be hearing any "I'm bored!" cries when you're here.
West Houston
Mason Road Skate Center
535 Applewhite Drive, Katy
281-392-9555
From Cheap Skate Night every Wednesday to All You Can Eat Pizza Night every Saturday, there's always an event worth attending at Mason Road Skate Center. You can also book both birthday parties and private parties, as well as skate lessons for everyone from the beginner to the most advanced competitive skater. Want to save a buck? Be sure to snag a $1 off coupon valid on Saturdays and Sundays from the website!
Dairy Ashford Roller Rink
1820 S Dairy Ashford Road, Houston
281-493-5651
This family-owned business isn't just a roller rink, but also an entertainment center parents are sure to want to bring their kids. In true family-oriented fashion, the rink is open to public and private parties, offers specials for summer daycares and camps, opens its' doors to school field trips, and even has Toddler Skate on Friday mornings.
RELATED: Fun Indoor Play Spaces in Houston
Kingdom and Wheels
25757 Westheimer Pkwy #190, Katy
832-437-7039
Kingdom and Wheels is more than just your average roller rink; run by parents of three who know the importance of keeping kids engaged, the skate center also has an indoor playground and arcades, guaranteeing hours of uninterrupted play. The facility is open daily and offers open play, skate lessons, party packages and even Kingdom and Wheels VIP memberships.
Top image: Family skate at Dairy Ashford Roller Rink/Photo courtesy of Dairy Ashford Roller Rink