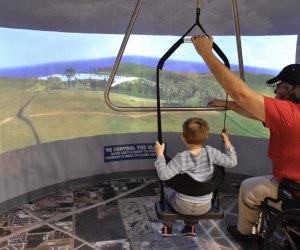 What's Open in Houston for Kids Right Now
We're open! Kind of. By now we've all heard and mourned the news of Rodeo officially deciding to shut down this year, which raises all sorts of questions about other openings and subsequent closures, especially as businesses open their doors and then have to backtrack. To help mitigate that, we've rounded up everything we can find that's open in Houston right now, from playgrounds to museums to entertainment and more, to help take the guesswork out of where to go and what to do.
We've all learned how much things can change without notice, of course, so please double check before loading the car. But one thing we can't stress enough: these businesses need our help! If you can safely support them, we know they will be forever grateful.
While we are trying to promote safer activities that occur outdoors or with social distancing guidelines in place, please keep your family and others safe by always wearing a mask and maintaining appropriate distance. If you arrive at an event that appears too crowded try using the "nearby" search feature on our event calendar to find something else to do. Note that some photos in this post were taken prior to the pandemic.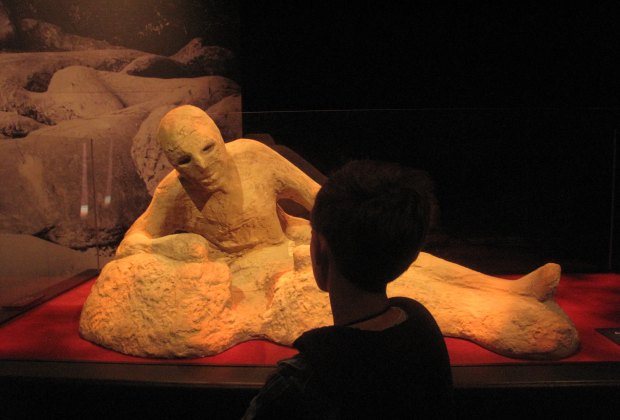 Houston Museum of Natural Science debuts Pompeii: the Exhibit this month. Photo by Roberta Brown
Museums & Art Centers in Houston that Are Open
Seismique Interactive Art Museum
Houston's newest interactive art museum, which immerses visitors in the art exhibits, is open for self-guided tours. Masks are required for anyone 3 years of age and older, and the museum is operating at limited capacity.
Galveston Children's Museum
The museum is open at significantly reduced capacity. Visitors must purchase tickets in advance, and visits are limited to two two-hour visit times per day. Everyone 5 years of age and older does need a mask to enter the museum.
Lone Star Flight Museum
The Flight Museum has been cleared for take-off (or just for visitors) and is operating at a 25% capacity, four days per week (Thursday through Sunday). Everyone over the age of 10 is required to wear a mask while on the premises.
Space Center Houston
Prepare for blast-off, because the Space Center is open with new exhibits and outdoor experiences to help facilitate safe visits. Admission tickets are timed, capacity is reduced, and guests ages 2 and older need masks.
The Houston Museum of Natural Science
HMNS is open at 50% capacity, and masks are required for guests over the age of 10. It is strongly recommended that you purchase entrance tickets online in advance.
San Jacinto Museum of History
The historic battleground museum is open Friday through Sunday. Visitors ages 5 and older must wear masks while touring the exhibits.
The Health Museum
Anyone over the age of 2 must wear a mask while touring the Health Museum. The Museum is open at reduced hours and capacity and is closed on Mondays.
The Museum of Fine Arts
MFAH has reopened its doors to the public. Face masks are required for visitors over the age of 2, and purchasing advance timed tickets is strongly recommended. The MFA Café is closed at this time.
The Woodlands Children's Museum
Children can revel in the wonders of The Woodlands Children's Museum again, just at reduced hours and capacity. The Museum is now open for timed admission Wednesday through Sunday. Advance tickets are required, and masks are needed for anyone over the age of 10. (We recommend heading over February 16 for Mardi Gras!)
Ocean Star Museum
The Ocean Star is welcoming visitors back five days a week (Thursday through Monday). Face masks are required for everyone above the age of 4.
You can tour the Bryan Museum Wednesday through Sunday. Visitors over age 10 must wear masks.
Galveston Railroad Museum
All aboard! The Galveston Railroad Museum is now boarding passengers daily. Museum tickets can be bought online in advance.
The Menil Collection
Exhibitions are open at the Menil Collection, and admission is still free. Just reserve your timed entry ticket prior to visiting and wear your mask when you get there.
Houston Center for Photography
Visitors are welcome in the Houston Center for Photography gallery once again, though right now it's at 50% capacity and by appointment only. Admission is still free, and anyone over the age of 2 needs a mask.
Houston Museum of African American Culture
You can tour HMAAC for free Fridays and Saturdays, by appointment only.
Asia Society Texas
Admission to Asia Society is currently free, though onsite programming is currently suspended. Guests over the age of 10 need masks, and capacity is capped at 25 guests to the Louisa Stude Sarofim Gallery at any given time.
Czech Center Houston Museum
Visit the Czech Center Monday through Saturday. Tickets can be purchased ahead of time online, or bought at the door.
Holocaust Museum Houston
While in-person, docent-led tours are currently unavailable, visitors can partake in virtual tours, audio guided tours, and self-guided tours. Face masks are required for all Museum visitors over the age of 10, and capacity is capped at 75%.
Buffalo Soldier National Museum
The Museum is open and operating at 25% capacity. Masks are required for guests over 2 years of age.
Rienzi
Visits to the house and art collection are by advance ticket purchase only and are self-guided. Cell phone audio tours and maps are available. Rienzi is open Wednesday through Sunday. Masks are required.

Photo courtesy of The Houston Zoo
Places In & Near Houston Where Kids Can See Animals

Challenger Seven Memorial Park. Photo by Ashley Jones
Parks and Playgrounds Are All Open in Houston
Beaches and Piers in Houston—What's Open?

Indoor fun at We Rock the Spectrum. Photo courtesy of the venue
Entertainment Now Open in Houston

Photo courtesy of Sheldon Lake State Park & Environmental Learning Center
Outdoor Activities & Hiking Trails for Families in Houston
Fishing
All local lakes and ponds are open for fishing; just make sure you have your fishing license if you're older than 17.
Galveston Island State Park
The bay-side area of the State Park is open at a reduced capacity, however the beach side area of the park is closed to all visitation until 2022 due to renovations.
Houston Arboretum and Nature Center
The trails at the Arboretum offer an immersive nature experience that allows for inherant social distancing. The Nature Center and Nature Shop are open; however only 20 guests are allowed inside the Discovery Center at once, and only 5 guests are allowed inside the shop at once. The Nature Playscape is still closed until further notice.
Hiking
Hiking is a go in Houston, and these hiking trails are some of our favorites for getting outdoors and active in a socially distant way.
Bike Trails
Another favorite activity for families in Houston: family bike rides! These trails are all open for biking.
Brazos Bend State Park
From nature walks to alligator sightings, Brazos Bend offers the ultimate outdoor experience, both for the day and for overnight camping. Online reservations for day passes and overnight camping trips are required.
Horseback Riding Lessons
Saddle up! These Houston area horseback riding locations are open and ready for young riders. Be sure to check each location for their specific Covid-19 safety measures.
Farm Fresh Outings for Families in Houston
Old MacDonalds Farm
Get up close and personal with animals, take train and pony rides, play volleyball and tetherball, and more at the Old Macdonalds 15-acre, outdoor farm. The farm is open daily. Masks are required.
Blessington Farms
Opening day for Farm Funland is February 20, 2021, and berry picking is opening again soon as well. The farm is open Saturdays and Sundays.
7-Acre Wood
7-Acre Wood's outdoor park is open daily and is home to playgrounds, a petting zoo, and lots of outdoor activities. We recommend checking Facebook prior to going for the most up-to-date hours of operation because inclement weather can cause park closures.
Local Farmers Markets
Farmers markets throughout the Houston area are open and offer the perfect way for Houstonians to support local businesses.

Armand Bayou Nature Center. Photo by Ashley Jones
Gardens & Nature Centers That Are Currently Open In Houston
Nature Discovery Center
The nature park, including all nature trails and the outdoor Critter Classroom, is open from dawn to dusk. The Center building and Discovery Rooms are closed to the public until further notice.
Houston Arboretum and Nature Center
The trails at the Arboretum offer an immersive nature experience that allows for inherant social distancing. The Nature Center and Nature Shop are open, however only 20 guests are allowed inside the Discovery Center at once, and only 5 guests are allowed inside the shop at once. The Nature Playscape is still closed until further notice.
Armand Bayou Nature Center
The walking trails at the Nature Center are open; however all buildings and water fountains remain closed.
Mercer Botanic Gardens
More than 60 acres of maintained gardens, an arboretum, picnic areas, playgrounds, and more make the Mercer Botanic Gardens an outdoor destination every family member can enjoy. You can even find children's storytime on the first and third Mondays of the month, as well as other family programming.
McGovern Centennial Gardens
The gardens are open for wandering, though hours change seasonally. Social distancing and face masks are recommended for anyone visiting.
Bayou Bend Collections & Gardens
Bayou Bend is currently open Tuesday through Sunday for patrons to stroll the gardens. Purchasing advance timed tickets is recommended, and face masks are required for everyone over 2 years of age.

Photo courtesy of Texas TreeVentures
Outings & Adventures for Families in Texas
Where Families Can Dine Outdoors in Houston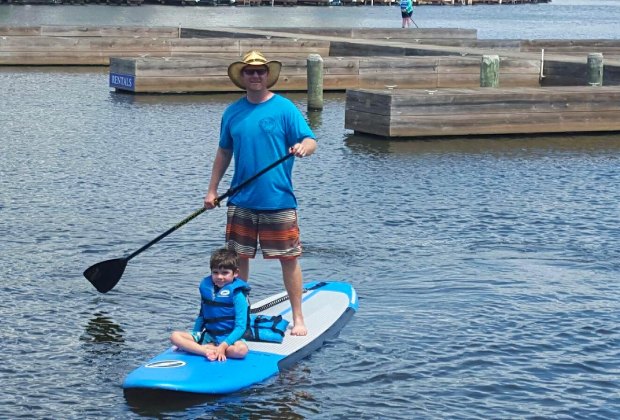 Enjoy some socially distanced time on the water in Conroe. Photo courtesy of Conroe Paddle Sports
Daytrips & Staycations That Families Can Take in Houston
Moody Gardens
Spend the day perusing the iconic three pyramids at Moody Gardens. Everyone over age 10 needs a mask. The zip line and ropes course are both currently closed.
Galveston Island
Take a daytrip or book a staycation down on the Island, because it's ready to welcome visitors back! The beach is open, as are restaurants and venues; just be sure to check individual businesses ahead of time for the safety protocols they have in place.
The Woodlands
Whether you're coming down for the day or staying for the weekend, there is a lot to do in The Woodlands for families.
Kemah Boardwalk
The Boardwalk at Kemah is packed with family-friendly activities, amusement rides, midway games, restaurants, and outdoor entertainment, making it an excellent day trip choice.
Blue Bell Creamery
It's pretty much a requirement that if you're a Texan you love Blue Bell ice cream, so making a trip out to the Little Creamery for a scoop and a tour of the Visitor's Center is a must! At this time the Observation Deck is closed. Masks are required. The County Store, Ice Cream Parlor, and Visitor Center are open Monday through Friday.
Family-Friendly Houston Resorts & Hotels
Sometimes you just need to get out of the house for a little staycation, and these family-friendly resorts and hotels in Houston fit the bill.
Pearland
Take a daytrip to Pearland to explore a different part of the greater Houston area.
Conroe
Whether you're visiting Lake Conroe to paddleboard or kayak or trekking through Sam Houston National Forest, there's a lot for families to do during a daytrip to Conroe.
Tomball
If you're looking for small-town charm, look no further than Tomball. There are lots of family-friendly stops and a stroll down Main Street in Old Town Tomball is sure to hit the spot, especially when you stop at Tejas Chocolate + Barbeque or Nonnie's Soda Fountain.
River Oaks
From visiting the iconic, Cinderella-inspired Pumpkin Park to touring the grounds of Rienzi and stopping for donuts at River Oaks Donuts (you can order them online in advance!), a daytrip to River Oaks is sure to fit the bill when you need to get out of the house.
Bookmark this post, as we will continually update with the latest openings. For more ideas of what to do this month, check out our picks for this month's in-person events.