Rodeo Houston News: Livestock Show and Rodeo 2021 Update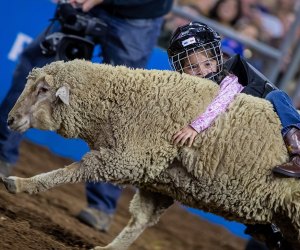 The Houston Livestock Show and Rodeo announced the sad news today that COVID-19 has stopped Rodeo Houston in its tracks for yet another year. The annual staple event on the Houston calendar was at first rescheduled for May, in the hope that by then the beloved community celebration could be safely launched. Sadly, this won't be possible. While a few associated activities are still planning to go forward in a limited way (see below), the rodeo itself is reining it in until 2022.
Kids missing rodeo? Maybe try riding a horse in the meantime!
Events cancelled for 2021 include the rodeo competitions, carnival, concerts, entertainment, and other attractions and activities. Families will also have to wait another year to enjoy the Downtown Rodeo Parade, Rodeo Uncorked! Roundup & Best Bites Competition, the World's Championship Bar-B-Que Contest, and the various trail ride activities.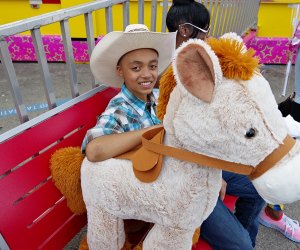 Photo courtesy of Houston Livestock Show and Rodeo
Although the Junior Livestock and the daily Horse Show competitions are still planning to go ahead in March as scheduled, these events will now be held privately—meaning without a public audience. The Junior Market Auctions and Champion Wine Auction are still planning to go forward in May (details still to follow). And the Rodeo Run is switching to a virtual format, with details also to be announced soon.
Above all, the health and safety of the community is Rodeo's top priority, which is why officials reached the only conclusion they could, which was cancelling the 2021 event. As disappointing as this is to everyone involved, Rodeo Houston is looking ahead to return with gusto in 2022 to celebrate its 90th anniversary.
We will share dates and information for the 2022 Houston Livestock Show and Rodeo as soon as they are announced, so watch this space. In the meantime, families can try to distract themselves with the many other great outdoor Houston activities that can get kids out of the house safely in these challenging times.