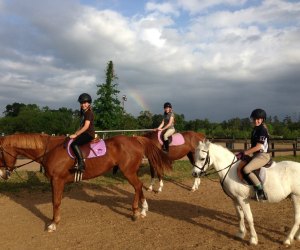 Where Kids Can Learn How to Ride a Horse Around Houston
We live in Houston, home to the Houston Livestock Show and Rodeo, the largest livestock show and rodeo in the world. After seeing all of the cowboys and cowboys riding at the rodeo, your little cowgirl or cowboy may be begging to learn how to ride a horse. Luckily, multiple facilities in the greater Houston area offer horseback riding lessons. While horseback riding lessons can be pricey, the bond created between your child and their horse can prove to be priceless. Kids will learn skills like responsibility, accountability, and patience through learning how to ride a horse.
Riding skills learned after basic beginner lessons can translate into a competitive sport if your child is passionate about riding. Horseback riding lessons will typically require wearing long pants (usually jeans or specific riding pants) and either Western boots or English riding boots. Most centers also require student riders to wear helmets, and although some will provide that for you, it is best to call ahead and check if you need to purchase a helmet for your child's lesson.
Sam Houston Equestrian Center - Southwest Houston
713-256-0779
13551 Lew Briggs Road, Houston
Lessons at Sam Houston Equestrian Center are broken into two halves. The first half of each lesson includes private instruction on equine care such as brushing as well as horse control techniques, saddling, and mounting. The second half of the lesson consists of riding time either individually or in a group setting. A tuition discount of $5 per class is offered for students who pay for the entire month of lessons in advance. The center also features horseback riding camps as well as party and special events packages.
Sienna Stables - Missouri City
281-778-7433
8255 Camp Sienna Trail, Missouri City
At Sienna Stables, riding lessons are offered for all levels from kid-friendly beginner lessons to competitive riding level. Lessons are taught in Western Riding, English Riding, and Dressage (or, miliary-style). They also offer a therapeutic riding lesson for people with disabilities. All lessons are offered in either 30-minute or hour-long sessions.
Magic Moments Stable - Memorial City
713-461-1228
1726 Upland Drive, Houston
Magic Moments Stables offers lessons for everyone from beginners to advanced riders that encompass all aspects of horsemanship, from proper tacking techniques to grooming. All beginner riders will start with hour-long lessons until their instructor approves their knowledge of basic horse-keeping and safety, at which time riders can switch to 45-minute or 30-minute lessons. A helmet is provided for the first few lessons, but Magic Moments suggests students invest in their own riding helmet after that. They also offer Mommy and Me lessons where parents of kids ages 3 to 5 can learn to ride with a parent.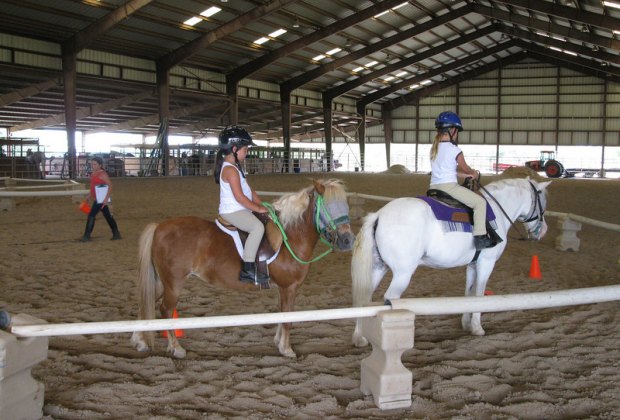 Photo courtesy Sam Houston Equestrian Center
Circle Lake Ranch - Katy
281-395-4311
1102 Circle Lake Drive, Katy
Geared more toward riding as a sport instead of a hobby, taking lessons at Circle Lake Ranch can prepare your child for a future in competitive horseback riding. All riders participate in weekly lessons at the same time each week, on the same horse, with the same group of students. This consistency helps riders develop the skills they need to advance in the sport. Riders are required to provide their own helmets and must wear either English or Western riding boots to lessons.
Oyster Creek Farm - Cypress
713-962-6085
13103 1/2 Happy Lane, Cypress
At Oyster Creek Farm in Cypress, kids can learn to ride horses as well as be taught the necessary skills for caring for horses. A $50 discount is offered for lessons purchased in a package of 10 lessons. Oyster Creek Farm also hosts birthday parties, corporate events, summer camps, and retreats.
J&K Ranch - Northwest Houston
832-428-6253
12007 West Morgan Drive, Houston
J&K Ranch offers children's riding lessons in a family-friendly environment where kids will learn the basics of horsekeeping, as well as have the opportunity to practice riding skills. Lessons are offered in three levels and children participating in each level will be moved up according to skills acquired. Level one students (or, beginners) will start lessons in an individual setting and move to a group setting once they have gained the required riding skills. Each lesson consists of instruction time, practice time, and relaxation time for the student with their horse.
North Houston Horse Park - Conroe
936-273-5600
17082 Lexington Drive, Conroe
Riders in the youth lesson program at North Houston Horse Park must be at least 6 years old. The horse park offers lessons for both casual and competitive riders. Lessons are offered in both private and group settings in one of five lighted arenas.
Bay Area Equestrian Center - Pearland
281-996-1515
1908 Broadway Street, Pearland
Kids ages 3 and up can participate in the center's Foundations lessons, which are taught one-on-one with an instructor. They will learn basic horse safety and sportsmanship, as well as grooming and tacking. Once they have graduated from the Foundations lessons, children can participate in individual lessons or group classes once they reach at least 6 years of age. Each student must wear long pants and boots, but Bay Area Equestrian will provide all other riding equipment. Kids interested in competitive riding can also join Bay Area Equestrian's riding team.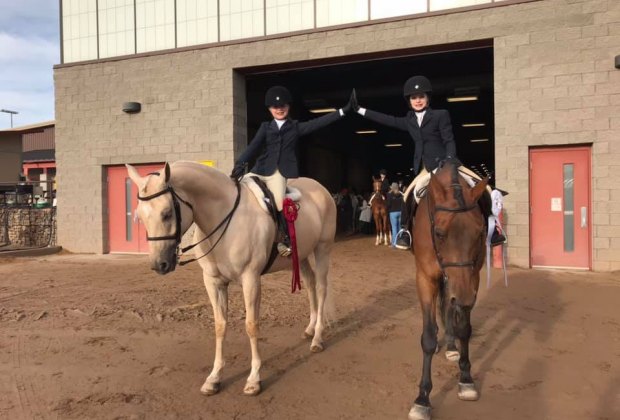 Kids can learn riding skills and participate in competitive horseback riding. Photo courtesy of Bay Area Equestrian Center via Facebook
Equestrian Ventures - North Houston
713-694-0694
417 Janisch Road, Houston
Equestrian Ventures offers half-hour and hour-long riding lessons during weekdays. All lessons are by appointment only and must be booked by phone or email. No lessons are offered on the weekends. Equestrian Ventures does not offer group lessons or trail rides.
Centerline Training - Aldine
281-798-6718
19907 Aldine Westfield Road
Lessons at Centerline Training offers instruction in both Dressage and Working Equestrian styles of riding. Students from beginner to advanced can participate in lessons at Centerline Training. Discounts are available for lessons that are paid for in advance.
Cross Creek Stable - Pearland
281-482-2335
2109 County Rd 129
Kids of all ages can learn to ride a horse in the family-friendly environment offered at Cross Creek Stable. Lessons focus on learning how to safely interact with horses and creating confident riders. The facility features a lighted, covered arena and a jump course. Lessons are held Monday-Saturday, hourly from 5-7 p.m. Both private and group lessons are offered, but children under age 10 are required to take private lessons until they are able to independently control their horse. The stable also offers in-barn horse shows for students to show off their skills, as well as birthday parties and summer camps.
Albe Farm - Sugar Land
281-561-0607
9611 Gaines Road, Sugar Land
Albe Farm is an equestrian center located in Sugar Land which features horseback riding lessons for students from beginner to advanced. Appointments can be made by calling or texting their phone number or sending an email. Riding lessons are scheduled by appointment only.
Top Photo Courtesy of North Houston Horse Park