Houston Rodeo with Kids: What You Need to Know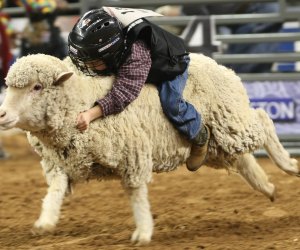 The 2022 Houston Livestock Show and Rodeo runs February 28 - March 20, 2022. However, amid all the excitement that rodeo brings, even veteran rodeo attendees know that donning those cowboy boots and braving the crowds and traffic are still daunting tasks. And when you get there it's just so... big. We've broken down some essential information to know before planning your visit, and we also recommend downloading the RODEOHOUSTON app for maps, schedules, and more (available for both Apple and Android products).
Check out our Rodeo Houston Guide for more posts on enjoying the rodeo with kids.
Catch the Pre-Rodeo Trail Rides
Technically the trail rides are not an official part of the rodeo, but they are part of a tradition dating back to 1952 when men traveled on horseback from Brenham to spread word about the rodeo. Now, thousands of men and women ride across what remains of Houston's wilderness to Memorial Park. The trail ride is set to arrive in Memorial Park on Friday, February 25, 2022 and on Saturday, February 26, 2022. At 10am, there is a massive parade downtown featuring all of the horses, old-fashioned wagons, and caravans. Check out this page for maps with locations and times to catch a glimpse of this time-honored tradition.

Photo courtesy of Houston Livestock Show and Rodeo
Kid-Friendly Attractions at the Houston Rodeo
The carnival is an obvious hit, with traditional arcade and booth games as well as fun houses and 80 different rides, including the exciting Sky Flyer, Cliff Hanger, and crowd favorite Carousel. Longtime rodeo junkies will remember an area for the smallest cowboys and cowgirls called Kids Country, which has been renamed The Junction. It features smaller rides, games, a farm exhibit, petting zoo, kids' carnival, and more (bonus - this doesn't cost extra and is included in regular rodeo admission, and is home to the rodeo's BEST event, Mutton Bustin'). And finally, inside NRG Center's Hall A is the AGVENTURE, which focuses on agriculture education and has lots of animal exhibits - from the birthing center to fisheries to honey bee hives.
RELATED: Attending the Houston Rodeo Cook-Off With Kids
Saving Money: Free Activities & Cheap Admission at the Houston Rodeo
If you're able to go during the week, Family Wednesdays (formerly Value Wednesdays) are a great deal. NRG Park admission is free for seniors and kids 12 and under until noon, and you get $2 rides from 11 a.m.-4 p.m along with a $2 food or drink item at select food stands in the Junction Carnival. You can also buy half-price carnival packs for games and rides (these things add up!) through February 26, 2022 and once you're inside, there are lots of activities, exhibits, and games that won't cost you a dime. You'll find a lot of free activities inside the children's zone, at The Junction, at Fun on the Farm, in the petting zoo, at the pig races, and there is live entertainment at the Stars Over Texas Stage. And in terms of food, you can bring in your own snacks (except into the stadium itself). This is huge, people!
Transportation & Parking at the Houston Rodeo
This is always tricky, so it's best to accept that no matter what route you go you're going to be met with crowds and traffic. After you accept this, then everything becomes much less stressful. The good news is the METRORail is a great option and is free for kids ages 5 and under. There are four parking options to choose from, and you can buy the tickets at the platform. Another option is utilizing the park & ride, where it is free to park and there are buses or shuttles that bring you to NRG. Check out the map of participating lots here. If driving is your preference, there are three public parking lots to choose from, and we recommend checking out this page for maps to get the lay of the land. However, note that the parking lots cost $20 per car. And finally, the rodeo has great resources for patrons needing handicap-accessible parking options.
Entertainment at the Houston Rodeo
Every night of the rodeo there is a different concert to enjoy. The actual rodeo competition takes place prior to the performance: weekday rodeos start at 6:45 p.m. with the concerts beginning around 8:45 p.m. and weekend rodeos start at 3:45 p.m. with the musical performances beginning around 5:45 p.m.
Related: 10 Mom-Approved Tips for Attending the Rodeo With Kids
Special Accomodations
For any moms who are nursing or are in need of a Family Room, there are special Family Rooms located in the lobby of the first floor of NRG Center on the east end and inside Hall E of NRG Center near the restrooms. Additionally, outdoor Family Rooms can be found between NRG Stadium and NRG Astrodome, as well as at the exit of Fun on the Farm.
Houston Rodeo Ticket Information
You can buy tickets for just the carnival and exhibits as well as tickets to include the official rodeo shows and concerts.
Grounds admission: $15 (adults), $5 (kids ages 3-12), FREE (kids ages 2 and under) - This price includes livestock show, shopping and exhibits, horse show and events inside the NRG Arena, and admission to the carnival (excludes individual ride and game prices and the rodeo and concert).
Concert and rodeo admission: Tickets start at $20 for individual performances.
Season Pass: $35 (includes daily admission to the Bar-B-Que Contest, daily admission to the show and rodeo, access to all public activities in NRG Park, Center, and Arena; excludes rides, games, the rodeo, and concerts)
Resale policy: You cannot resell season passes, and regular tickets must be sold at face value.
Carnival rides, games, and food all cost extra.
All unused NRG Park Admission Tickets and Ground Season Passes will be valid during the 2022 Rodeo.
Photo courtesy of the Houston Rodeo
This post originally published in 2017.