Enjoying the Houston Rodeo Cook-off With Kids
Rodeo is a big deal in the Bayou City. The two-and-a-half weeks of livestock and horse shows, competitions, concerts and more give Houstonians a chance to dust off their boots, put on their plaid and enjoy some good old-fashioned cowboy and cowgirl fun. And it all is kicked off with one of my favorite events, the Rodeo Cook-off! The Thursday, Friday, and Saturday prior to the start of rodeo are filled with food, food, and more barbecue sauce-covered food. More than 250 cooking teams come together during these three days in tents outside of rodeo to cook their barbecue specialties, all leading up to the final judging where a Grand Champion is crowned.
As if world-class barbecue isn't enough to entice you to bring the family down to cook-off for the weekend, there's plenty of fun to be had aside from the food, too. Live music can be found on multiple stages throughout the cook-off area and there's a massive carnival full of arcade games, rides and plenty of carnival food favorites. But before you head down, there are a few things you should keep in mind, especially when you have the kids in tow: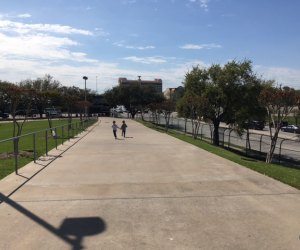 Buy tickets online ahead of time
Ticket lines can get really long, really fast, so it's a good idea to pre-purchase your entrance tickets ahead of time online. You can buy day pass tickets or season pass tickets for all three days. We made the mistake last year of waiting until we arrived at cook-off to buy entry tickets and it ended up taking us an extra 45 minutes of standing in line to get tickets before we even made it to the entry gate.

Go during the day
While there is plenty of fun to be had throughout both the day and night, cook-off is typically more family-friendly during the day with a rowdier crowd taking over in the evening.

Come early
In trending with the first two points, get down to cook-off as early as possible to avoid heavier traffic, allow time for parking and wait in the entry lines. Going during peak afternoon and evening hours can mean sitting in traffic for an hour or longer and battling crowds as you navigate through the cook-off tents and carnival.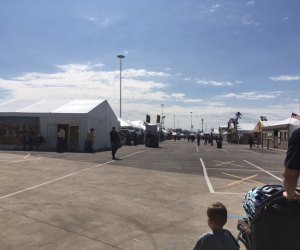 Bring cash
Most of the parking for cook-off is in cash lots, so make sure you have cash on hand to pay for one of those spots. It's also a good idea to come with enough cash to pay for carnival, drink and food tickets, otherwise you'll end up paying outrageous ATM fees to pull out money at the park.

Check the weather beforehand
Since the majority of cook-off and the carnival are outdoors, you definitely want to check the weather beforehand. I dressed my son in layers because even though it was cool out when we left in the morning, Houston has the uncanny ability to shift from winter to summer in an hour's worth of time. Having a sweatshirt was ideal because he could easily take it off if and when it got too hot out in the sun.

Wear comfortable shoes
There's a lot of walking to be done at cook-off, starting with just parking and walking over to the event itself and continuing once you're inside going up and down the rows of different cook-off tents and the carnival area. You're going to be on your feet the majority of the time, making comfortable shoes a must.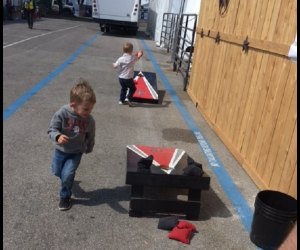 Bring a stroller
Because of the amount of walking you'll be doing, it's a good idea to bring a stroller for younger kids who may get tired. My son went into cook-off running and left dragging his feet because he was on the go so much during our time there. Unfortunately for him, his baby sister got first dibs on riding in the stroller back to the car; fortunately for him, we snagged close parking and didn't have far to walk.

Wear sunscreen and bring sunglasses or a hat
If you're going during the day, you definitely want to bring a hat or a pair of sunglasses and lather on some sunscreen because you're going to be spending a lot of time in the sun. I thought I made the rookie mistake of not having sunglasses with me when I arrived at cook-off and was mentally kicking myself for leaving them at home. Thankfully, after digging through our diaper bag I found them tucked into the kids' snack bag.

Come hungry
It's rodeo cook-off! Where else will you be able to enjoy world-class, championship barbecue?! This is one of those times you shouldn't eat beforehand and should definitely take advantage of all the good food to be had. With everything from barbecue and ribs to fried Oreos and cotton candy, this is one food event you don't want to miss.
All photos by Rachael Cherry
This post has been updated for 2018.