5 Must-Try Laser Tag Arenas for Houston Kids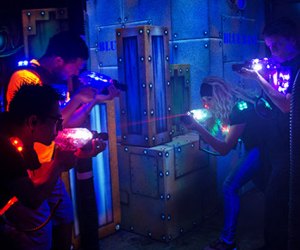 It's no secret today's kids love video games. It's this universal truth that makes laser tag such an appealing activity for kids and adults - it gets you moving (like, really moving), and simulates on-screen experiences in real time. There are some great options in Houston where kids, both young and old, can play this high-energy game.
And for more fun ideas for indoor activities when you need to escape the weather or your own house, check out our indoor activities guide.
Battlefield Houston - Northwest Houston
11755 W. Little York, Ste. 202, Houston 77041
713-409-1990
This laser tag arena is a favorite among older kids because of its focus on tactics and strategy. Its tagline is literally "tactical laser tag," and it uses laser guns that are heavier and feel more realistic than the plastic, cartoonish models you can find elsewhere. It's a cross between paintball and laser tag where players either work together in teams or solo in a multi-level and dark playing field. You can make group reservations or just walk in. Battlefield also brings the game to you with packages for birthday parties and youth group events. The company recommends an age limit of 8-years-old and up because the games can get rather complicated, and the guns weigh about 4.5 pounds.
Swords and Superheroes - Kingwood
1725 Northpark Drive, Kingwood 77339
936-650-7900
Swords and Superheroes' Kingwood location features a retro arcade and combat laser tag arenas (it has a Spring facility, but it is strictly an arcade and game store). For your gaming enthusiasts, there is also a room for RPGs and card and board games. Swords and Superheroes is actually the largest game store of its kind in the area, so this is any nerdy kid's haven. You can also choose from a variety of birthday party packages that include anything from laser tag to mini golf.
Palava - Spring
3240 Spring Cypress Road, Spring 77388
832-764-8250
You'll find mini golf and laser tag at Palava for kids of all ages, but laser tag players must be at least 6-years-old. Each game is 15 minutes long, and players participate in a variety of scenarios, from warding off Mayan foes and protecting your base in a jungle environment. There is also an on-site play area for younger kids to burn off steam while big sister tries her hand in the arena.
Bay Area Raceway - Dickinson
3825 I-45, Dickinson 77539
281-337-7223
As noted in the facility's name, you'll find more than a laser tag arena here. The raceway features an outdoor go-kart race track, 5,000-square-foot game room and an equally large laser tag arena. For laser tag, players can participate in solo matches or group games, like Vampers - where one player starts out as a vampire and tries to "turn" other players by tagging them, or Infusion, where players must work together as random team members get special abilities throughout the game. It is recommended players are at least 6-years-old.
Area 21 - West Houston
4815 Hwy. 6, Houston 77084
281-200-2600
Area 21 is the laser tag portion of the Track 21 complex, which includes a massive outdoor go-kart track and blacklight mini-golf. The laser tag arena is 8,000 square feet, two stories, and is an urban landscape full of barriers and radioactive bases. Players wear the traditional vest and get a scorecard at the end of the game to compare statistics. There are birthday party packages available as well.
Photo courtesy of Track 21