Online Robotics Camp
Young Gates - Kids Online Personalized Classes

Artificial Intelligence with Scratch Online Camp
Young Gates - Kids Online Personalized Classes

Spark Math: Free Trial Class
Virtual
Sign up for our free newsletters.
Houston's Best Kid-Friendly Food Truck Parks: Why They Are Worth the Drive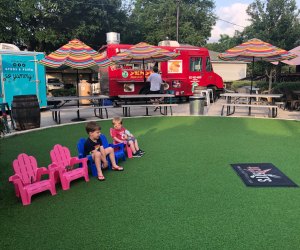 8/19/19
- By
Ashley Jones
It's no secret that the Houston food scene is one of the best in the nation. With a plethora of restaurants to choose from including ones with room for kids to play, some that have been featured on TV, and some of the best barbeque joints known to man, the choices can be overwhelming. Houston is also home to some stellar food truck parks which can be enjoyed at food truck parks around the city. We love these spots because they have room to play for the kids, delicious options and a fun atmosphere.
403 East Main Street, Tomball
Food truck parks offer diners the unique opportunity to choose from multiple food trucks and dine in a central location. At 403 Eats, the central location also consists of plenty of green space and multiple covered tables. Bonus: It also has an amazing play area for little ones. 403 Eats is one of my family's favorite places to hang out on a lazy Sunday afternoon (really for any meal on any day) because there is a variety of trucks serving up delicious and diverse food, and there is one killer play area for little ones. Check the website for current trucks as they rotate ever few months, but you can expect some kind of barbecue, Asian and Mexican fusion, and if you're lucky - dessert!. 403 has a small indoor dining area with a bar that serves craft beer on tap and wine, and then the outdoor seating encircles a green area filled with toys, and sometimes kiddie pools, where kids can run amuck. Tomball itself has lots of offer, from quaint shops to beautiful parks with stellar playgrounds.
1002 Marina Bay Drive, Clear Lake Shores
This spot is a favorite of bay area locals. The park is anchored by Okie's Yard House, a beer garden serving up a variety of Houston and Texas-made beers. A variety of food trucks can be found parked at the park on any given night, so the selection is always different. The park is about a 10-minute drive from the Kemah boardwalk, so it's the perfect place to stop off for a bite to eat before heading to ride rides at the boardwalk with kids.
10648 FM 1764, Santa Fe
With different food trucks and live music every weekend, Three Acres Food Park offers fun for the entire family. A large wooden playground area makes this spot perfect for hanging out with kids in tow. The park hosts a variety of exciting events including petting zoos, car shows, and festivals. This park is also pet-friendly and offers free Wifi!
Food Trucks at Houston-area Parks
Food trucks also like to hang out all over central Houston, but because there aren't really any designated food truck parks in the central part of town, the trucks can be found at local public parks, breweries, and festivals. Evelyn's Park features food trucks on Monday evenings at their event promenade, Elizabeth Baldwin Park features trucks every second Sunday of the month, and Memorial Park has food trucks on Saturdays throughout the spring. Another great place to check for food trucks is at local family-friendly breweries. Many trucks will park outside of breweries around town on the weekends. Be sure to check the individual brewery's website to see when trucks might be there. No matter where you find them, food trucks can be a fun experience for all.
Top photo: 403 Eats food truck park in Tomball. Photo by Carrie Taylor/Mommy Poppins