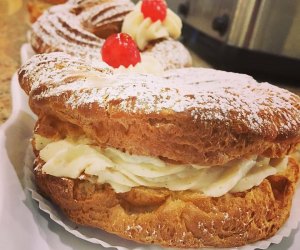 As Seen On TV: Houston's Famous Kid-Friendly Restaurants
Houston is well-known for it's restaurant scene. The city even devotes an entire month each year to showcasing local restaurants for Houston Restaurant Weeks. It's no surprise that several Houston-area restaurants have been featured on television shows like Diners, Drive-Ins, and Dives, Eat Street, and Unique Eats. If eating at amazing restaurants is on your family's to-do list, you'll definitely want to check out these Houston-area restaurants that have been featured on national television outlets like the Travel Channel, Food Network, and Cooking Channel. Many of these restaurants offer kid-friendly food options, and some even feature outdoor spaces that are great for letting kids run around and burn off steam.
The Original Ninfa's - Houston
2704 Navigation Blvd.
713-228-1175
This popular Tex-mex spot was most recently featured on Man vs. Food in 2017, and was also showcased as one of Food Network's Top Five best Mexican restaurants in 2016. While the chargrilled steak fajitas were the go-to feature on each of these shows, in 2011 the Queso Flameado was featured on the Food Network show The Best Thing I Ever Ate.
T-Bone Tom's - Kemah
707 Highway 146
281-334-2133
Plenty of outdoor space under a covered Palapa patio gives families with kids room to roam and live music to dance to on weekends and during the summer. This local eatery was featured on Diners, Drive- Ins, and Dives in 2009 for it's burgers and BBQ smoked meats. On a personal note, I've been eating here since I was a kid myself and have nothing but great things to say about the food, specifically the fried pickles!
Pi Pizza - The Heights
181 Heights Blvd.
832-767-2433
Pi Pizza has recently earned a spot on the Food Network's list of The Best Pizza's In America's Biggest Cities thanks to the pizzaria's array of unique toppings and top-notch ingredients. When visiting Pi Pizza, customers can choose from a large list of unique handcrafted pizzas or choose the build your own pizza option, which allows families to pick and choose from the entire ingredients list. This is a handy way to feed a crowd of kids with different palates and please everyone at once.
Lankford Grocery - Montrose
88 Dennis Street
713-522-9555
If your family loves a great "un-fancy" spot with greasy burgers and tasty breakfast, head on over to Lankford Grocery. Featured on Diners, Drive-Ins, and Dives, this restaurant is described by many patrons as the latter of the three, but with the friendliest staff you'll ever meet. While there is no set kids menu, everything on the menu is made-to-order and the portions are large enough to share.
Niko Niko's
Multiple locations around Houston. Find the location closest to you here.
This Greek diner features an expansive menu with something for everyone. In 2009, Diners, Drive-Ins, and Dives showcased their tasty gyros. The Market Square location of Niko Niko's features a large outdoor area, perfect for letting kids run around. Bonus: Niko Niko's is partnered with the Children's Museum of Houston and patrons can get 10% off of their bill by bringing in a Children's Museum of Houston membership card or a receipt from a museum visit.
Hubcap Grill
Multiple locations around Houston. Find the location closest to you here.
In 2009, the Cooking Channel featured the unique burgers at Hubcap Grill on their show Unique Eats. The burger menu features an array of out-of-the-box burger toppings like crunchy peanut butter or cheese puffs, as well as their signature Hubcap sauce, which I can personally say is heavenly on a burger or on fries. The Kemah and Heights locations feature plenty of outdoor seating and a laid-back vibe, making this a great kid-friendly option.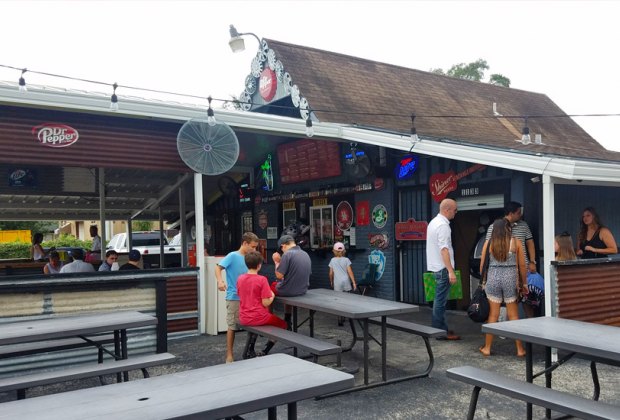 Families can enjoy ample outdoor space at Hubcap Grill in the Heights/ Photo courtesy Hubcap Grill
Killen's Barbeque - Pearland
3613 East Broadway
281-485-2272
In 2015, Food Network named Killen's Barbeque number two on the list of their top five barbeque restaurants. This Food Network honor is one among a myriad of accolades from news and print media outlets. Killen's Barbeque is well-known for their brisket and smoked meats, but their sides and desserts rival that of any fine dining establishment. Plus, they have a huge, covered outdoor area that is perfect for kids to run around, and their kids portions are quite generous. You will definitely get your money's worth. While they are known to have a line out the door during lunch time, it's worth the wait. But, if you want to skip the wait, you can make a reservation for their new dinner service and elevated menu.
Drew's Pastry Palace - Houston
10300 Louetta
832-717-3530
An appearance on an episode of TLC's Bakery Boss inspired the now-famous cannoli cupcake from Drew's Pastry Palace. According to the bakery's website, the cupcake is now trademarked and is one of the store's most popular items. They also serve breakfast and lunch items from a deli and pizzeria inspired menu. This place literally has a little something for everyone. And what kid wouldn't love ending their lunch with a signature cupcake, cake, or pastry?
Bombay Pizza Company - Houston
914 Main Street, Suite 105
713-654-4444
This Indian-Italian pizzeria mixes tastes of middle eastern descent with Italian cooking techniques to create ridiculously unique treats. Bombay Pizza Company was featured on the Food Network show, The Best Thing I Ever Ate in 2011. While their pizza is the star of the show, the restaurant also offers an array of soups, salads, and burgers, as well as daily house-made curry.
Saint Arnold Brewing Company - Houston
2000 Lyons Avenue
713-686-9494
This newly-expanded brewery now features a family-friendly restaurant area and we couldn't be more excited. Featured on the show Drinking Made Easy, this brewery is the oldest in Texas. They have plenty of room to host your entire family (kids included, of course!) and menu options feature pub faire including pizzas, sandwiches, shareable appetizers, and even fancier faire like gilled ribeye, red snapper, and risotto. While this has always been on our list of kid-friendly breweries, the addition of food makes it a must-try venue.
Bernie's Burger Bus
Multiple locations around Houston. Find the location closest to you here.
As seen on the Cooking Channel's Eat Street, Bernie's Burger Bus features scratch-made condiments, locally-baked bread, and choice cut meat that put their burgers over the top. These burgers were made to fill a foodie's heart and stomach. Their fry menu alone will make any mouth water. Bernie's menu is school-themed to go with the "bus" motif, making it fun and relatable for kids.
Kenny and Ziggy's
Multiple locations around Houston. Find the location closest to you here.
This New York-style delicatessen was featured on a 2009 episode of Diners, Drive-Ins, and Dives on Food Network. With an ample deli menu and breakfast served all day, this family owned and operated establishment is perfect for pleasing a crowd with various palates.
Top Photo courtesy Drew's Pastry Palace