Online Robotics Camp
Young Gates - Kids Online Personalized Classes

Artificial Intelligence with Scratch Online Camp
Young Gates - Kids Online Personalized Classes

Spark Math: Free Trial Class
Virtual
Sign up for our free newsletters.
Family Friendly Restaurants at CityCentre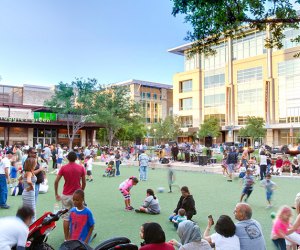 9/18/16
- By
Rachael Cherry
CityCentre may be known as a happy hour hot spot, but it's also home to many family friendly restaurants as well as a green space perfect for kids to run around and play. In case you are not sure where to head with the kids in tow, look no further than our list of restaurants sure to please the whole family.
Family Friendly Restaurants
12808 Queensbury Lane, Ste. 100
Houston, TX 77024
713-973-9610
BRIO offers a family friendly atmosphere and stocked kids' menu that includes paired down versions of adult favorites as well as smaller entrees for children. Health-conscious families can also choose from a variety of kid-sized sides and salads. Those wanting to let their kids indulge in a post-dinner treat have the option of an ice cream float or sundae. All meals include a soft drink, lemonade, or milk.
12888 Queensbury Lane, Ste. 142
Houston, TX 77024
713-343-0521
Chipotle is known for serving healthy fast food, but what you may not know is that they also have a dedicated kids' menu. Kids can build their own soft or crispy tacos and create their own quesadilla. Each meal comes with a side of fruit or chips and organic milk, organic chocolate milk, or organic apple juice.
12848 Queensbury Lane, Ste. 101
Houston, TX 77024
713-463-3730
Pizza lovers unite! Grimaldi's is the perfect spot for parents looking for casual dining, a laid-back atmosphere, and pizza options to please the whole family. While there is no dedicated kids' menu here, you're sure to find a pie for everyone, whether it's a classic cheese or the pesto pizza.
799 Town & Country Blvd., Ste. 200
Houston, TX 77024
713-827-7157
Hankering for a good craft burger while looking to please the kids at the same time? Look no further than Grub Burger Bar. Adults can choose from a variety of burgers to please any palette, while kids 12 and under have the option of a classic burger, grilled cheese, chicken fingers, or mac and cheese. Kids' meals come with Grub skinny fries or apple slices and a drink, and hand-spun shakes are available as an after dinner sweet treat.
801 Town & Country Blvd., Ste. 1B
Houston, TX 77024
713-464-5557
The outdoor dining that opens up to CityCentre's green space makes Ruggles Green an excellent option for family dining. Indoor seating is also available, and its menu features a variety of healthy options as well as picks for guests with dietary preferences. Kids' meals, excluding the pizza, come with a choice of sweet potato fries, french fries, quinoa salad, or fresh mixed fruit, as well as a fountain drink, milk or juice.
Desserts and Sweet Treats
801 Town & Country Blvd., Ste. A120
Houston, TX 77024
713-647-9338
Those looking to splurge on a more decadent dessert will enjoy stopping in at SWEET. The bakery has an array of indulgent cupcake flavors, cakes, macarons, and pastries, as well as gluten-free options and a variety of drinks. For special occasions with your kiddos that call for a fancy treat, this is the place to stop.
797 Sorella Court
Houston, TX 77024
832-770-9086
Sweet Paris is home to an extensive menu of both sweet and savory crepes, waffles, soups, salads, paninis, eggs, and omelets. It offers a unique twist on breakfast and lunch. Kids can pick from crepes stuffed with ham and cheese, Nutella, Argentine dulce de leche, or they can stick with a kid's pizza.
Photo courtesy of CITYCENTRE