14 Kid-Friendly Brunch Spots Around Houston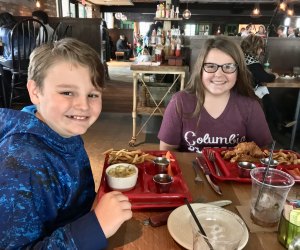 12/12/19
- By
Ashley Jones
Going out for brunch on the weekends may seem like a lofty goal when you have kids. Just the sound of the word "brunch" can incite visions of lavish lounges filled with trendy people without a kiddo in sight. But parents, have no fear! Enjoying a weekend brunch with kids is possible, and we're here to help make it happen. This handy list features 14 Houston area spots where you can take your kids to dine when you feel like noshing on chicken and waffles, biscuits and gravy, or even eggs benedict during the magical weekend brunch-time hours.
Some of these spots even offer kid-friendly activities, play spaces, or ample romping room for rowdier little ones.
Snooze- Various Locations
Multiple locations around Houston. Find the location closest to you here.
Perfect for early risers, Snooze opens at 6:30 a.m. daily, serving up a delightfully large selection of creative dishes. Sweet favorites like Pineapple Upside Down Pancakes, Nana's Hot Cocoa Pancakes, and Blueberry Danish Pancakes are offered as individual meals or in a three-pancake flight, so you can try one of each. Their menu is also loaded with salad, sandwich, and egg options, so there's something for everyone. Vegan options are also available.
Tapester's Grill - Bellaire
4250 Beechnut Street, Houston
832-582-5333
The entire family can enjoy brunch at Tapester's Gill from each Saturday and Sunday. Enjoy a casual environment with huevos rancheros, brunch tacos, or a honey buttermilk fried chicken sandwich. For the kids, french toast sticks or chicken and waffles are two sure-fire favorites.
Whiskey Cake - Various Locations
Multiple locations around Houston. Find the location closest to you here.
This farm-to-table restaurant features a bevy of brunch favorites including hearty banana pancakes and super flavorful jalapeno biscuits and gravy. For the kids, each meal is served on cafeteria-style plates with fresh carrot and celery sticks in addition to your entree and side option. On a recent visit, our kids loved that when their food was served on these trays none of their food was touching. They also loved the giant patio with oversized lounge chairs and benches at the Friendswood location.
Live Oak Grill - Sugar Land
12935 Dairy Ashford Rd., Sugar Land
281-491-5253
With TWO outdoor patio areas to dine, Live Oak Grill is perfect for families who like to enjoy brunch outdoors. There's even play equipment to keep the kids entertained. Fish and grits, bacon and hash quesadillas, and a chili cheese omelette are just a few of the unique choices you'll find on the menu. Their kids breakfast meal comes with two eggs, fresh fruit, one pancake, and your choice of bacon or sausage. Live Oak Grill offers a little bit of everything, which is great news for picky eaters.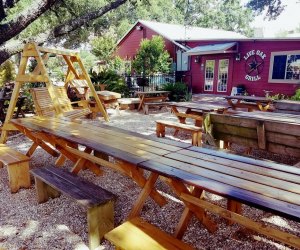 Families can enjoy plenty of outdoor space at Live Oak Grill. Photo courtesy Live Oak Grill.
Dish Society - Katy & Galleria
23501 Cinco Ranch Blvd., Katy
281-394-7555
5740 San Felipe St., Houston
832-538-1060
This Katy eatery is located near the green space inside Cinco Ranch's La Centerra retail center, which is a great spot to let the kids run around before or after your meal. Saturday and Sunday brunches offer creative, kid-friendly options like Nutella and jelly sandwiches and Nutella french toast bites, as well as more traditional favorites like biscuits and gravy. Dish Society also has locations in The Galleria and Memorial, but we recommend the Katy location when brunching with kids in tow.
Punk's Simple Southern Food - Houston
5212 Morningside Dr., Houston
713-524-7865
We love dining on the patio with kids at Punk's because the kids can play in the grassy area right outside after our meal. They offer brunch on Saturday and Sunday, however, their Sunday menu is quite a bit larger and includes an expanded biscuit and egg plate selection. No matter which day you choose to brunch, you'll find Southern-style favorites made with homemade biscuits, deep fried chicken, and lots of creamy gravy.
Red Oak Cafe - League City & Alvin
6011 W. Main Street, League City
1200 Bypass 35 North, Alvin
832-905-3150
Although they don't technically have a brunch menu, breakfast is served from 7 a.m.- 3p.m. on Saturdays and Sundays, and The Houston Chronicle included Red Oak Cafe on their list of 21 excellent brunch spots in Houston suburbs. This family-owned and operated restaurant has a casual atmosphere and are locally famous for their bathroom walls covered in sticky notes with inspirational sayings. Scratch-made food options include yummy pancakes with a plethora of add-ins to choose from, as well as Belgian waffles, and a unique peanut butter and banana crunchy breakfast panini.
Tiny Boxwoods - Houston
3614 W. Alabama, Houston
713-622-4224
If you want to brunch outside, head to Tiny Boxwoods where kids can explore rows of shrubs and flowers located near the outdoor patio. While the grass lawn is off-limits, there is plenty of greenery to look at, as the restaurant is located right by a nursery. Their weekend brunch offers light options like fruit served with orange blossom honey, as well as heartier options like steak and egg pizza. The lines for brunch can get long, so your best bet for snagging a great table is to arrive a few minutes before brunch begins at 8 a.m. on Saturdays or 9 a.m. on Sundays.
The Original Ninfa's On Navigation - Houston
2704 Navigation Blvd., Houston
713-228-1175
Having loud kids won't disrupt brunch service during the hustling and bustling weekend brunch at The Original Ninfa's On Navigation. Choose from a variety of Tex-mex brunch faire including carnitas hash and eggs, fried quail with goat cheese grits, Mexican flat bread with chorizo, and of course, fresh guacamole. Plus, kids are sure to love the never-ending supply of chips!
The Breakfast Klub - Midtown
3711 Travis, Houston
713-528-8561
This popular midtown spot is not only family-friendly during their normal business hours, but they also host a FREE kids event on the first Saturday of each month from 10 a.m.- 2 p.m. Kids can play on a moonwalk, get their face painted, and enjoy arts and crafts in addition to devouring delicious dishes. Choose from pancakes, waffles, egg sandwiches and much, much more when you brunch at The Breakfast Klub.
Main Street Bistro - League City
615 E. Main Street, League City
281-332-8800
This quaint brunch location is known for their Sunday brunch menu featuring a selection of scrumptious options like stuffed crepes and egg sandwiches. Several dishes feature a Southern twist on classic brunch favorites like the Texas Banger & Mash which includes pecan-smoked jalapeno sausage, cheesy hash browns, eggs, and Texas toast. Kids will loved their stuffed French toast, or pancakes topped with peanut butter and bananas.
The Backyard Seabrook - Seabrook
1301 4th Street, Seabrook
281-942-9620
A plethora of unique brunch choices combined with a kid-friendly outdoor dining area complete with games to play makes The Backyard Seabrook the perfect spot for Sunday brunch with the entire family. Best known for their macaroni and cheese dishes, The Hangover Mac with jalapeno gravy, bacon, and breakfast potatoes, topped with a fried egg is a top choice for brunch-goers. Diners can also enjoy avocado toast, steak and eggs, or breakfast tacos.
State Fare Kitchen & Bar - Memorial City
947 Gessner, Suite B190, Houston
832-831-0950
From a large selection of burgers to a tasty array of breakfast plates and unique options like poke bowls, the brunch menu at State Fare Kitchen & Bar has something for everyone to enjoy. Kids can choose from silver dollar pancakes, fried catfish, cheeseburgers, macaroni and cheese, and more for their brunch entree. Brunch is served Saturday and Sunday from 9 a.m. - 2:30 p.m.
Maggiano's Italian - Various Locations
Multiple locations around Houston. Find the location closest to you here.
Available until 3 p.m. on Saturdays and Sunday at most locations, the brunch menu at Maggiano's Italian features breakfasts classics with an Italian twist that the entire family will enjoy. A selection of benedicts dishes, pancakes with lemon ricotta, and an Italian sausage frittata are among the more unique choices that families can dine on at Maggiano's Italian brunch.
Top Photo: Brunch at Whiskey Cake in Friendswood. Photo by the author.