Ziplines, Aerial Adventures, and Treetop Adventure Parks for Houston Families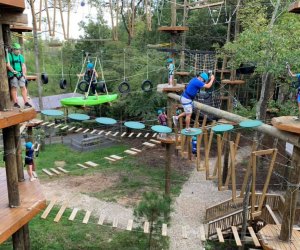 For all you families with budding adrenaline junkies, we have the perfect experience queued up for your weekend: ziplining! Riding a zipline through the air, flying above the treetops, and taking in a birds-eye view of your surroundings makes ziplining and other aerial adventures the ultimate (safe!) thrill-seeking experience for kids and adults alike. Treetop adventure parks also lay out some heart-pumping challenges in magical surroundings. We've rounded up a few different locations around Houston that offer family-friendly aerial adventures that will take your weekend activities from ordinary to sky-high.
Find yourself looking for even more adrenaline-inducing activities? Be sure to check out our favorite locations with outdoor go-karts or indoor trampoline parks. As a bonus, some of the trampline parks have mini ropes' courses and ziplines for kids who want to test out a pint-sized version of an aerial obstacle course before tackling the full experience.
Worth noting before you go: ziplines and aerial ropes' courses have minumum age and height requirements and minumum and maximum weight requirements, so be sure to check each out ahead of time to make sure everyone in your party is within the parameters. You'll also want to dress in comfortable clothes and closed-toed shoes; be sure to skip the dresses and skirts for this one! Gear and helmets are provided at the facility.
6464 Creekside Forest Drive
The Woodlands, TX 77389
281-210-2048
Get ready for a day that's packed with aerial adventures at Texas TreeVentures. Located adjacent to the George Mitchell Nature Preserve, these aerial obstacles and ziplines will have you traversing over top wooded trails and next to Spring Creek. The course has three different levels and 72 different obstacles that are designed to push you out of your comfort zone. Participants must be at least 6 years of age, be 70" in height, and weigh a minimum of 44 lbs and a maximum of 275 lbs. Your reservation grants you three hours of access to the course.
6749 Farm to Market 2920
Spring, TX 77379
1-830-365-JUMP (5867)
Choose your own adventure at Geronimo Adventure Park by picking from three different zipline experiences. You can test out ziplining by going easy across five lines and three bridges. If that's not thrilling enough, go high by zipping across five ziplines and three bridges to a 42-foot platform, then choose between a simulated free fall experience or a nice and easy rappel down. For those looking for a more drawn out experience, go long by gliding across six lines and three bridges, then take an (optional) detour to experience nine aerial challenges and then take on a 555-foot line with a friend. The adventure park also has options like axe throwing, rockwall climbing, and more. The zip lines do have a 250-275 lb weight limit, depending on the adventure you choose, and participants need to be able to reach up to about 6 feet high, and weight at least 70 lbs.
Related: Houston Day Trips and Getaway Guide for Families

Eagle Challenge. Photo courtesy of Big Rivers Waterpark
23101 State Highway 242
New Caney, TX 77357
832-509-1556
Big Rivers may be known for its waterpark, but the aerial adventures are definitely worth checking out as well. The hour-long Falcon Flight takes zipliners to three different towers that fly over the wave pool, pond, creek, treetops, and more. For beginners, Hawk's Glide offers an entry-level zipline experience, allowing you to get your footing in the sky. You can also tackle rock climbing walls, the Eagle Challenge course, and more aerial activities. Height, weight, and age limits vary from course to course.
215 Kipp Ave
Kemah, TX 77565
877-AT-KEMAH ( 877-285-3624)
Check out the entire Boardwalk from 100 feet up in the air at speeds up to 30 mph when you take a ride on the Iron Eagle. While this zipline experience may not include multiple lines, it still packs all the thrills of the ziplining experience and can be combined with other rides and attractions on the Boardwalk for an afternoon of fun. Guests must be at least 42" to ride. Anyone who is 42" - 48" must be accompanied by an adult. The combined maximum weight cannot exceed 450 lbs.

One Hope Boulevard
Galveston, Texas 77554
409-744-4673
Take your thrills sky-high at the five-tier Sky Trail Ropes Course at Moody Gardens. Get a birds eye view of Moody Gardens as you take a round-trip zip on the course's zip line, then challenge yourself on what is billed as the tallest steel ropes course on the Gulf Coast. Ropes course and zipline passes can be bought individually or combined.