Evelyn's Park Shines With Innovative Playgrounds & Preservation Efforts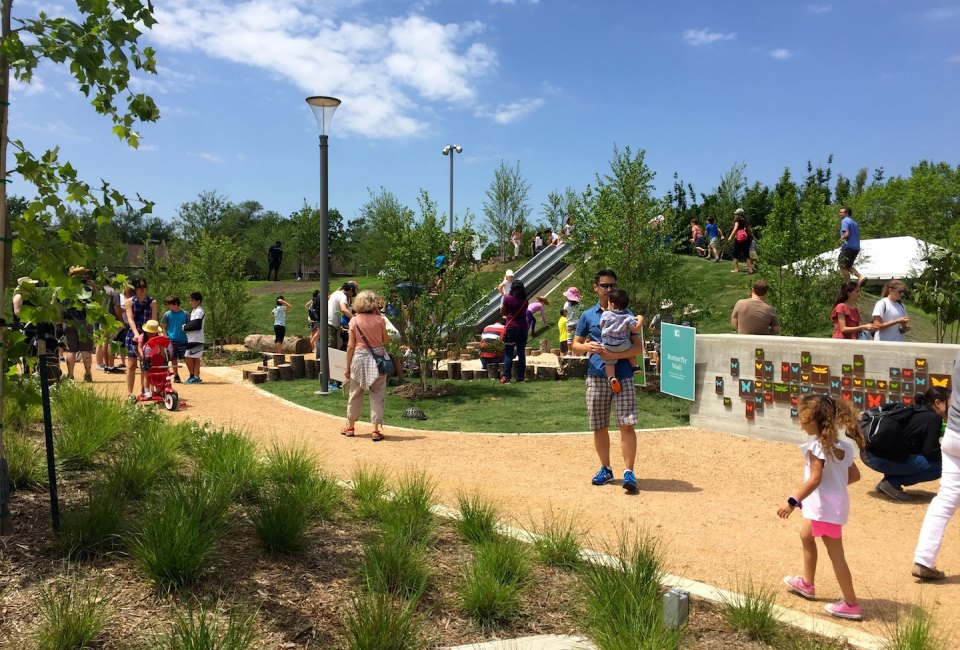 4/24/17
- By
Kate M
Evelyn's Park officially opened on April 22, 2017, with an Earth Day celebration and community picnic. It was a gorgeous day with live music, art activities, food trucks, beer and wine tastings, a mini farmers's market, and fitness activities. The park was filled with people enjoying the sun, the food, and the sense of community and connection that Evelyn's park was created to foster.
Evelyn's Park is situated on five acres of green space previously occupied by Teas Nursery, the very first business of Bellaire, which was founded in 1910 and closed in 2009. When the nursery closed, the land was purchased by brothers Jerry and Maury Rubenstein who purchased and gifted the land to the city of Bellaire under the condition that it be used as parkland and that it be named in honor of their mother, Evelyn, a nature enthusiast, philanthropist, and longtime resident of Bellaire.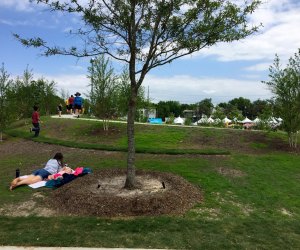 Evelyn's Park is a conservancy with a focus on preserving the space for future generations. This was a priority in developing the park, which included planting over 300 native trees, innovative solar installations, and the re-purposing of original tree stumps in the children's play area. The natural landscape is celebrated throughout the park and offers guests the opportunity to relax and connect with nature on meandering trails, a wildflower hill, and in the Evelyn Rubenstein Memorial Garden.
Kids will love the Memorial Garden, where they will find the whimsical "Move One Place On" sculpture which recreates the famous tea party scene from "Alice-in-Wonderland". Guests are invited to picnic at a 10-foot-long table alongside the eight-foot bronze characters of Alice, the March Hare, the Cheshire Cat, the Dormouse, and the Mad Hatter. Find out more about the sculpture here. Another area that children will love is the natural play area with reclaimed tree stumps, a giant sand box, and ten-foot slides. Next to the children's play area, the butterfly wall is a beautiful work of art that honors the parks generous donors and makes for a fun photo-op.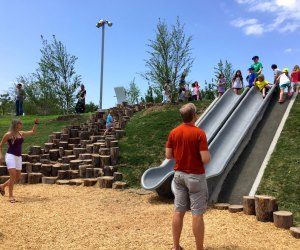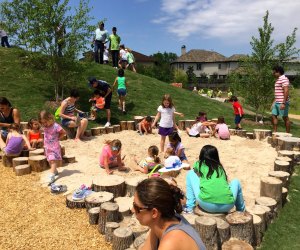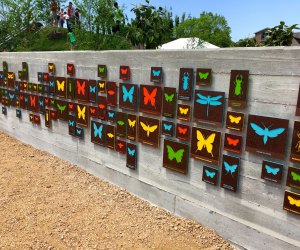 The Great Lawn, aka Bellaire's "front yard," is the perfect place for kids to run wild. It also makes a great spot to enjoy a family picnic after working up an appetite exploring the park. You can bring your own food or you can purchase sandwiches, snacks, desserts, and coffee drinks from the all-day cafe, The Ivy & James. The cafe will also provide catering for events at the park. Evelyn's Park is available as an event venue for small or large events which can take place in both the indoor and outdoor spaces.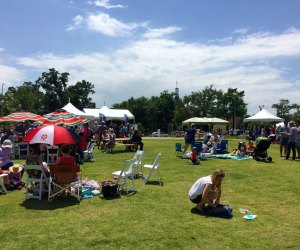 Evelyn's Park will be offering a full schedule of fitness activities, educational programs and community events including farmer's markets, events for dogs, family fitness days, and more. Become a member to get exclusive invites, discounts, and special access to programming,
General info and tips:
Evelyn's Park is open from 5 a.m.-11 p.m. Sunday - Thursday and 5 a.m.-midnight Friday and Saturday.
Evelyn's Park has two parking lots; the West lot is accessible from Newcastle Street and the East lot is accessible from Mulberry Lane.
There are indoor restrooms open all day.
The park is stroller and wheelchair accessible with wide, paved trails.
All photos by Kate M
Places featured in this article:

Sign up for our free
newsletters.
Mommy Poppins is a family activity website that helps people find things to do with kids.
©
2023
MommyPoppins. All Rights Reserved.
mp-prod4-v4.32.99
Click Here to Sign Up!
i