Houston Donut Shops Where Kids Can Try Outrageous Flavors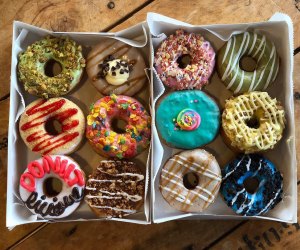 4/15/19
- By
Ashley Jones
Almost nothing beats starting the weekend with a warm, delicious, sugary donut. While the regular chain donut shops my family frequents offer selections of donuts that include basic glazed donuts and several filled donut options, my kids tend to gravitate toward the donuts topped with brightly-colored icing and sprinkles. What sounds even better to a child's ears than an iced and sprinkled donut is one covered in candy bar pieces or cookie crumbles or filled with Nutella. Yum! At these Houston specialty donut shops, kids can choose from a variety of gourmet flavors to bring joy to their foodie hearts.
Hugs & Donuts - The Heights
1901 North Shepherd Drive, Houston
713-485-6443
Offerings like maple bacon and strawberry shortcake donuts keep people flocking to Hugs & Donuts in the Heights. Kids will love the Oreo cookie crumble donut filled with chocolate ganache and topped with crumbled Oreo cookies. Their selections of filled donuts rotate daily through flavors like Boston cream pie, s'mores, key lime pie, and pumpkin cheesecake, serving only three options each day. On Fridays, the shop serves a vegan cake donut in addition to their regular cake options like chocolate toffee latte and green tea coconut.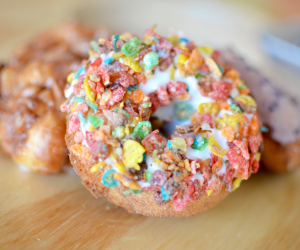 Kids can try donuts topped with Fruity Pebbles cereal at Hugs & Donuts./ Photo courtesy Hugs & Donuts
River Oaks Donuts - River Oaks
3601 Westheimer Road, Houston
713-961-9458
River Oaks Donuts features a variety of unique toppings for their glazed and cake donuts including Fruity Pebbles, Cocoa Krispies, Reeses Pieces, bacon and coconut. A fun option for kids are the donut holes filled with their choice of fillings like lemon, Nutella, chocolate, banana, and cream cheese. Donut hole options are not just available with plain glazed donuts, but strawberry cake, chocolate glazed, and red velvet cake. The shop also offers custom orders for donuts shaped like letters and numbers, which are great for celebrating kids birthdays.
Related: Restaurants Where Kids Eat Free Around Houston
Pena's Donut Heaven and Grill - Pearland
11601 Shadow Creek Parkway, Pearland
713-340-3231
Arguably the most unique donut option on Pena's menu is the Texas Brisket Donut, with layers of barbecued brisket, pickles, and onions between two glazed donuts. The maple glazed donut with crumbled bacon is also a fan favorite at this Pearland spot. If your kid isn't into trying barbecue or bacon on their donuts, they can choose from a variety of kid-friendly toppings like Fruit Loops cereal, Oreo cookies, and Fruity Pebbles cereal.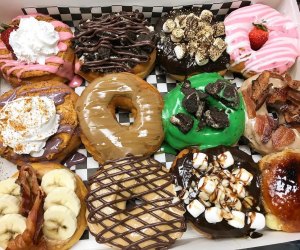 Topping options abound at The Grove Do-Nuts & Deli in Richmond./Photo courtesy The Grove Do-Nuts & Deli
Queen Donut - Northeast Houston
1806 West 18th Street
713-869-2335
For kids who love classic donuts, Queen Donut offers a selection of iced donuts with a variety of traditional flavor options like chocolate, strawberry, and vanilla, topped with their choice of sprinkles (flat, round, rainbow, single color) or toppings like coconut, pecans, and peanuts. For the more adventurous eaters in your family, Queen Donut makes a selection of meat-filled donuts that are unlike any other filled donuts in the city.
Related: Best Houston Restaurants With Room for Kids to Play
The Grove Do-Nuts & Deli - Richmond
815 Plantation Drive, Richmond
281-232-6406
If you can dream it, The Grove probably makes it. Among the most interesting donut options offered are a pepperoni-topped pizza donut, a rocky road-flavored donut with marshmallows and almond pieces, cookie butter-iced donut with pretzel topping, a mint-iced donut with Oreo cookie crumbles, and a creme brulee donut. Cereal, bacon, bananas, strawberries, and M&M's also top many of their delectable donut choices.
Related: Awesome Houston-Area Breweries Where Kids Can Play, Too
Donut Licious - Spring and Willowbrook
1535 Spring Cypress Road, Spring
9111 FM 1960 West, Houston
281-288-1778
Much like a design on a cupcake or cake, Donut Licious custom iced donuts feature Astros logos, shamrocks for St. Patrick's day, mummies for Halloween, American flags, and anything else you can dream up. Flavors like Dulce de Leche, peanut butter and jelly, Starburst, caramel macchiato, strawberry cheesecake, and root beer will have kids wanting to try every single specialty flavor on the menu.
Glazed - Central Houston
1333 Old Spanish Trail, Houston
346-718-2846
At Glazed, patrons can choose from traditional yeast donuts, filled donuts, cake-style donuts, and donut sandwiches. Yeast donuts are topped with various flavors of icing including maple, lemon, and chocolate, followed by toppings consisting of treats like cookies, cereals, and candy bars. Breakfast sandwiches, burgers, fried chicken, and grilled cheese sandwiches, are all served on fluffy glazed donuts. Kids will go crazy for their gooey donuts filled with Nutella, marshmallow cream, and peanut butter and jelly fillings.
Top Photo courtesy Donut Licious via Facebook