7 Houston Area Ice Rinks for Family Fun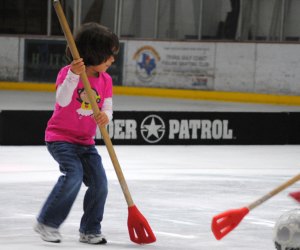 Houston may not have frozen ponds, even in the winter, but there are plenty of options in and around the city to practice ice skating. No matter if you stay in the city or stretch out to the suburbs, there are plenty of opportunities to expose your kiddos to ice skating and harness their inner-Nancy Kerrigan or Wayne Gretzky.
Ice at the Galleria
5015 Westheimer Road, Ste. 1260
713-621-1500
The Galleria's ice rink is located in the heart of the massive shopping complex. Once you are on the ice, you are on full display to the dozens of stores and hundreds of shoppers - so maybe this arena isn't ideal for your shy little skater. There is public skating every day of the week at varying times because guests do have the ability to rent the space for birthday parties and group events. If you want to take your outing to the next level, there is a skating school for children as young as 3-years-old as well as hockey lessons. General admission is $11 and kids ages 5 and under are $9. Skate rentals are an additional $4 for general admission and $3 for kids.
Memorial City Mall Ice Skate USA
303 Memorial City Way, Ste. 902
713-463-9296
The ice skating rink at Memorial City Mall has tons to offer - there are ice hockey programs, learn-to-skate classes, sled hockey, and opportunities to host events and birthday parties. During the holidays, guests are treated to various events and even a performance of "The Nutcracker" on ice. A full schedule is available online because public and private session times vary throughout the year, but public skating is available every day.
Bellerive Skating Center
7300 Bellerive
713-360-6946
This skating center is for the more experienced skater, so it's not ideal for bringing young children just getting their ice legs. The rink is open Monday through Friday for freestyle. Note that it does not offer learn-to-skate classes and all guests must own their own skates. The center has a hockey team and camps available as well. A 30-minute freestyle session costs $9.50.
Aerodrome Ice Skating Complex
8220 Willow Place Drive N.
281-847-5283
Once upon a time when Houston had a professional hockey team they practiced at this northwest Houston facility. Thankfully when the Aeros were relocated in 2013, the stadium stuck around for locals to enjoy. Don't worry about bringing your own skates - the complex has more than 1,000 pairs available to rent. There are your traditional public sessions during the day, but the real fun is at night when the arena is transformed by dim lighting, spunky music, and a special effects lighting system. There are special theme nights and holiday parties promoted throughout the year. This party place is very reasonably priced at $8 for general admission and $4 for skate rental and $4 for a walker rental for the little ones.
Ice Skating at Discovery Green
1500 McKinney
713-434-7465
It won't be long now before a section of Discovery Green will be transformed into an ice rink. Recycled water is used to create more than 7,000-square-feet of skating surface, which makes it the largest outdoor rink in the southwest. Check the online calendar for specific dates. There is a separate area for the little ones called the Ice Box for skaters 45-inches-tall or shorter and younger than 4-years-old. If you own your wheelchair, you can try your wheels out on the ice. With any outdoor facility, weather can play a factor. It can be closed due to heat, lighting or rain. On warm days, the rink could open late. It's best to check the website or call before you go.
Sugar Land Ice and Sports Center
16252 Lexington Blvd.
281-265-7465
Sugar Land's facility is south of town, and it is the only dual-rank complex in the Gulf Coast. It offers open skating sessions to the public nearly every day of the week that usually last two hours. The facility offers a wide-range of skates for rentals. However, the toddler sizes start at size eight. As with other skating centers, they have special theme days that could liven up your average Tuesday. Be sure to check their website and schedule. General admission is $10 during the week and $12 on Friday, Saturday, Sunday, and holidays for three-hour sessions.
The Woodlands Ice Rink
2005 Lake Robbins Drive
281-210-3800
Head north of the city for The Woodlands' seasonal ice skating rink. This year, the rink is open every day beginning in late November (check online for an updated schedule each year) inside the Cynthia Woods Mitchell Pavilion's event center on facility's northwest side (the entrance is at the corner of Lake Robbins Drive and Six Pines). Admission is $10.50 during the week for two hours and $12.50 weekends. Guests can also rent the facility for private parties and events.
Photo courtesy Sugar Land Ice and Sports Center