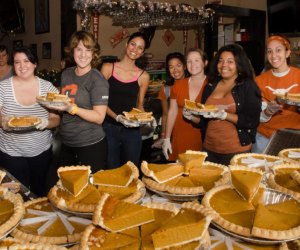 Holiday Volunteering Opportunities for Houston Families
Many children worry about whether they are on Santa's naughty or nice list. One way to help your little elves feel confident about their spot on the nice list is to encourage them to volunteer. Volunteering as a family is a great way to teach children that the holidays are about more than just presents while also creating a meaningful family holiday tradition.
The holiday season is a busy time for many families with so much shopping, cooking, and socializing to do, not to mention all the exciting winter festivals and other seasonal events, so we've rounded up a variety of easy ways your family can volunteer locally or through national organizations.
Houston Food Bank - Downtown
The Houston Food Bank is a great option for families because children as young as age six can volunteer alongside an adult parent or guardian. There are many volunteer projects, including kid-friendly projects, which can vary from inspecting and sorting food, to packing food into family-sized bags, to stocking the Emergency Food Pantry. Volunteer shifts are available daily, but hours vary. There are also special volunteer events coming up for the holidays. Register online to volunteer and make sure to wear closed-toed shoes and sleeved shirts. In addition to volunteering, you can also help by donating food or money or even hosting a food drive.
City Wide Club - Downtown
City Wide Club is best known for its annual events, which include a Thanksgiving Day Feast and a Christmas Eve Feast held at the George R. Brown Convention Center with volunteer shifts available in the morning and afternoon. In addition to serving traditional hot meals, thousands of people also receive clothing, shoes, blankets, flu shots, medical care, food baskets, and other resources. If you cannot make the annual events, there are many other ways to help, including donating canned foods or home goods or even hosting a food and toy drive benefiting City Wide Club.
Buffalo Bayou Community Volunteer Day - Inner Loop
The Buffalo Bayou Partnership invites Houstonians, ages 9 and up, to join in a community-wide volunteer day at Buffalo Bayou Park the third Saturday of each month. Volunteers help with a variety of tasks, including trash pick-up, mulching, silt management, and weed removal. Volunteers should bring their own gloves but all other necessary tools will be provided. To sign up please read the volunteer information packet and complete an online volunteer waiver with the event date. Several areas along the bayou, including parks and public spaces, were damaged during floods and are still undergoing renovations. Help restore the park to its former glory!
Operation Turkey Houston - Various locations
The volunteer-run organization distributes meals and care packages in more than 30 communities nationwide. In Houston, Operation Turkey holds two Thanksgiving events where volunteers are needed. The Turkey Tailgate is held the day before Thanksgiving and is a party where volunteers smoke turkeys, collect donations, and stage food and supplies for the event the following day. On Thanksgiving morning, volunteers are needed to prepare, package, and deliver food to the homeless and less fortunate. Children are welcome as volunteers along with their parents and are given tasks including decorating the clamshell food containers and walking through the food line to get the food containers filled, they can also help with delivering food if a parent volunteers to be a driver.
Meals on Wheels - Various locations
Interfaith Ministries' Meals on Wheels program provides over 10,000 holiday meals to homebound seniors in the Houston area. Volunteer on Thanksgiving morning to deliver traditional Thanksgiving meals and bring your little ones along to provide some extra holiday cheer to the seniors. There will even be an area at the distribution site for children to play games and to make Thanksgiving cards for the seniors you will visit. You can also volunteer at the distribution site and help with setting up, checking in delivery drivers, and assisting with clean up. If you can't volunteer on Thanksgiving, you can still help by fundraising or donating through the Meals on Wheels website.
Christian Community Service Center Jingle Bell Express - Bellaire
The Jingle Bell Express Event held by the Christian Community Service Center supplies 2,500 children and their families with new toys, books, and holiday food. There are two phases for the event: the Sorting and Set-Up Phase, which involves preparing toys and food for distribution, Dec. 9-11, 2019, and the Distribution Phase, which involves assisting clients as they gather toys, books, and food, held Dec. 13-14, 2019. Volunteers can just show up with no pre-registration required, but teens under 15-years-old need to be accompanied by an adult. There are many other ways to volunteer through the Christian Community Service Center including off-site options, such as creating hygiene kits for emergency service clients or making no-sew blankets. Email the Resource Development Coordinator at volunteer@ccschouston.org for more information.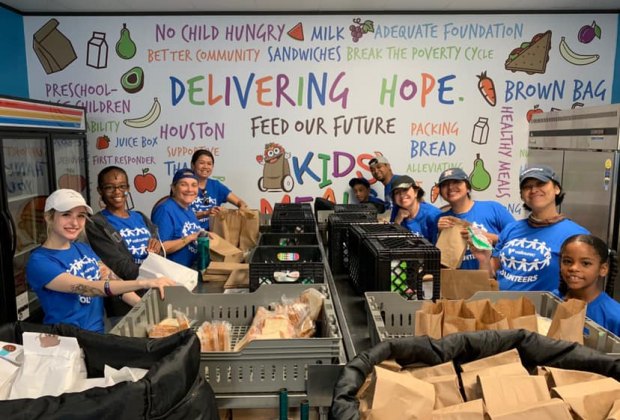 The entire family can volunteer to pack meals with Kids Meals, Inc. Photo courtesy Kids Meals, Inc. via Facebook.
Kids Meals, Inc. - Inner Loop
330 Garden Oaks, Houston
Kids' Meals, Inc. works to end childhood hunger by delivering free, healthy meals to the doorsteps of children ages five and under facing hunger due to poverty. Monday through Friday, volunteers prepare thousands of healthy lunches and then deliver the meals to children enrolled in the program. Kids Meals Inc. also provides children with additional resources such as free books. Outside of the holiday season, the group needs at least 20 volunteers a day. You can imagine how the need increases this time of year! Other ways to help include donating holiday food items, gift cards, and toys, or by participating in their adopt-a-family program. Kids Meals, Inc. accepts volunteers of any age to volunteer at the Ripley House location. Volunteers at the Garden Oaks Center need to be 8 years of age or older. All volunteers need to sign up ahead of time to volunteer either online or by emailing volunteer@kidsmealshouston.org.
Books Between Kids - Westchase
Books Between Kids distributes over 260,000 books to approximately 36,000 Houston elementary school students. Volunteers are needed to count and inventory donations, to sort books and box them, and to help with stocking the tables. Volunteer shifts are 2.25 hours and are typically held on Saturdays during the school year. Children ages 5-16 are welcome to volunteer with an adult. To volunteer, sign up online. You can also help by donating gently used children's books appropriate for Pre-K through 5th-grade readers or hosting a book drive. For more information, email volunteer@booksbetweenkids.org.
Star of Hope - West University Place
Food is just one resource Star of Hope provides to Houston's homeless. Help prepare Thanksgiving and Christmas meals by signing up for a shift this holiday season. And if those opportunities are full, there are plenty of other ways to get involved. Star of Hope also operates a shelter where volunteers are needed to prepare food, play games and interact with the residents, as well as working at its donation and distribution center and even writing notes of encouragement for the center's clients.
Citizens for Animal Protection - West Houston
Have animal-loving kids? Volunteer at CAP's animal shelter to care for their furry residents or even consider fostering. Volunteers at CAP must be at least 14 years of age, so this type of volunteering is best for families with older teens. If CAP is too much of a hike from your home, try reaching out to a shelter near you to see if they have additional needs this holiday season. Donating items like blankets, towels, or sheets that you no longer use is typically a welcomed donation at most animal shelters.
Northwest Assistance Ministries - North Houston
The Neighbors Helping Neighbors program at Northwest Assistance Ministries coordinates assistance for individuals in need, providing food, hygiene products, financial assistance, and more. For the 2019 holiday season, NAM will work to provide families in need with food and toys to help create special holiday memories. Donations of new, unwrapped toys will be accepted at NAM until Dec. 13, 2019. Families wishing to volunteer to distribute holiday donations to families in need can register on the NAM website to assist with delivery on Dec. 14. Volunteers will be greeted at the distribution event with free holiday cookies, music, and a visit from Santa! Volunteers must fill out an online RSVP to indicate when they will be available to volunteer, and all minors must have a permission slip filled out by their parents in order to volunteer.
SEARCH Homeless Services - Downtown
If your child loves to be hands-on when volunteering, helping pack Survival Kits and Snack Packs filled with essential hygiene and food items for Houston's homeless population is a great way to get them involved. At SEARCH, the entire family can help pack kits and distribute them around town. You can create these kits at home using the details listed on the organization's website and then either drop off the donations or volunteer your time to distribute them. Additional volunteer opportunities for volunteering at SEARCH events such throughout the year can be found on their website.
Toys For Tots - Various Locations
When families need assistance providing a joy-filled holiday for their children, Toys For Tots steps in with in-kind donations of new toys for kids who otherwise might not receive anything to open on Christmas morning. Your kids can get in the spirit of giving by selecting toys for a child and dropping them off at one of the many collection locations throughout the greater Houston area. Additionally, the entire family can volunteer to sort, wrap, or distribute toys by contacting the Toys For Tots campaign location nearest you.
This article originally published in 2016.
Want to deliver hot meals to Houston seniors on Thanksgiving Day? Click 'VOLUNTEER' in the menu above!
Can't come on Thanksgiving Day, but want to help? Click 'VOLUNTEER' in the menu above and sign up to fundraise!
Over 4,000 seniors in the Houston area rely on IM's Meals on Wheels program every day. They need you to bring them a little extra holiday cheer along with their traditional Thanksgiving meal! Thank you for caring about seniors in need. Together, we can make sure that no senior goes hungry, on Thanksgiving or any other day!
- See more at: http://support.imgh.org/site/TR?fr_id=1070&pg=entry#sthash.sIDLEUrZ.dpuf
Want to deliver hot meals to Houston seniors on Thanksgiving Day? Click 'VOLUNTEER' in the menu above!
Can't come on Thanksgiving Day, but want to help? Click 'VOLUNTEER' in the menu above and sign up to fundraise!
Over 4,000 seniors in the Houston area rely on IM's Meals on Wheels program every day. They need you to bring them a little extra holiday cheer along with their traditional Thanksgiving meal! Thank you for caring about seniors in need. Together, we can make sure that no senior goes hungry, on Thanksgiving or any other day!
- See more at: http://support.imgh.org/site/TR?fr_id=1070&pg=entry#sthash.sIDLEUrZ.dpuf
Over 4,000 seniors in the Houston area rely on IM's Meals on Wheels program every day. They need you to bring them a little extra holiday cheer along with their traditional Thanksgiving meal! Thank you for caring about seniors in need. Together, we can make sure that no senior goes hungry, on Thanksgiving or any other day! - See more at: http://support.imgh.org/site/TR?fr_id=1070&pg=entry#sthash.sIDLEUrZ.dpuf