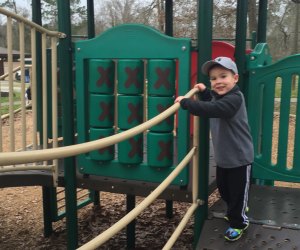 34 Free Places to Play in Houston This Fall
Fall is the perfect time of year to explore all of the amazing play areas that the Houston area has to offer. The weather is starting to cool off, so exploring outdoor playgrounds is at the top of our to-do list. But for those drizzly days, we do know of several amazing indoor gems to head to. Take a look at our favorite FREE places to play all around the Bayou City this fall. No matter what part of town you're in- we've got you covered!
Central Houston
Outdoors
Donovan Park
700 Heights Blvd, Houston
This gorgeous park features unique wooden play structures designed with a castle theme. You can read our review of Donovan Park to learn more about the park's history and fun features.
Barbara Fish Daniel Nature Play Area at Buffalo Bayou Park
1800 Allen Pkwy, Houston
Kids can explore this park's large play area constructed using natural materials like boulders, logs, and stones. The Nature Play Area also features a stream, waterfall, and 33-foot slide.
Buddy Carruth Playground For All Children at Hermann Park
6001 Fannin, Houston
This playground in beautiful Hermann Park is designed to be accessible to children of all abilities. Most of the play area is accessible by wheelchair. A splash pad is also located nearby in case you happen to go on a particularly warm day.
Wier Park
3012 Nottingham, West University
Located in West University, Wier Park offers several sets of playground equipment with plenty of shade, including a toddler-sized play set. A basketball court and tennis courts are also available for public use.
RELATED: Amazing Parks You Have to See Around Houston
Fire Truck Park
3743 Garnet Street, Houston
Your little firefighter-in-training will love climbing on the fire truck themed play structures at Fire Truck Park in Southside Place. In addition to the namesake structure, several other play structures, including a unique teeter-totter are featured.
River Oaks Park (aka Pumpkin Park)
3600 Locke Lane, Houston
One of the most well-known park structures in Houston, Cinderella's carriage is a must-visit when exploring River Oaks with kids. Kids can also write a wish to pin to the wishing tree, play sand volleyball, basketball, or tennis.
Vale-Asche Foundation Playground at Memorial Park
6501 Memorial Drive, Houston
This large playground is built to accommodate children of all abilities. It features ramps, braille elements, and sensory activities on a play scape set on a rubberized ground surface.
Indoors
Main Street Indoor Park at First United Methodist Church
1320 Main St., Houston
This indoor play area is open to kids ages five and under, Tuesday- Thursday from 9 a.m.- noon. Free parking is available at the corner of Travis and Polk Streets in the spots marked "reserved."
The Little Galleria at the Houston Galleria
5061 Westheimer, Houston
Located on the second floor inside of the Houston Galleria. Children 42 inches and smaller can explore this 2,000-square-foot play area, designed to look like a miniature version of the Galleria itself.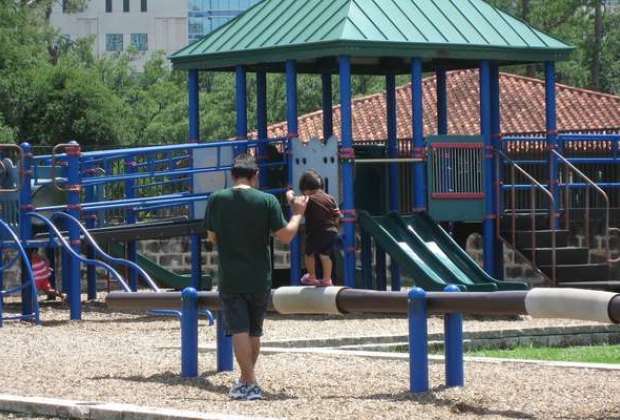 Buddy Carruth Playground at Hermann Park/Photo courtesy Hermann Park Conservancy
North Houston
Outdoors
Meyer Park
7700 Cypresswood Drive, Spring
Feed the ducks, take a walk or a hike, fish on a three-acre fishing pond, or play on one of two playgrounds at this 180-acre park in Spring.
RELATED: Kid- and Toddler-Friendly Hiking Spots Around Houston
Collins Park
6727 Cypresswood Drive, Spring
Plenty of shade will keep you covered while playing on one of two large playscapes. Collins Park also features a skate park with ramps for older kids and teens to skateboard or rollerblade.
Pundt Park
4129 Spring Creek Drive, Spring
This spacious 380-acre park not only features a great playground, but also has fishing areas, a dog park, and a picnic loop with two pavilions and ten tables located throughout. It's the perfect park for a fall picnic!
Jerry Matheson Park
1240 Ulrich, Tomball
The large play area at this park is separated into two play spaces for kids of different ages. The smaller side, meant for toddlers and preschoolers, features a sandbox. Shaded tables are located throughout the park.
Burroughs Park
9738 Hufsmith Road, Tomball
Five (yes, five!) playgrounds are located throughout Burroughs Park in Tomball, making it a perfect spot to take kids to play outdoors this fall.
Rob Fleming Park
6055 Creekside Forest, The Woodlands
This large park in The Woodlands features play sets for both younger and older children to play separately. The fishing pond and butterfly garden are both gorgeous areas to explore on fall days.
Meadowlake Park
9501 N. Panther Creek Drive, The Woodlands
Play under plenty of shade at Meadowlake Park. Multiple play areas and swing sets give you plenty of options to play the day away.
Indoors
Enchanted Forest at The Woodlands Mall
1201 Lake Woodlands Drive, The Woodlands
This 2,000-square-foot forest-themed play area features tunnels and bridges for kids to explore. While you're there, don't forget to stop by the mall's carousel!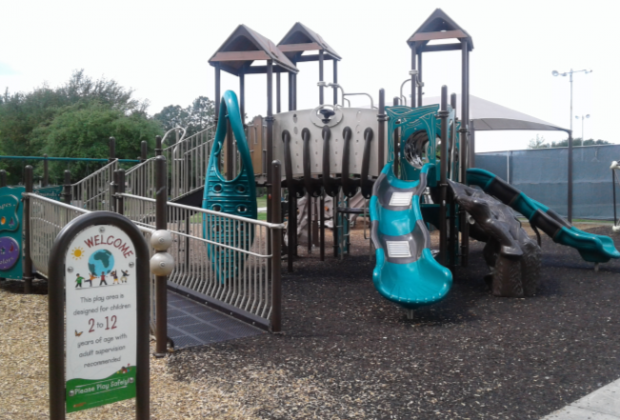 Recently updated playground equipment at Dow Park/ Photo courtesy City of Deer Park
East Houston
Outdoors
Jenkins Park
4334 Crosby Cedar Bayou Road, Baytown
Three large play scapes, basketball courts, disc golf course, a dog park, and tons of trails make this Baytown park a must-visit destination for the whole family this fall.
Dow Park
801 East P Street, Deer Park
Newly renovated Dow Park features a spacious play area for kids with tunnels, slides, rock climbing, and bridges on a brand new play set. A skate park, rose garden, gazebo, swings, and lots of open green space gives you plenty to do on a fall day at the park.
RELATED: Houston's Best Parks and Trails for Family Bike Rides
Golden Acres Park
5000 Oak Ave, Pasadena
This quaint Pasadena park is so charming. It features several large slides, a large sit-and-spin play element, swings, picnic tables, and a basketball court.
Holly Bay Court Park
7102 Crenshaw, Pasadena
The brand new playground equipment at Holly Bay Court Park is sure to keep kids entertained, while large shade keeps them shielded from the Texas sun. A picnic area, swings, and walking trail can also be found at Holly Bay Court Park.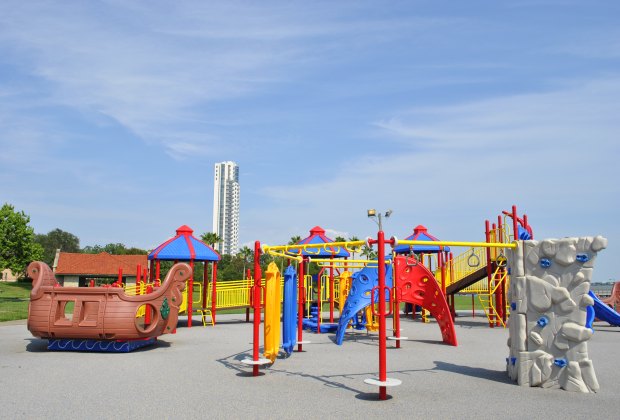 A variety of play areas to explore at Clear Lake Park/ hoto by Ashley Jones
South Houston
Outdoors
Pine Gully Park
605 Pine Gully Road, Seabrook
This waterfront park features a playground built right into the landscape of the park, as well as a fishing pier and plenty of picnic tables. It's ideal for a fall day spent exploring Seabrook with kids.
Clear Lake Park
5001 Nasa Pkwy, Seabrook
Featuring six (that's right, six!) playground sets with waterfront views, swing sets, gazebos, and a fishing pier, this park is perfect for the entire family. You can read our review of Clear Lake Park to learn more about what this seaside spot has to offer.
Challenger Seven Memorial Park
2301 W. Nasa Blvd, Webster
One of the largest parks in the southeast Houston area, this park features five play sets, multiple picnic pavilions, and miles worth of walking trails through a wooded bird sanctuary.
Centennial Park
3219 McClean Road, Pearland
The playgrounds at Centennial Park feature state-of-the art equipment with plenty of space to climb, slide, and swing. Picnic tables, basketball courts, and several walking trails can also be found at this Pearland park.
Bay Area Park
7500 Bay Area, Houston
This beautiful park features brand new playground equipment, a dog park, duck pond, miles of trails, and several walking paths that lead out over the marsh land of Armand Bayou.
Stevenson Park
1100 S. Friendswood Road, Friendswood
Three playground sets at Stevenson Park offer a variety of activities for kids of all ages and abilities. Beautiful gazebos and trails help make this park the perfect picnic spot.
Schreiber Park
3134 83rd Street, Galveston
This hidden gem in Galveston is located near Moody Gardens and features a space-themed park with a three-story play structure, as well as a toddler playground.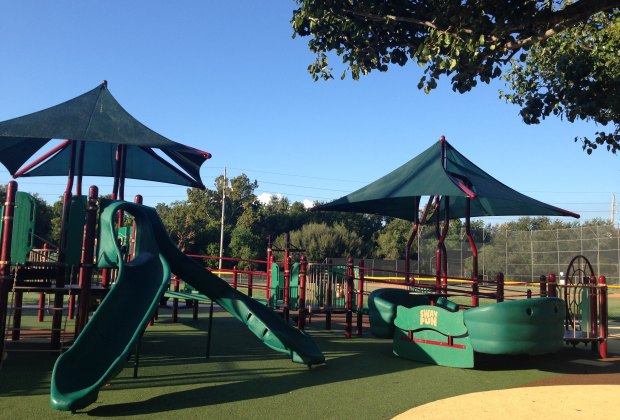 Fun for all at the universally accessible First Colony Park/ Photo courtesy City of Sugar Land
West Houston
Outdoors
First Colony Park
3232 Austin Parkway, Sugar Land
Featuring a universally accessible playground, First Colony Park is a great place to play this fall. Pavilions and picnic areas are located throughout the park.
Mesquite Park
2710 Mesquite Park Drive, Sugar Land
Located in the Settlers Park subdivision, this neighborhood park is a fun place to play under shady oak and pear trees. A large playground, walking trails, and picnic tables make this park perfect for fall days.
Katy Playstation Park
5611 Gardenia Lane, Katy
This custom designed playground is also fondly referred to as the "train park" thanks to the train-themed structure featuring slides, ramps, and swings for kids of all abilities to enjoy. The perfect park to visit when exploring Katy with kids!
Indoors
Playscape at Sugar Creek Baptist Church
13333 Southwest Freeway, Sugar Land
With more than 30 play elements, this indoor play area features two-story slides, foam play for toddlers, and much more. Playscape hours vary and are subject to change.
Frolic's Castle at Memorial City Mall
303 Memorial City Way, Houston
This play area is designed with a midlevel theme and features a toddler area, a drawbridge and catapult, and interactive sound elements for kids of all ages and abilities.

Top Photo: Playing at Bay Area Park/ Photo by Ashley Jones