35 Fun Rainy Day Activities For Houston Kids
Here in Houston, our weather can be pretty unpredictable. Weather that is scorching hot one day and cool the next is quite normal for us. It's also normal to go days on end with nothing but rain, rain, and more rain.
When the weather is drab and your kids start bouncing off of the walls because they've been cooped up inside for too long, finding an activity to keep them occupied and entertained can be challenging. However, the options for indoor fun around town are nearly limitless and getting creative with what you have right inside your own home is definitely not a lost cause. Here are 35 ideas to help keep your kids entertained on the next rainy Houston day.
1. Learn about aviation at the 1940 Air Terminal Museum or the Lone Star Flight Museum.
2. Visit the largest indoor playground in Texas where kids can slide down extremely fast slides, play arcade games, and more.
3. Bounce the day away at one of Houston's multiple indoor trampoline parks. We especially love Altitude Trampoline Park in Katy where kids can not only jump on wall-to-wall trampolines but climb an indoor rock wall and jump into foam block pits as well.
4. Explore the Houston Fire Museum and take a tour of a real Houston fire station.
5. Enjoy the Museum of Fine Arts, where you can not only see plenty of art, but engage in story times, family activities, or eat at the MFA Cafe.

Kids can see giant airplanes up close at the Lone Star Flight Museum/ Photo by Ashley Jones
6. Head out for some glow-in-the-dark fun and games at Glowzone indoor game center.
7. Climb the walls at one of Houston's indoor rock climbing gyms like Momentum Rock Climbing.
8. Be inspired to partake in one of these 50 indoor activities to enjoy at home like playing "I Spy" or having a pillow fight.
9. Build the ultimate indoor obstacle course.
10. Visit the Downtown Aquarium to see sea life up close.
11. Visit one of Houston's coolest candy shops to taste delicious treats.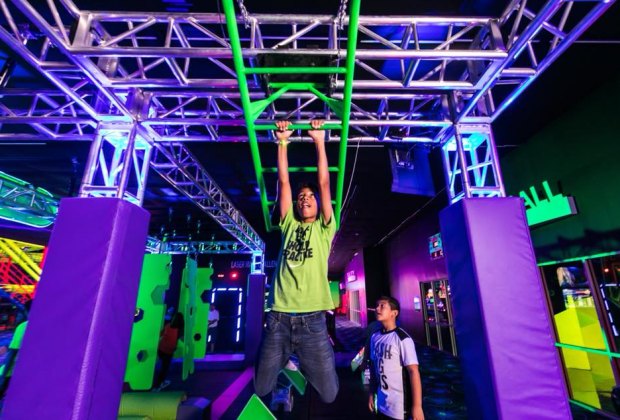 Kids can play a variety of games and explore indoor obstacles at Glowzone/Photo courtesy Glowzone via Facebook
12. Head to an indoor play space like Kid N Play in Pearland, Hooray Indoor Playground in Katy, or Houston Party Playland in Clear Lake where kids can slide down massive slides and climb through tunnels.
13. Ride the rails at the Galveston Railroad Museum or Rosenberg Railroad Museum.
14. Take a tour of Minute Maid Park or catch an Astros game with the roof closed during baseball season.
15. Explore the San Jacinto Monument museum and see Texas history come alive.
16. Take advantage of FREE admission at some of Houston's top museums on certain days.
17. Hit up your local library for storytime or to find amazing books to read.
18. Learn about modern at Houston's Contemporary Art Museum.

See displays of Texas history-related memorabilia at the San Jacinto Monument museum/ Photo by Ashley Jones
19. See a show at one of the many historic theaters in Houston's bustling theater district.
20. Check out the indoor activities at Moody Gardens like the recently renovated aquarium or the rainforest pyramid.
21. See all of the amazing exhibits at Space Center Houston where kids can learn how real astronauts live and work.
22. Go ice skating at The Galleria's indoor ice skating rink.
23. Take advantage of some of Houston's FREE indoor play areas at local churches and recreation centers.
24. Head to one of Houston's amazing independent bookstores to seek out rare gems or listen to a local author read their book.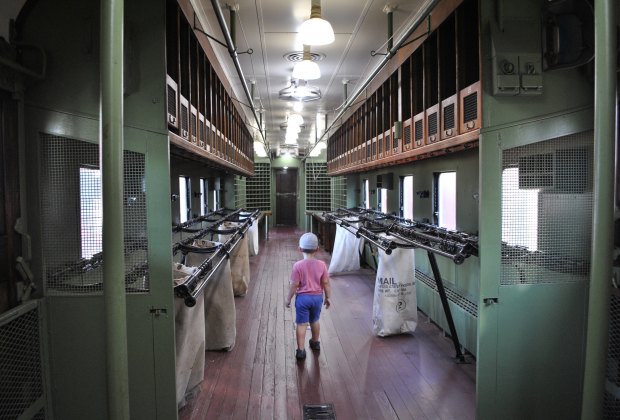 Kids can explore the inside of real train cars like this mail car at the Galveston Railroad Museum/ Photo by Ashley Jones
25. Take kids to participate in a FREE class at one of many Houston area stores.
26. Help kids learn to code online for FREE.
27. Go to a bowling alley and play to see who can bowl the most strikes.
28. Build an out of this world doll at Distroller World.
29. Play an indoor exercise game to keep kids active despite the rainy weather.
30. Explore one of the Houston areas amazing children's museums: The Children's Museum of Houston, The Woodland's Children's Museum, The Galveston Children's Museum, or The Fort Bend Children's Discovery Center.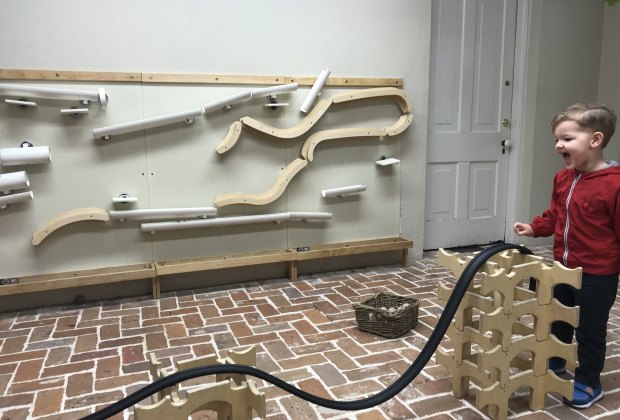 Playing with STEM toys in the Galveston Children's Museum/ Photo by Ashley Jones
31. Enjoy all of the marvelous wonders at the Houston Museum of Natural Science including the recently renovated Wiess Energy Hall.
32. Go retro and visit a roller rink.
33. Play a competitive game of laser tag at a laser tag arena.
34. Catch a flick at these kid-friendly movie theaters around town.
35. See if your family can make it out of an escape room.
Top: Looking through the glass floor near the entrance to the Moody Gardens aquarium/ Photo by Ashley Jones