Kid 'n Play Indoor Playground: What Makes This Pearland Play Space Worth a Visit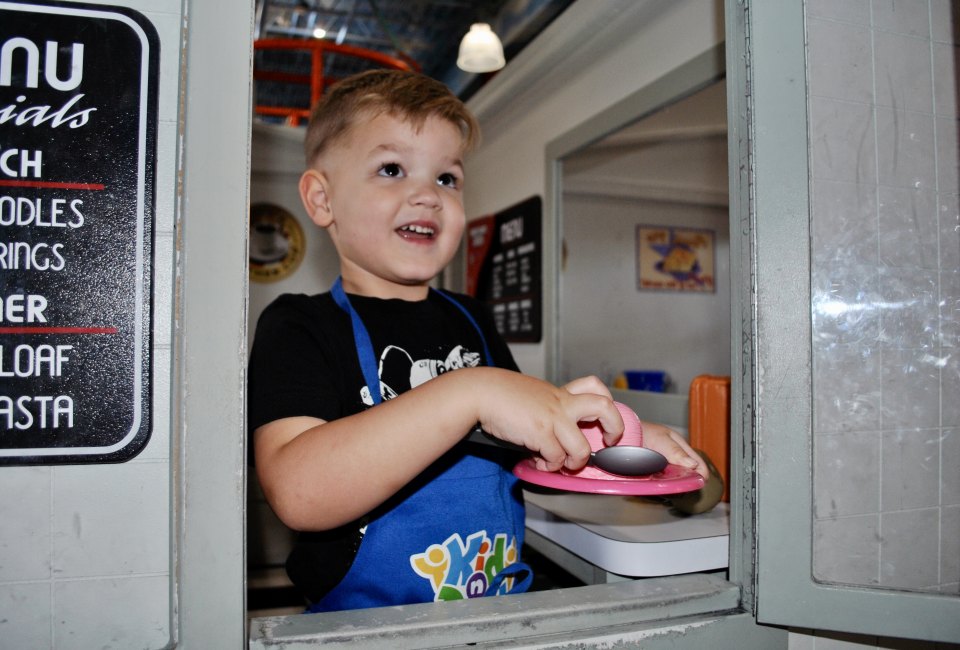 10/20/18
- By
Ashley Jones
Most indoor play spaces around town offer ample options for climbing, sliding, and jumping, but only a select few give kids their very own space to engage in imaginative play.
Kid 'n Play Indoor Playground not only offers a more traditional play structure, but kids are also encouraged to dress up and explore a kid-sized city to create a world all their own as cooks, hairstylists, musicians, firefighters, and police officers. It truly offers the best of both worlds when it comes to combining physical and creative play. We also love that Kid 'n Play is located in the heart of Pearland where there are a plethora of kid-friendly parks and restaurants to enjoy before or after a trip to Kid 'n Play.

The enclosed play structure is perfect for bouncing, sliding, and climbing.
The main climbing structure is a true sight to behold. From floor to ceiling, climbing nets, swinging ropes, multiple slides, and a trampoline area can keep kids entertained for quite some time. On our most recent visit, our four-year-old teamed up with a group of kiddos who seemed to enjoy making the most of all that the trampoline area had to offer.
The trampoline area is larger than it appears, and can comfortably hold about five or six children. The main slide (it's bright red, but can be hard to spot as it is on the back side of the structure) features three side-by-side open slides perfect for racing down, while the other large slide is an enclosed corkscrew shape. Both got a thumbs up from our little boy, but he seemed to gravitate toward the red triple slide because of the speed.

Neon lights underneath the play structure netting offer a fun way to light the way for climbers.
Another really fun part of the play structure was an enclosed area at the top with large exercise balls bouncing around. The balls are the perfect size for little kids to roll on top of and bounce around with, offering a unique twist on the traditional ball pits found at other play places. The entire play structure is filled with bright colors and adorned with a cute animal motif.
However, the bottom level of the structure is a bit dark. To help little ones see, fun lights in bright colors shine below the bottom layer of netting in the climbing area. This is definitely something we had not seen before at other play places and many of the kids seemed to really enjoy watching the lights change colors.
Toddlers can also get in on the climbing and sliding fun on their very own play structure located in a designated area reserved for kids ages two and under. This enclosed area also features several ride-on toys, balls, and foam blocks for little ones to enjoy without worrying about bigger kids trampling tiny fingers and toes.

A plethora of dress-up clothes ready and waiting for kids to enjoy.
One of our favorite things about Kid 'n Play was the ability for our little one to take a break from his rough and tumble climbing and jumping to explore the make-believe area. An entire rack of costumes in various sizes offers kids the chance to dress up as their favorite character, animal, or occupation.
Choices include Paw Patrol characters, Minnie Mouse, Batman, firefighters, police officers, cowboys and many more. Kids are encouraged to explore the various areas of the kid city while wearing the costumes to help facilitate imaginative play.

Shopping for pretend groceries at the kids-sized grocery store.
If you've ever visited the Children's Museum of Houston, you may be familiar with their Kidtropolis exhibit. The city area at Kid 'n Play is very similar (minus the 45-minute drive if you're on the south side!). Each enclosed area allows kids to explore a different activity like shopping at a grocery store, dining or cooking at a restaurant, working at a doctor's office, driving a firetruck, or styling hair at a hair salon. The areas are each equipped with anything and everything you could need to participate in each activity.
From miniature shopping carts to restaurant menus and baby dolls with strollers, kids have so many pretend play options to choose from. On our last visit, it was really great to see all of the kids interacting with each other through play at the various stations. Kids were taking turns checking each other out in the grocery area and using instruments to play in a band on the stage area.

A gorgeous indoor tree creates an enchanting scene between the play area and the cafe area, aptly named the Oak Tree Cafe.
Although no outside food or drink is allowed, a well-stocked snack cafe offers plenty of delicious options when kids get hungry or thirsty. Ample seating and an open floor plan also allow parents to sit in the cafe area and still easily see their kids playing on both the play structure and in the kid city. The only area not easily seen from the cafe is the small section reserved for ages two and under at the back of the venue. Also at the back of the venue, several arcade games are available for play for a small fee (quarters are required).
Another noteworthy aspect of this particular play place that sets it apart from others is their attention to safety and security. Each child and their adult counterpart are marked on the hand with a matching letter in a blacklight marker upon entry. When you get ready to leave, a staff member will check both yours and your child's hand stamps to make sure that the letters match. The entry is also gated both inside and outside of the door to help prevent kids from accidentally leaving on their own. Also worth noting, the staff is super helpful, friendly, and attentive to help make sure that each family makes the most of their visit. A day spent at Kid 'n Play is truly a day spent creating memories through play that will last long after leaving.
Important Tips:
No costumes are allowed in the play area.
No outside food or drinks are allowed (other than baby food/milk). Food is not allowed outside of the cafe area.
Socks are required and are available for purchase if you happen to forget. Adults must either wear socks or shoe covers available at the front desk. Pro Tip: Socks with rubber grips on the bottom work really well here because the play area has a laminate floor that can be a bit slippery.
Three private rooms are available for Birthday party rentals. Party packages can be customized with your child's favorite character. To book a party, visit the Kid 'n Play website.
When parking, the marked spaces directly in front of the venue are reserved for VIP party guests.
Top photo: Serving up some pretend food at the kids-sized restaurant. All photos by the author.
Places featured in this article: