Indoor Playground Fun at Houston Party Playland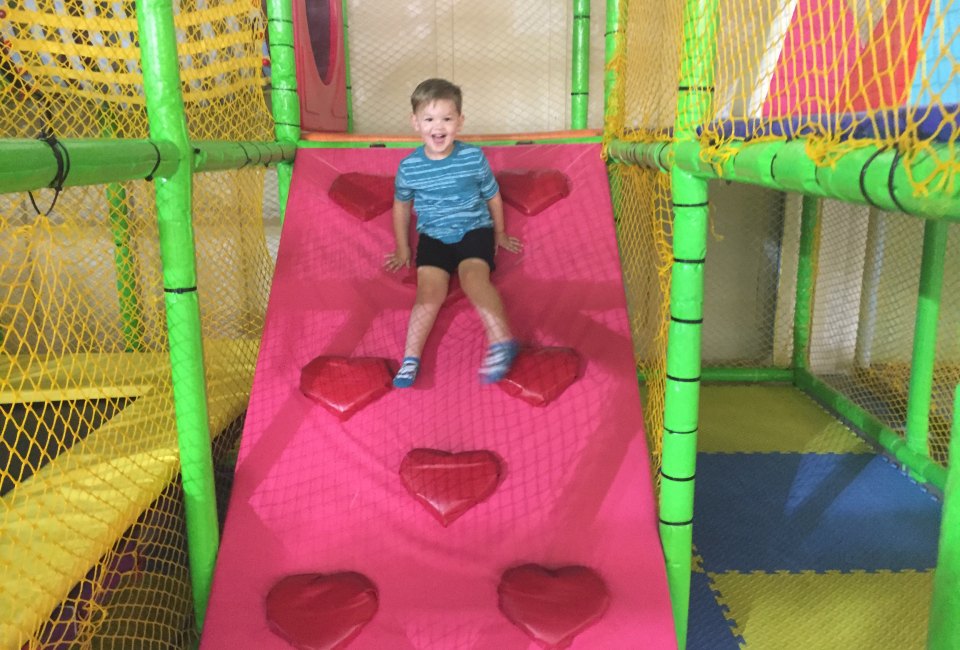 9/11/17
- By
Ashley Jones
In Texas, our weather is anything but predictable. Rainy one day and scorching hot the next seems to be quite the trend for much of the year. And then, there are those random winter days where it's just too cold for many of us Southerners to venture outdoors unless we absolutely have to! When you have restless kids stuck in your house for too long and it's too hot, too cold, too rainy, or too anything else to play on one of the many playgrounds in the Houston area, indoor play places become the perfect refuge. With several brightly colored play scapes, kid-friendly music, and play areas zoned for specific age groups, Houston Party Playland in southeast Houston is one of our absolute favorite indoor play spaces.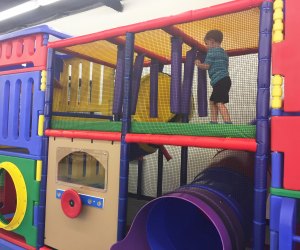 My 3-year-old having fun on the upper level of the Tyke Spot structure.
Each play area is labeled with an age range that the equipment in that space is appropriate for. The open concept of Houston Party Playland and the central location of seating areas makes it easy to keep an eye on multiple kids playing in various play sets. Choose from comfy couches, cafeteria-style tables, or traditional wooden tables and chairs to sit back and watch as your little ones play in each zone.

Baby Zone: Ages 6-12 months. Soft foam structures with movable blocks and ample space for parents to interact with their babies.
Tyke Spot: 1-3 years. Two small play structures with low slides, crawl spaces, and easy-to-navigate obstacles.
Tot Town: 2-4 years. One medium-sized play structure, and a large space with moveable foam blocks for building and climbing.
Playland: Ages 3 and up. One 1600 sq. ft. multi-level structure with a trampoline, zip line, slides, and tunnels.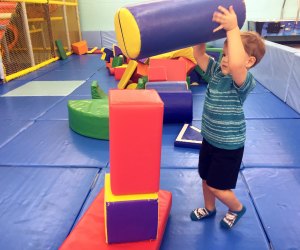 Building tall towers in Tot Town!
The main play set (aptly named Playland) features three levels of tunnels, obstacles, rope ladders, and slides. Some of the obstacles were challenging for my 3-year-old when he first started playing, but after several attempts, he climbed level by level up to the top of the structure. But, until he was sure he could make it all the way up, he really enjoyed the trampoline located in this area. The trampoline can get a little crowded if more than four or five kids decide to pile on it, so I definitely kept a close eye on him, as he was one of the youngest in the Playland area. There's also a zip line built into this structure where taller kids can grab onto bike handles and zip down from one level to the next. That feature seemed to be a hit with a few of the older children who were there during our most recent visit.
It's evident that safety is a priority at Houston Party Playland. Each area features netting on the play scape sides and foam mats underneath. This gives kids a safe place to land should they happen to stumble and fall. The poles that make up each structure are wrapped completely in foam as well. This proved to be very helpful when I was climbing underneath the largest structure with my son and stood up too quickly, not realizing how close I was to a support bar! The areas for younger children are appropriately sized so any fall that might happen doesn't leave them with too far down to go. The baby zone is totally padded and perfectly sized for the tiniest tykes.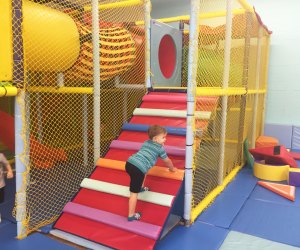 Safely climbing to new heights on this soft, padded ladder.
An arcade, virtual play zone, giant candy and toy machine, and a bear building shop help to set Houston Party Playland apart from other indoor playgrounds in the Houston area. The bear factory offers an affordable alternative to Build-A-Bear Workshop, featuring multiple animals to choose from with adorable bear-sized clothing and accessories. The arcade boasts several toy grab machines, an air hockey table, a ride-on truck, and a car racing game.
Houston Party Playland is also a great spot to host a birthday party. Three large birthday party rooms provide plenty of seating and a place to serve pizza and cake for all of your guests. Rental packages vary, but one intriguing option to make for a memorable party is to include one of Houston Party Playland's character mascots in your party package. Choose from Minions, Paw Patrol, Mickey Mouse, and more. Houston Party Playland also hosts a number of special events, holiday parties, and meet and greets featuring these lovable characters throughout the year.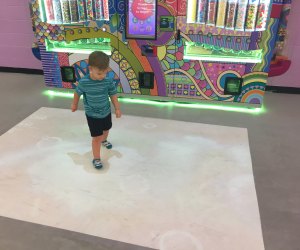 Popping bubbles on the virtual playground display in front of the giant candy dispenser.
What to Know Before You Go:
No outside food or drink is allowed. Concessions (including allergy-friendly food!) are available for purchase in the cafe.
A change machine is located in the arcade if you need coins for game play.
Everyone entering the play areas must be wearing socks. No shoes are allowed. (Forgot your socks? You can buy a pair at the front desk for a small fee.)
Shoe storage cubbies are located near the entrance and FREE lockers are available for storing valuables.
Hours of operation are Sunday- Thursday 9:30 a.m.- 7:30 p.m. and Friday- Saturday 9:30 a.m.- 9 p.m. Visit the Houston Party Playland website for holiday and event hours, as well as admission prices.
Make sure you allow for plenty of time to stay and play. Protests of, "I don't want to leave!" were definitely made when it was time for us to head home after our last visit. There's just so much to see and do at Houston Party Playland.
All Photos by Ashley Jones
Places featured in this article: