Online Robotics Camp
Young Gates - Kids Online Personalized Classes

Artificial Intelligence with Scratch Online Camp
Young Gates - Kids Online Personalized Classes

Spark Math: Free Trial Class
Virtual
Sign up for our free newsletters.
Free Classes for Kids at Houston-Area Stores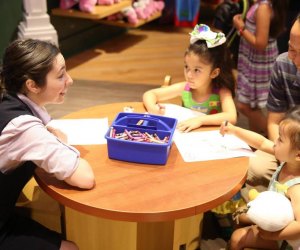 1/14/19
- By
Ashley Jones
Houston has a variety of amazing kid-friendly activities that don't break the bank, but organized classes don't often make the cut. Some museums offer free admission on certain days of the week, but signing up for music lessons or dance classes usually costs more than most of us would like. Luckily, several area stores offer a variety of classes to keep young kids engaged and learning for FREE.
Another perk of free store classes is the flexibility they provide. Kids often jump from one interest to the next more quickly than semester-long or year-long classes last. By attending classes for free at local stores, kids can explore a variety of interests without the time commitment of traditional classes.
These valuable community resources can be found right here in the greater Houston area. Check out our list of free store classes to see what could be available right in your neighborhood.
Note: These stores have various locations throughout Houston. Please check with your local store as programming and hours may vary from store to store and online reservations may be required.
Apple Store
At Apple, kids can dive head-first into coding and programming, as well as music and movie production. Classes are typically one hour long and involve learning how to utilize Apple devices in a fun and engaging way.
Disney Store
A trip to the Disney Store can be magical all on its own, but adding in a special event like learning to draw a character can make it even more incredible for any child. In addition to learning about animation and drawing, kids can participate in story time or singalongs on certain days.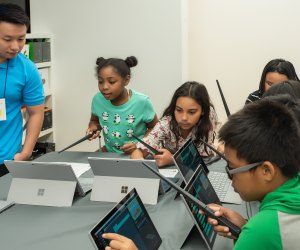 Students learning to code a Harry Potter wand at a Microsoft Store./Photo courtesy Microsoft Store
Home Depot
Kids can get hands-on with tools and building materials at Home Depot. Workshops offer kids the opportunity to create crafts such as jewelry boxes and birdhouses. Parents must attend with their child and each child gets to keep their craft as well as a Home Depot workshop apron.
Lakeshore Learning
Each Saturday, all Lakeshore Learning locations nationwide offer a free crafting activity for kids. The craft themes tend to mirror the season or calendar but are also sometimes based on popular books like Pete the Cat. Store associates are on hand to help guide children through creating their crafts, but parents are also encouraged to participate.
LEGO Store
What better way to get kids interested in STEM education than with LEGOs? Workshops offered at LEGO store locations include hands-on activities and demonstrations for budding builders. From scavenger hunts to figure swapping, each event is curated by LEGO Brick Specialists specifically for kids ages 6-14.
Michaels Craft Store
Take part in a Make Break session at Michaels stores where kids can create their own arts and crafts under the guidance of a team member. Past projects include slime, wreaths, and photo frames. Parents are encouraged to participate with their child.
Microsoft Store
With a variety of class types and skill levels offered, the kids classes at Microsoft cover coding and STEM design on Microsoft devices. Some classes even incorporate favorite characters from movies and video games. Age requirements apply to some classes.
Top photo courtesy Disney Store via Facebook