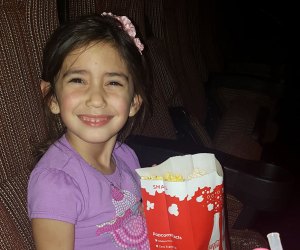 Kid (& Baby) Friendly Movie Theaters in Houston
I'll be honest, I haven't gone to the movies since my daughter was born, and she's getting close to 1 1/2-years old! I remember being told to go to the movies as much as possible while I was pregnant, but I didn't really comprehend that watching a movie on the big screen would become such an unlikely endeavor after having a baby. I also remember reading that one can take babies to the movies when they are newborns and they will just nurse and sleep but that just seemed too daunting to me, what would I do if she cried? I could just imagine all the angry movie patrons yelling at me for bringing a baby to the movies, would they even let me in the theater? Even though I've tried all kinds of mom-and-baby activities, such as music classes, baby yoga, and storytimes, I had no idea that "mommy and me" movie showings existed.
There are some great family-friendly movie options in the Houston area - don't be afraid to give them a try! Some screenings are geared toward children with sensory issues, so they show kid's movies, while Mommy and Me screenings are typically movies for adults that also welcome babies and children as audience members.
Mommy Matinee at Santikos Theaters
Children are welcome to attend these screenings 11 a.m. Wednesdays with brighter lights, lower sound, and stroller parking. Admission is standard prices but children under three are FREE. The Palladium is a MASSIVE theater that is worth the drive (for us, even a 45-minute drive). There is a bowling alley, arcade games, delicious food, and it is simply a nice facility altogether. Tomball's Silverado theater is a little older, but also has arcade games, expanded food menu, and reclining chairs.
Santikos Palladium AVX - West Houston
7301 West Grand Parkway South
Richmond, TX 77407
866-420-8626
Santikos Silverado IMAX - Tomball
24720 Tomball Pkwy
Tomball, TX 77375
281-290-0077
ShowBiz Cinemas Mommy & Me Matinees on Wednesday mornings
ShowBiz Cinemas Kingwood 14
350 Northpark Drive
Kingwood, TX 77339
281-358-7711
Alamo Drafthouse Alamo for All
Alamo for All is a movie program for young families (including infants) and guests with special needs with lights turned up and sound turned down. All shows starting before 2 p.m. Tuesdays and other show times listed on the Alamo for All schedule allow talking, noise, and moving around, and late arrivals are admitted. The schedule may vary during holidays and more showings may be available on the weekends and over the summer.
Alamo Drafthouse Cinema - Mason Park
531 South Mason Road
Katy, TX 77450
281-492-6900
AMC Sensory Friendly Films
AMC has partnered with the Autism Society to offer unique movie showings where the lights are turned up and the sound is turned down. At these showings, it's okay to get up, dance, walk, shout or sing! The Sensory Friendly Film program is available on the second and fourth Saturday (family-friendly) and Tuesday evenings (mature audiences) of every month. Please check theater listings for specific showings and times.
AMC First Colony 24
3301 Town Centre Blvd South
Sugar Land, Texas 77479
281-277-5858
AMC Gulf Pointe 30
11801 S Sam Houston Pkwy E
Houston, Texas 77089
281-464-8801
AMC Willowbrook 24
17145 Tomball Parkway
Houston, Texas 77064
281-970-9604
Studio Movie Grill Special Needs Screenings
Studio Movie Grill offers monthly Special Needs Screenings, designed for families raising children with special needs. These family-friendly movies are free for children with special needs and their siblings, with adult tickets available for before noon price. Special Needs Screenings are shown with the lights up and the volume lowered and children are free to move around, talk, or even dance in the aisles during the movie. Special Needs Screenings are shown daily at 11 a.m. at all SMG locations.
Studio Movie Grill - City Centre
822 Town & Country Blvd.
Houston, TX 77024
713-461-4449
Studio Movie Grill - Copperfield
8580 Highway 6 North
Houston, TX 77095
832-593-6684
Studio Movie Grill - Pearland
8440 South Sam Houston East
Houston, TX 77075
713-821-2400
Photo courtesy of Alma Mancuso