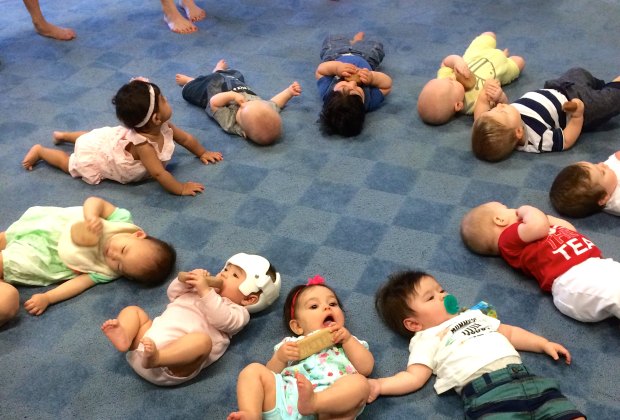 Where to Find Mommy and Baby Music Classes
Babies love music. Music can feel like a secret weapon when you discover a song that soothes or excites your baby. My husband and I found that singing the "skinnamarinky dinky do" song worked wonders in stressful moments and usually led to a happier baby. If you don't know it, the song is from "The Elephant Show," which is an 80s gem - and it's on YouTube! Because my daughter seemed so interested in music, and research shows there are many benefits of early music education, I decided to enroll my 2-month-old daughter in a mommy and baby music class. Her dad attended the class frequently as well, and we found that the class taught us playful ways to interact with her and ways to incorporate music into our lives at home. It was a hit with our family and was a great opportunity to meet other new parents with babies close in age to our daughter. There are lots of options for music classes to choose from in the greater Houston area, and many offer a free demo class.
Prelude Music
832-803-7701
The class we took was first was the Babies Class at Prelude Music. The classes here are part of the Music Together program, which is a research-based approach to music education for children. There are three song collections a year plus a summer collection of favorites songs. The instructors build on children's natural interest in music and movement while teaching musical skills. The Babies Class is for babies 8 months old and younger with music activities specifically designed for infants and their parents. At Prelude Music, babies under 8 months old can also be registered on their own to attend any of the Mixed Age Classes or can attend for free if an older sibling is registered for the class, which is a great option for families. Each class is 45 minutes long and comes with a songbook with illustrations, two CDs, and an access code for the online Music Together resources. Visit the website for pricing, to schedule a demo, or to register.
Locations:
Houston
3701 W. Alabama, Ste. 210
The Woodlands
7901 Research Forest Dr., Ste. 400
Sugar Land
(Houston Museum of Natural Science at Sugar Land)
13016 University Blvd.
(The Honor Roll School)
4111 Sweetwater Blvd.
Crescendo Family Music
713-289-4875
Crescendo Music Classes also utilize the Music Together Program. They do not have a specific class for babies, but babies are warmly welcomed into any of their Mixed Age Family Classes held at Nia Moves in the Heights and their Generations Classes, which are held at a nearby nursing home. Babies under 8 months old are free if attending with an older sibling. Each class is 45 minutes long and comes with a songbook with illustrations, two CD's, and an access code for the online Music Together resources. Crescendo music often holds special community events and concerts. Visit the website for pricing and to register or schedule a trial class.
Location:
Nia Moves, 508 Pecore, Houston
Fundamentally Music
713-661-1254
Fundamentally Music has an infant class for babies from the ages of 4 months to 14 months, which is geared toward pre-walkers. The classes incorporate singing, movement and dance, instruments, puppets, parachutes, and bubbles. Babies 4 months old and up are also welcome to attend Music Pups Classes, which are designed for children up to age 4 and are a great option for siblings to attend together. Infants up to 10 months are free when attending with an older brother or sister. Fundamentally Music classes utilize song collections from The Music Class in Atlanta and include a songbook, CD, and access code for online resources. Visit the website for pricing information, to sign up for a free class, and/or to register.
Locations:
Bellaire
5110 Spruce Street
Upper Kirby
3455 Kirby Drive
The Heights
3620 Katy Freeway at Heights Boulevard
Gymboree Play & Music
Gymboree offers a variety of classes for babies and children, including music for babies aged 6-16 months. This class incorporates song, dance, instruments, and movement games to help children explore aspects of music, such as melody, rhythm, and beat. Gymboree classes focus on the development of the whole child and encourage the development of social, physical, and cognitive skills. Infants are also welcome to attend Family Music Classes. Visit the website for pricing, to schedule a free class, and/or to register.
Locations:
Central Houston
1990 Post Oak Blvd.
713-953-0444
Houston
14623 Memorial, Ste. B
713-953-0444
Willowbrook Plaza
17375 Tomball Parkway, Ste. 2E
713-953-0444
Pearland
2730 Smith Ranch Road
281-208-4302
Riverstone (Missouri City)
5201 Hwy 6 South, Ste. 300
281-208-4302
Katy
1520 S.Mason Road
713-953-0444
Gymboree Play and Music at The Motherhood Center
The Motherhood Center also offers Gymboree Play and Music Classes for babies and families in addition to many other services, such as massage, yoga classes, and pregnancy and parenting resources. The Tummy Time and Play Class is designed for babies from birth to 6 months as a fun way to encourage strength building and sensory exploration. This class aims to enhance the benefits of tummy time, such as motor control and postural strength, in a playful environment by engaging babies with music, singing, and sensory games. The Family Music Class is designed for families and siblings ages 0-3 years and utilizes joyful songs, instrument exploration, and movement activities to encourage musical exploration and child development. Visit the website for schedules, pricing, and to register

3701 W. Alabama St., Ste. 230
713-963-8880
Photo by Kate Marder