Houston Escape Rooms: A New Type of Family Fun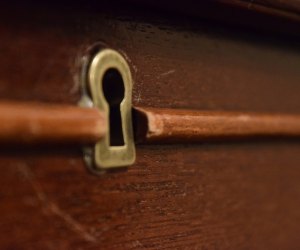 Escape rooms are the perfect way to mix up family nights out. A fairly new but popular entertainment concept, escape rooms bring out a person's inner Sherlock Holmes. Guests are locked in a room full of clues and codes and have one hour to solve the room's mystery and find a way out. Or else. Well, the door still opens after an hour (some rooms have a 90-minute time limit), but you may leave some pride behind.
Most rooms require guests to be at least 10-years-old, but double check with the facility before your visit. Most list age requirements online. Aside from protecting younger visitors from any "mature" or potentially scary content inside the rooms, it's more fun to play when your kids are at an age when can focus and fully participate in the escape. So, does your family have what it takes to make a great escape? Find out at one of the locales below...
Houston Escape Room
100 Jackson St., Ste. 120
832-786-9323
Room themes: Mo's Safehouse, Grandma Codebreaker (set in "grandma's house"), The Scarlet Scam, Dark Side of the Moon
Team size: 4-10 people
Cost: $25 (per person for public booking), $250 (private booking for 4-10 people)
Real Escape Room
9889 Bellaire Blvd., Unit C321
832-856-1148
Room themes: Capture Berlin (set in WWII), The Office
Team size: 4-10 people
Real Escape Room also features virtual reality games where participants wear VIVE and Oculus VR glasses.
Cost: $25 (escape room, adult), $12.50 (escape room, kids under 10), $10 (for a half hour of VR gaming)
Break the Cipher
1735 Westheimer Road
713-588-0306
Room themes: Captive, The Heist, Black Gold (set in the 1920s, coming soon)
Team size: 4-12 people
Cost: $29
Crazy Cat Escape Room
3231 Houston Avenue
832-582-7525
Room themes: The Scene of the Crime, The Western, Saloon Robbery, The Deadly Dining Room
Team size: 2-12 people
Cost: $34.99
Escape Hunt
125 West Gray St.
346-240-9111
Room themes: Theft of the Texas Lone Star; Murder in Marylebone; Houston, We've Had a Problem
Team size: 2-6 people
Cost: $30
Bamboozled
12825 Gulf Freeway
281-940-2944
Room themes: Obsidian Sword's Chamber of Horror, Bamboozled Room, Escape from Alcatraz
Team size: 2-10
Cost: $25
Room Escape Time
Room Escape Time is in the process of moving - check online for latest location info
832-590-0511
Room themes: Room with a Zombie, Villian's Hideout, The Crash
Team size: 4-10 people
Cost: $28
The Lock
26797 Hanna Road, Building 2, Stes. 5 and 6
281-676-5023
Room themes: Oceans Royale (escape the casino), Shenandoah Redemption (escape the prison), Presidential Treasure (escape the oval office), Resident Industries (escape the lab)
Team size: 2-10
Cost: $25
Mystery Room Houston
7620 Katy Freeway, Ste. 110
832-916-4386
Room themes: Escape Egypt, Helter Skelter, Pirates Plunder
Team size: 2-16 people
Cost: $32
Escape Now
13243 Jones Road
832-220-5948
Room Themes: The Sherlock Room, The Chocolate Factory
Team size: 2-10 people
Cost: $24
Photo courtesy of Houston Escape Room