Texas' Hidden Children's Museums You Have to Visit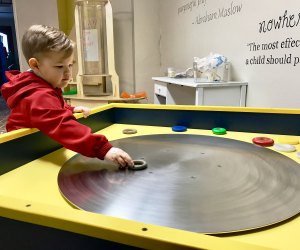 Major cities throughout Texas boast well known and very well loved children's museums such as Austin's Thinkery, San Antonio's DoSeum, and of course our very own Children's Museum of Houston. But as "they" always say... everything is bigger in Texas! That means there are even more children's museums to get to know and love all over the lone star state. These hidden gems are nestled in small towns and suburbs, and they are bursting at the seams with fun and hands-on learning for kids of all ages.
Galveston Children's Museum - Galveston
2618 Broadway Street, Galveston
409-572-2544
This museum is aimed at engaging kids ages 2-10 with a variety of activities for multiple skill levels. The beauty of this museum lies in the ability for kids to choose their own activity at their leisure. A building room features real tools for kids to use (with adult supervision of course) and build tinker toys out of wooden bobbins, screws, corks, and springs, while the arts and crafts room contains both painting materials for free play and instructed craft activities. At the center of the museum, there is a room with a circular stage for kids to act out their own plays with plenty of props and dress up clothes to help set the scene. For the littlest learners, the museum's Montessori style toddler room is perfectly suited with safe, fun activities like balls, a reading nook, and kinetic sand.
Discovery Science Place - Tyler
308 N. Broadway Ave, Tyler
903-533-8011
The charming town of Tyler is located deep in the piney woods of East Texas and is home to a fantastic children's museum that focuses on fueling the curiosity of young learners through hands-on exhibits. At Discovery Science Place, a rock climbing wall and fossil dig pit provide areas for kids to exert some physical energy, while the robotics exhibit and kinetics gallery help kids make real-life connections to STEM lessons they've learned in school. Kids can also take a turn doing grown-up activities like running a courtroom, grocery shopping, banking, and running a nursery in the Hometown USA area of the museum.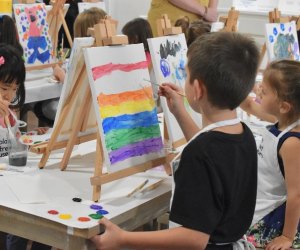 Getting creative with canvas and paints/ Photo courtesy Play Street Museum - Plano
Play Street Museum - Dallas
Choose from one of eight locations throughout the greater Dallas area.
The Play Street Museum was recently named to USA Today's list of top 10 museums for families in the Dallas area. Each location is brimming with creative spaces for kids to learn and explore. The interactive exhibits in the museum are child-sized and geared toward kids being able to explore each area at their own leisure. The best part about Play Street is that each location varies in theme and content, so you can take a turn at each location for a completely different experience, but with the same premise of encouraging children to engage in play independently. In addition to the multiple locations in the Dallas area, they're currently developing new concepts in The Woodlands and Ft. Worth!
The Woodlands Children's Museum - The Woodlands
4775 West Panther Creek Drive
281-465-0955
The Woodlands is one of our favorite places to visit with kids. This is partly because of their fantastic children's museum. Aimed at children under age 10, this museum has a variety of exhibits designed to let kids lead the way through each activity. A bevy of building blocks, train tables, and sensory bins give kids plenty of free play items to choose from. The museum's calendar is packed full of special activities like story times, science experiments, and puppet shows to help entertain little ones in between their trips to the pint-sized market and fire truck exhibit. This museum is on the smaller side, but it is absolutely full of activities to keep children engaged and learning through play.
McKenna Children's Museum - New Braunfels
801 West San Antonio Street, New Braunfels
830-606-9525
There are so many fun things to do in New Braunfels with kids, but the McKenna Children's Museum tops our list. Everything at the museum has been sized-down to make kids feel like they can do or be anything. They've even created a space with camping and ranching activities indoors! The outdoor area of this museum is a must-do. It features water play areas with water wheels and spraying tubes, a kids-sized rock wall, and a giant disc climbing structure. Kids can also get up-close-and-personal with fish, turtles, and even an alligator in the museum's aquarium exhibit. Space lovers can see what it's like to be an astronaut in the Destination Space exhibit where they can take a turn wearing space gear and manning mission control.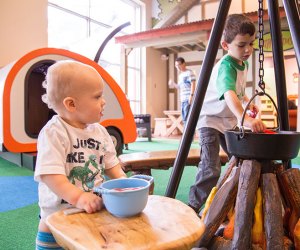 Learning how to set up camp at the indoor campsite exhibit/ Photo courtesy McKenna Children's Museum
Science Mill - Johnson City
101 South Lady Bird Lane
844-263-6405
This hidden gem can be found in the heart of the Texas hill country in beautiful Johnson City. It boasts children's activities with a STEM theme to help keep kids learning outside of the classroom. A 3D theater, bio lab, aquaponics greenhouse, cellphone microscope, I-Globe, and wind turbine test bed are just a few of the areas budding scientists can explore. One of the more unique exhibits includes a playable piano made of everyone's favorite yellow fruit...bananas! An area specifically designed for toddlers to safely explore makes this particular museum wonderful for families with children of different ages.
Don Harrington Discovery Center - Amarillo
1200 Streit Drive
844-263-6405
This children's museum features both permanent and traveling exhibits, giving visitors a taste of some of the best creative and scientific exhibits from around the country. An entire exhibit devoted to exploring the ins and outs of aviation is great for kids who love airplanes, and the Space Gallery and Space Theater areas are perfect for future astronauts. Animal lovers will love interacting with real bearded dragons, snakes, spiders, and a few other furry critters living at the museum. Several rotating exhibits include areas where kids can explore the concepts of gravity, motion, kinetics, and more through interactive play. Kids under age two receive FREE admission!
Top Photo: Playing at the Galveston Children's Museum/ Photo by the author