Things to Do On Your Snow Day in New York City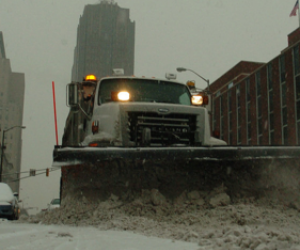 Since Winter Storm Nemo decided to hit us at the end of the week, we don't have to worry about school being canceled. Still, Saturday, February 9 certainly won't be a normal, run-of-the-mill day. Already several places have announced special snow day activities, including a snowman showdown, a snow sculpting contest and fun in NYC parks.

Read on to hear about these snow day specials, plus we've got the inside scoop on favorite sledding hills, a hot chocolate festival, snow painting and other winter fun.
Asphalt Green Snowman Showdown: It's on! At 2pm, the massive Upper East Side athletic center will open its 1.5-acre field to the public for a free snowman building event. Expect hot chocolate and everything to make your snow day a magical memory. Enter at 555 East 90th Street between York and East End Avenues.

High Line Snow Sculpt-Off: Update: Due to dangerous ice conditions in the park, this has been postponed until Sunday, February 10 at noon. On Saturday, NYC's only elevated park will host a snow sculpting contest. The team behind the winning creation snags prizes from Chelsea Piers; The Standard, People's Pops and others. So get your team together (five people or less) and head to the Chelsea Market Passage at 15th Street and Tenth Avenue at 2:30pm to register. Space is limited. Judging begins at 4pm.

Snow Day in NYC Parks: On official snow days, the NYC Parks Department offers free hot chocolate and sleds at specific spots. There's one location per borough and the freebies take place from noon to 3pm while supplies last.

Sledding: Of course there are great sledding hills all over NYC. If you don't have a sled or saucer, get one right away as by afternoon many stores will be sold out. Once your ride is in hand, head to one of our favorite NYC sledding hills.

Snow Day Specials on Broadway: While we haven't heard about any specific snow day specials, we suspect there will be lots of last-minute tickets available so it's a good day to hit the TKTS Discount Booth or try to get cheap rush or lottery tickets. Plus Off Broadway Week and 20at20 deals are running through Sunday.

Snow Painting: For younger kids or older kids who want some downtime from sledding, learn how to make snow paint and gems.

Hot Chocolate: On your way home, stop for some traditional hot cocoa at one of our top spots in Manhattan, Brooklyn or Queens, or grab some really exotic flavors at City Bakery's annual Hot Chocolate Festival.

Indoor Activities and Craft Ideas: If you're staying in, take a look at our Indoor Activity Guide for ideas, including our reader-suggested list of 50 things to do indoors.

Skiing: If you really want to make the most of this snow by skiing, we've got the scoop on nearby kid-friendly slopes and more recommendations for New Jersey ski spots. (Of course don't drive if the roads aren't safe).

Watch our Twitter feed or Facebook page for addition snow updates and fun.