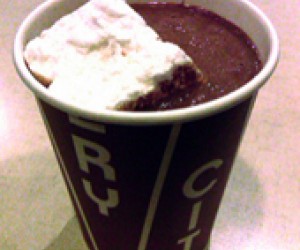 City Bakery Hot Chocolate Festival 2016
It's February and that means it's time for City Bakery's annual Hot Chocolate Festival. For every day in February, the popular Flatiron eatery City Bakery will be spicing up its delicious cocoa with a different flavor. And since it's a Leap Year, that's 29 days of hot chocolates that need to be sampled.
City Bakery is already a kid-friendly spot, but it's also nearby the wonderful Books of Wonder and lots of other family attractions in Flatiron like the Lego Store, the recently opened Dylan's Candy Bar and of course the Union Square Playground that it makes for a great winter outing. Maybe hit of the new MoMath Beaver Run exhibit pre- or post-hot cocoa?
Looking for more to do this month? Read our February GoList for great NYC family events all month.
From Vietnamese Cinnamon to Lemon Hot Chocolate, there's a cup of cocoa with your name on it, depending on how adventurous you want to be. Chili Pepper Hot Chocolate, anyone? We're holding out for peanut butter day on February 28—or maybe we'll go twice!
Check out the City Bakery Hot Chocolate Festival calendar of flavors, so you can pick the day you want to go. The festival kicks off on Monday, February 1.

For more hot cocoa adventures, check out our hot chocolate crawls in Manhattan, Brooklyn and Queens.

City Bakery Hot Chocolate Festival, 3 West 18th Street between Fifth and Sixth Avenues.
This post was originally published on February 1, 2010.
Photo: Noah Jacquemin