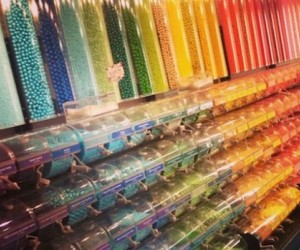 Dylan's Candy Bar Opens in Union Square
Ready those toothbrushes! Dylan's Candy Bar opened a new outpost in Union Square September 1, and it's full of sweet temptations for NYC kids—and adults.
The store is laid out on a single floor, measuring a little over 3,000 square feet, making it smaller than the sweet spot's three-floor Upper East Side flagship. While it lacks the square footage and bar of its uptown sibling (yes, Dylan's makes a mean martini), this boutique version has a fun downtown flare that fits right into the neighborhood.
Dylan founder Dylan Lauren, daughter of mega-designer Ralph Lauren, opened her first NYC store in 2001, and the candy purveyor now operates in Chicago, Miami and Los Angeles, as well as smaller outlets in airports and hotels. The concept is all about making candy cool again with inventive concoctions like its new "Mean Girls" collection combined with brightly-hued, fashion-forward design, while not forgetting about throwback favorites like Rock Candy. And while there's plenty of adult sophistication on tap here, no kid will leave without their sweetest wishes fulfilled.
Choose from among the racks of by-the-pound treats like chocolate covered Swedish Fish, sour farts and gummy butterflies or indulge at the ice cream bar with a scoop of Flushing-based Max & Mina's exquisitely sweet and salt butter pecan. Head to the fudge bar for a taste of the rich orange and cream fudge or a jelly donut (samples allowed!).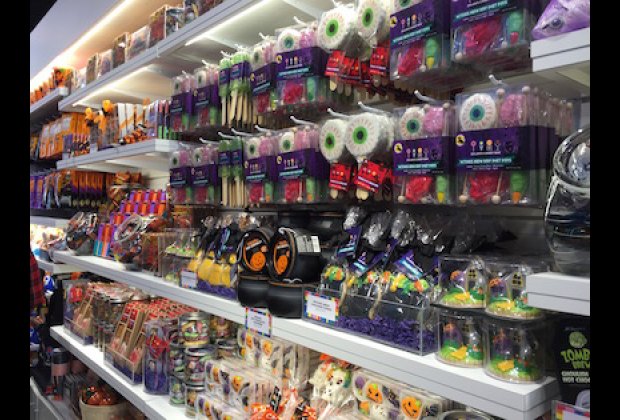 My favorite at Dylan's is perusing the "candy by the color" wall of gumballs, M&Ms, taffy, sixlets and foil-wrapped chocolate hearts arranged by one drool-inducing hue after another. My daughter loved the emoji mini store featuring pillows that look like your favorite graphics, and yes, Dylan's stocks that middle schooler classic emoji: the pile of poo. My retro-loving son dove into the "classic candy" section, grabbing bubblegum cigars and wax bottles.
For the early risers, the Union Square Dylan's will serve coffee and a line of local baked goods ($3.50 to $4.50 each) from Amy's Bread, Bakehouse and Ceci-Cela, including a stellar almond croissant and a lovely buttery quiche ($7), beginning at 7am, Monday-Thursday; 8am Friday-Saturday; and 9am on Sundays.
Also exclusive to this location is a line of Jars by Dani ($12), layered cakes assembled in mason jars in flavors like cookies and cream (brownie, Oreo cheesecake and chocolate mousse) and peanut butter jar (brownie and peanut butter chocolate mousse).
RELATED: Four International Candy Shops in NYC
Expect plenty of seasonal offerings and events, which we're told are in the works. The Halloween treats are already on display, including the creepily cool Day of the Dead lollipops, witch's broom cookies and tombstone Peeps. The store will celebrate its new line of "Mean Girls" products, featuring wine glass embedded water bottles that say "I'm not a Regular Mom, I'm a Cool Mom" and "That's So Fetch" cookies on Saturday, October 3.
Dylan's Candy Bar is opening seven days a week, but hours vary by day. Check the website for more details. It's located at 33 Union Square West.
While you're in the neighborhood, check out the Union Square Playground across the street.