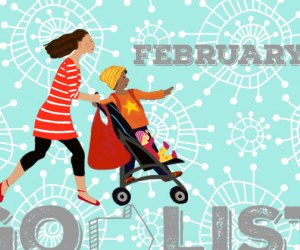 February GoList: Best Things To Do With NYC Kids
Get your calendars ready! Here are the top 15 things to do with NYC kids this February, plus 10 more great events happening this month.
Even though it's the shortest month, there are still plenty of awesome family activities in NYC. Our February GoList includes annual favorites such as Chinatown's Lunar New Year Parade, the activity-filled Intrepid Kids Week during the public school midwinter break, and the city's most prominent movie fest for families: the New York International Children's Film Festival. Of course, there are some brand-new, exceptional shows, concerts, and other extraordinary experiences for kids of all ages. We made sure to highlight a range of options, whether you have toddlers, elementary schoolers, or older kids.
If an event piques your interest, click through to our listing for all the details, including address, time, and recommended ages. And remember: Cool things to do with NYC kids often book quickly, so buy your tickets ASAP, or, in the case of FREE events, arrive as early as possible. With the February school break looming, you might also want to check out our Camp Directory and Day Trip and Family Getaway Guide, which includes ski trips. Find more seasonal fun in our NYC Winter Activities Guide and our daily Event Calendar.
Be sure to sign up for our FREE newsletters so you can get our best event picks delivered to your inbox.
RELATED: 35 Fun Things To Do Over February Break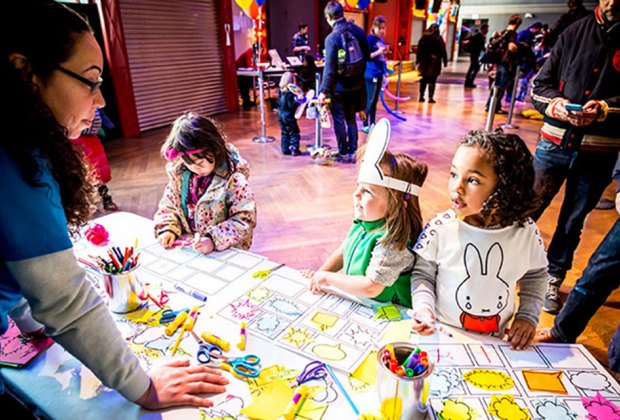 Take a break from the BAMkids Film Festival and enjoy activities ranging from coloring to virtual reality and live performances. Photo courtesy of BAM
Saturday, February 1–Sunday, February 2
BAM Rose Cinemas hosts its 22nd annual family film fest, presenting the best shorts and full-length films from around the world—representing 30 countries total. Along with curated selections from the top children's festivals in North America, families can enjoy FREE activities in the Opera House Lobby, including face painters, balloon twisters, roving entertainers, and live performers. Visit the BAMcafe for interactive workshops in button making, stop-motion animation, and plenty of free performances. Buying tickets in advance is recommended since films sell out quickly.
RELATED: Best Winter Events for NYC Preschoolers and Toddlers

NYC's annual snow-sport extravaganza Winter Jam returns to Central Park. Photo by Daniel Avila
Saturday, February 1
Regardless of what Mother Nature drops from the sky, plan for a significant snow day in Central Park's Rumsey Playfield on February 1. The Parks Department's annual winter sports festival features fresh-blown snow courtesy of Gore Mountain so families can try cross-country skiing, sledding, snowshoeing, and snowboarding, or frolic in the fluffy white stuff. Use the provided equipment or bring your own. Signed waivers required for some activities. This fest is always crowded, so arrive early to beat the crowds, and keep an eye on the weather. Note: The popular learn to ski lessons require advance registration, but the deadline has passed. FREE
SUDS — Lincoln Square
Saturday, February 1-Sunday, February 9
This LC Kids show from Bluelaces Theater Company is tailored toward children with autism or other developmental delays. The setting is a magical laundromat, filled with a multisensory array of bubbles, water, and soap, plus fantastical characters. Young audience members team up with trained guides for an individualized theater-going experience catered to their interests and sensitivities.

Taste the Clouds by Hit the Lights! Theatre Co. Photos courtesy of Hit the Lights! Theatre Co.
Sunday, February 2-Sunday, April 26
The New York City Children's Theater presents this show from Hit The Lights! Theater Co. Based on the Rita Marshall picture book of the same name, Taste the Clouds uses shadow puppetry to tell the story of a young girl learning to utilize her senses to navigate the world. It's a perfect introduction to live theater.
Saturday, February 8
Head to UrbanGlass for its open studio day and explore the 17,000-square-foot space. Guests can witness demonstrations in making neon signs, working with flame, glassblowing, and even enjoy hands-on workshops ranging from making faux stained glass to blowing your own glass apple and more. Demos, tours, and some activities are FREE, but workshops require advance registration.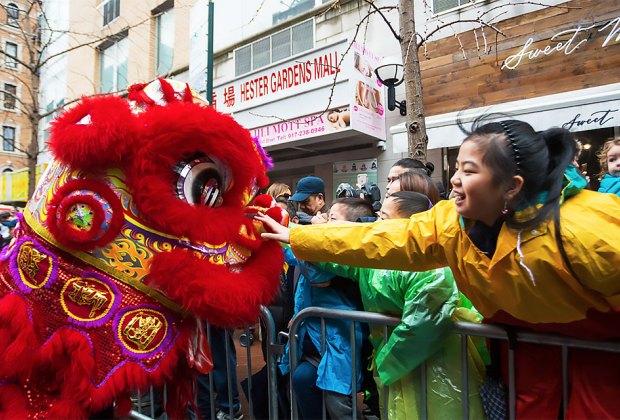 Celebrate the Lunar New Year at the parade through Chinatown. Photo courtesy of Better Chinatown
Sunday, February 9
While the Year of the Rat officially dawns on January 25, Chinatown's Lunar New Year Parade and Festival takes place on February 9 and is the biggest celebration of all. More than a half-million spectators line the streets for the pan-Asian spectacle, which includes Chinese, Korean, Japanese, Vietnamese, Taiwanese, Malaysian, and Hispanic floats and cultural performances. Arrive early—by noon at the latest—if you want to snag the perfect spot. It's a festive, loud affair that's way too crowded for strollers and probably a bit much for preschoolers. After you've seen your fill, head to Sara D. Roosevelt Park for an outdoor cultural festival. FREE
Opens Friday, February 14
After debuting the larger-than-life Inside Art in January, CMOM opens another new exhibition this month. Dedicated to visitors ages 0-6, Superpowered Metropolis: Early Learning City takes children inside a comic book-inspired educational city scene meant to build early childhood skills like self-control, memory, and mental flexibility through hands-on fun. A two-story treehouse (from the beloved, now closed, downtown tot spot City Treehouse) gets a makeover and finds a new home in the exhibit. There's also a train table and more age-appropriate fun. Guests under age 2 enjoy the padded Baby Central Station, perfect for building early motor skills
Opens Friday, February 14
Basketball may have been born in Springfield, Massachusetts, but this new exhibition at the Museum of the City of New York proves the sport really, truly belongs to the five boroughs. Inspect the history of the game through the lens of NYC, seeing how the city has shaped the game...and the game has shaped the city. Artifacts include photographs, audio, video, and even fashion, which promises to appeal to fans of the sport, from the high school to pro level, plus sneakerheads, and streetball lovers.
Friday, February 14–Sunday, February 23
The gang from Sesame Street returns in this brand-new show at the Theater at Madison Square Garden. Elmo and Abby Cadabby team up with a pair of on-stage emcees, who guide the gang in planning an epic bash and, of course, the audience is invited. You'll sing along with a pop soundtrack that includes some familiar favorites and learn a few new things along the way.
RELATED: Winter Fun List: 50 Things To Do Indoors With NYC Kids

Get a burst of color at the NYBG's annual orchid show designed by Jeff Leatham. Photo by Jody Mercier
Saturday, February 15–Sunday, April 19
Need a break from winter's gray landscape? Now in its 18th year, the annual orchid show displays thousands tropical blooms dramatically decorating the Enid A. Haupt Conservatory. This year's installation highlights the work of famed floral designer Jeff Leatham and promises to deliver a kaleidoscopic of brightly colored blooms.

Kids Week at the Intrepid is perfect for curious kids of all ages and interests. Photo courtesy of the museum
Saturday, February 15-Saturday, February 22
The Intrepid Sea, Air & Space Museum's annual kid-friendly festival is another fabulous way to keep kids occupied during midwinter break. This week-long festival is designed just for kids, with hands-on activities exploring three themes: art, music, and fun; safari, nature, and adventure; and exploring space and science. This year's highlights include performances by Story Pirates, special storytimes with the star of Paddington Gets in a Jam, zoologist Jarod Miller, presentations from NASA astronauts, performances by the Gazillion Bubble Show, and talks and tours led by educators and scientists. Events are included with admission, which also covers all the kid-friendly fun in the main exhibitions, too. See the event listing for full details.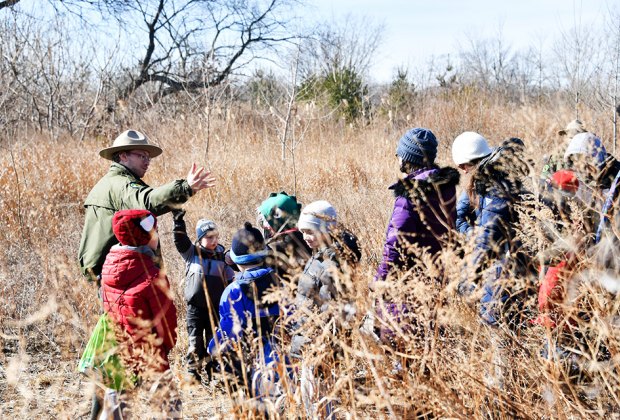 Explore all the NYC Parks Department offers during its ranger-led Kids Week programs. Photo by Daniel Avila
Monday, February 17–Friday, February 21
Get outside and join the Urban Park Rangers for FREE Kids Week programs, which include plenty of nature activities from shelter building and survival skills, to explorations of local wildlife, and even an afternoon spent gathered around a campfire. Locations and events vary, so check the Parks Department's website or call your local center for additional details. FREE
Friday, February 21–Sunday, March 15
Held at multiple theaters around town, this annual film fest features more than 100 kids' flicks from around the globe. If any of the screenings in the extensive lineup tickle your fancy, don't delay! Tickets are already on sale, and many popular programs sell out quickly. There are options for all ages, including shorts and dubbed foreign films. There are often pre- or post-show Q&As with the filmmakers and other special events, and everyone gets ballots to help select the festival winners. Readers of Mommy Poppins can save $2 per ticket for any of the shorts programs using the code MOMP20 at checkout.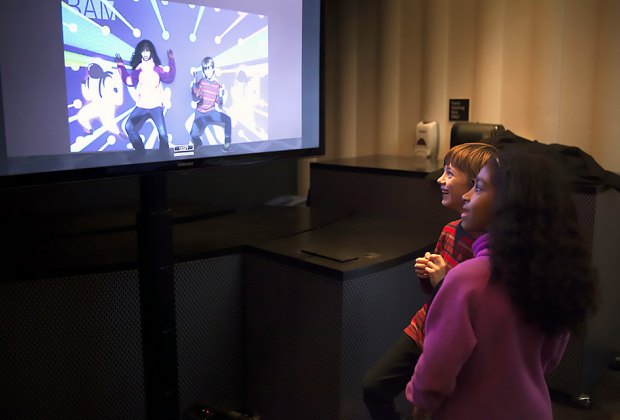 Young BAM visitors watch themselves on a screen at a past Teknopolis. Photo by Rebecca Greenfield for BAM
Teknopolis — Fort Greene, Brooklyn
Saturday, February 22–Sunday, March 8
Get ready to enter a high-tech wonderland as BAMkids hosts a cutting-edge, two-floor digital playground. Technology and the arts fuse to create a variety of immersive and interactive installations such as virtual reality adventures, motion capture stations, and digital environments you manipulate with your body. Tickets are sold in 90-minute slots, and this event always sells out.
Saturday, February 22-Sunday, March 15
Based on Chelsea Clinton's best-selling book She Persisted: 13 American Women Who Changed the World, this musical from Atlantic for Kids takes audiences on a girl-powered adventure, following a fourth-grade field trip to a women's history museum. Whisked away on a time-traveling expedition, the protagonist, Naomi, encounters inspirational women leaders past and present and watches them accomplish their dreams and leave their mark on the world.
Honorable Mentions
NYC always has so many incredible things going on that it's difficult to choose. Here are more cool events worth considering for your February calendar:
Rise with the sun to find out whether Staten Island Chuck predicts an early spring on Groundhog Day, Sunday, February 2, at the Staten Island Zoo. FREE
Teens can enjoy a night of art-making and activism at the Brooklyn Museum's Teen Night: Windows of the Soul on Friday, February 7.
Catch some seriously talented—and adorable doggies—at the annual Masters Agility Championship, part of the Westminster Kennel Club Dog Show, on Saturday, February 8.
Celebrate the birthday of the first POTUS in 19th-century style at the Mount Vernon Hotel Museum & Garden on Sunday, February 16. It's a lovely historic building and walking into it gives you the sense you've stepped back in time.
From Monday, February 17 through Thursday, February 20, enjoy no-cost admission and special nature activities at the Brooklyn Botanic Garden during its February Break Discovery Days. FREE
Head to the Queens Botanical Garden for one of its February Break Programs from Tuesday, February 18 through Friday, February 21, including a daily storytime and craft program and more activities.
Rock out to an animated adventure set to Beatles-esque tunes at Just Kidding's The Gustafer Yellowgold Show on Saturday, February 22.