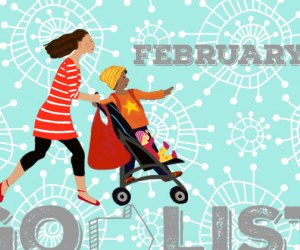 Best Things to Do with NYC Kids: February GoList
Get your calendars ready! Here are the top 14 things to do with kids in New York City this February, plus a dozen more great events happening this month.
Even though it's the shortest month, there are still plenty of awesome family activities in NYC. Our February GoList includes annual favorites such as Chinatown's Lunar New Year Parade, the activity-filled Intrepid Kids Week during public school midwinter break, and the city's biggest movie fest for families: the New York International Children's Film Festival. And, of course, there are some brand-new, exceptional shows, concerts, and other special experiences for kids of all ages. We made sure to highlight a range of options, whether you have toddlers, elementary schoolers, or tweens.
If an event piques your interest, click through to our listing for all the details, including address, time, and recommended ages. And remember: Cool things to do with kids in NYC often book up quickly, so buy your tickets ASAP, or, in the case of FREE events, arrive as early as possible. With the February school break coming up, you might also want to check out our Camp Directory and Day Trip and Family Getaway Guide, including ski trips. Find more seasonal fun in our NYC Winter Activities Guide and our daily Event Calendar.
Be sure to sign up for our FREE newsletters so you can get our best event picks delivered to your inbox.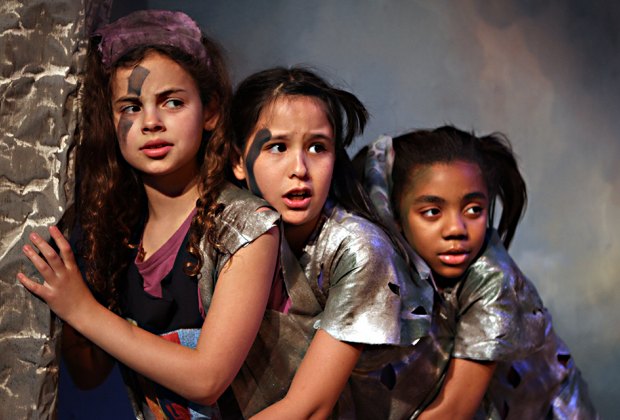 TADA! Youth Theater's Odd Day Rain is a sci-fi rock musical starring a kid cast. Photo courtesy of the theater
Odd Day Rain — Chelsea
Saturday, January 19 through Sunday, February 24
We loved this sci-fi rock musical at TADA! in its first performances, and now it's back with new cast of kids. A tuneful cautionary tale about the perils of always relying on technology, it's a clever show with an important message delivered in a non-preachy package.
RELATED: 35 Fun Things to Do Over February Break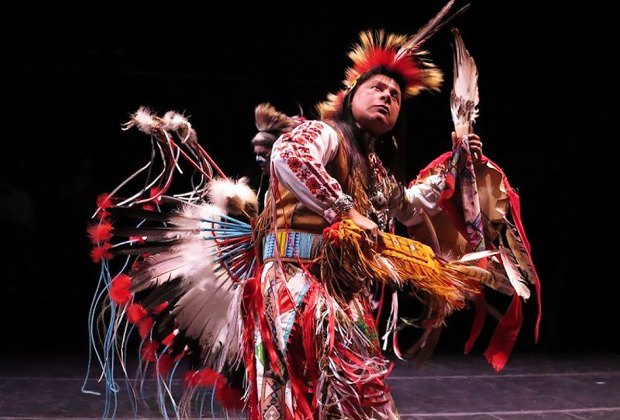 Dive deep into traditional Native American dance styles at the Thunderbird American Indian Dance Concert and Powwow. Photo courtesy of the event
Thunderbird American Indian Dance Concert and Powwow – East Village
Friday, January 25 through Sunday, February 3
Dive deep into traditional Native American dance styles: Highlights will include storytelling, a Hoop Dance from the Cherokee and Seminole tribes, a Stomp Dance from the Southeastern tribes, a Deer Dance from the Yaqui Tribes of Southern Arizona, and more. Evening performances end with audience members joining dancers on stage for a Friendship Dance. Bonus: Tickets for kids under 12 are $1 when purchased with adult admission ($15).
Bryant Park FrostFest – Midtown East
Friday, January 25 through Sunday, February 3
Missed your chance to ice skate under the tree at Bryant Park's annual Winter Village? Take heart: Winter fun in the heart of Midtown is far from over. For ten days, Bryant Park hosts kid-friendly activities including ice rink bumper cars (reserve your spot in advance online), puppet shows, ice fishing, skating performances by award-winning champions, and more. Most events and activities are FREE, but bumper car rides cost $15. Update: By popular demand, the ice rink bumper cars have been extended through the end of February—here's how to reserve your spot!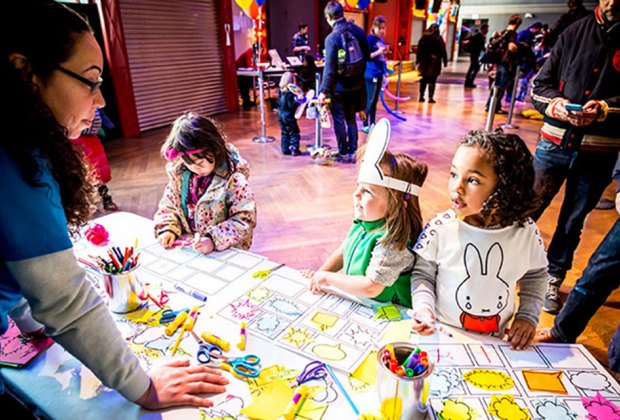 Take a break from the films and enjoy the extra activities from coloring to virtual reality experiences and live performances. Photo courtesy of BAM
BAMkids Film Festival – Fort Greene, Brooklyn
Saturday, February 2–Sunday, February 3
BAM Rose Cinemas hosts its 21st annual family film fest, featuring presenting the best shorts and full-length films from around the world—representing 27 countries in total. Along with curated selections from the top children's festivals in North America, families can enjoy FREE activities in the Opera House Lobby, including face painters, balloon twisters, roving entertainers, and live performers. Buying tickets in advance is recommended, since films sell out quickly.
RELATED: Best Winter Events for NYC Preschoolers and Toddlers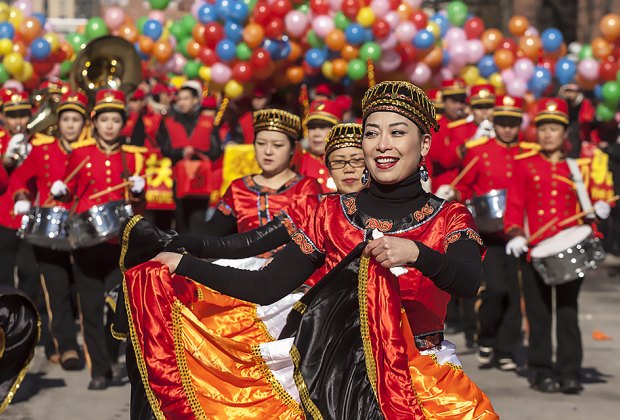 Celebrate the Lunar New Year at the parade in Flushing, Queens. Photo by Dave Bledsoe via Flickr
Lunar New Year Celebrations — Chinatown
Tuesday, February 5–Sunday, February 17
While there are lots of ways to welcome the Year of the Pig throughout February, including parades in Flushing, Queens and Sunset Park, Brooklyn, two bookends worth attending: the Lunar New Year Firecracker Ceremony on February 5 and Chinatown's Lunar New York Parade and Festival on February 17, which is the biggest of them all. More than a half-million spectators are expected to line the streets for the pan-Asian spectacle, which includes Chinese, Korean, Japanese, Vietnamese, Taiwanese, Malaysian, and even Hispanic floats and cultural performances. Arrive early—by noon at the latest—if you want to snag a good spot. It's a festive and loud affair that's way too crowded for strollers and probably a bit much for preschoolers. After you've seen your fill, head to Sara D. Roosevelt Park for an outdoor cultural festival. FREE
Mary Poppins Sing-Along — Financial District
Sunday, February 10
Disney's Academy Award-winning 1964 film, Mary Poppins—about a magical nanny, two mischievous children, and a carefree chimney sweep—is shown on the big screen at the Schimmel Center at Pace University, with singing and whistling along enthusiastically encouraged. Pre-show activities include games, prizes, and a meet and greet with Mary Poppins (not Julie Andrews herself, alas).
Bionic Me at the New York Hall of Science — Corona, Queens
Monday, February 11 through May 5
Fly a virtual jet pack, climb into a super-powered exoskeleton, test a bionic eye, move a robot arm, or even use your brainwaves to move physical objects at this brand-new exhibit about the power and potential of the human body at the New York Hall of Science. With hands-on displays, full-body experiences, and lots of cool tech to explore, this exhibit will appeal to curious preschoolers and STEM-obsessed bigger kids alike.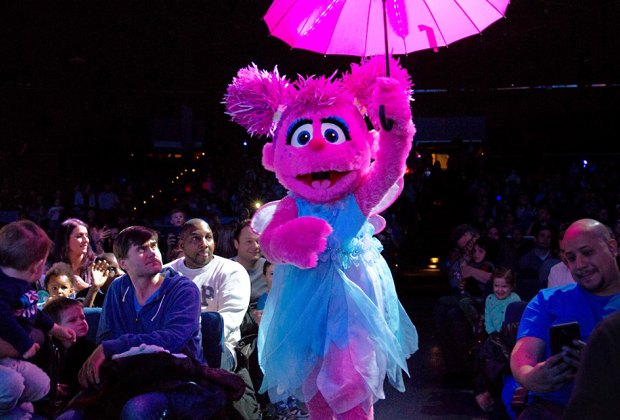 Sing and dance along with your favorite characters at Sesame Street Live! Make Your Magic. Photo courtesy of Sesame Street
Sesame Street Live! Make Your Magic — Midtown West
Friday, February 15 –Sunday, February 24
The gang from Sesame Street returns in this brand-new show at the Theater at Madison Square Garden. Elmo and Abby Cadabby team up to learn a few new magic tricks, inspired by a visiting magician. A sweet message about perseverance, hope, and finding the magic in every day makes this a must-see for the toddler-to-preschooler set.
Washington's Birthday Ball — Upper East Side
Sunday, February 17
Celebrate the birthday of the original POTUS 19th-century style at the Mount Vernon Hotel Museum & Garden. It's a lovely little historic building, and walking into it gives you the sense you've stepped back in time. To honor George's big day, there is period music and costumed dancers, and kids are encouraged to learn new steps and join in. A kid-friendly tour, family scavenger hunt, and refreshments are included. Reservations are recommended.
RELATED: Winter Fun List: 50 Things to Do Indoors with NYC Kids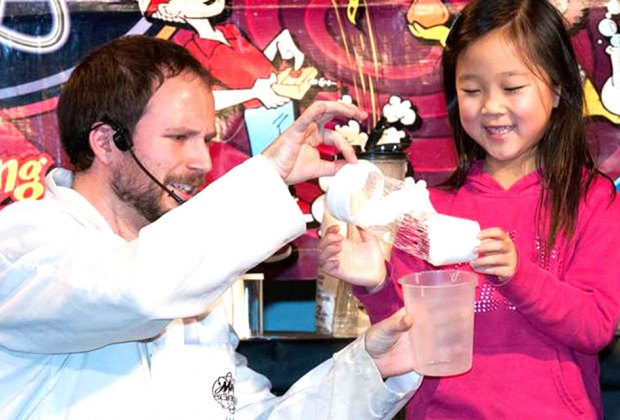 Kids Week at the Intrepid is for curious kids of all ages and interests. Photo courtesy of the museum
Kids Week at the Intrepid — Midtown West
Sunday, February 17–Saturday February 23
Another fabulous way to keep kids occupied during midwinter break: the Intrepid Sea, Air & Space Museum's annual vacation celebration. This weeklong festival is designed just for kids, with hands-on activities exploring the theme of science and the art of games. This year's highlights include performances by Story Pirates, Theatreworks USA, and the Gazillion Bubble Show; readings by children's book authors; and talks and tours led by educators and scientists. Events are included with admission. See the event listing for full details.
Garbage, Garbage Everywhere! at the Museum of the City of New York — Upper East Side
Monday, February 18
Part of the delightfully grody new Germ City exhibition at the Museum of the City of New York, this family program teaches kids about the cycle of garbage in the city, from creation to collection to disposal. Think you can sort your own trash as well as one of New York's Strongest? Here's your chance to find out.
Kids Week at NYC Parks — Citywide
Monday, February 18–Friday, February 22
While NYC public school kids are off for midwinter break, head to the park and join Urban Park Rangers FREE "Kids Week" programs, which include tent building, wildlife Olympics, knot tying, animal tracking and more—in all five boroughs at no cost. Locations and activities vary so check the Parks Department's website or call your local center for additional details. FREE
New York International Children's Film Festival — Manhattan and Brooklyn
Friday, February 22–Sunday, March 17
Held at multiple screens around town, this annual fest features more than 100 kids' flicks from around the globe. If any of the screenings in the extensive lineup tickle your fancy, don't delay! Tickets are already on sale and many popular programs sell out quickly. There are options for all ages, including shorts and dubbed foreign films. There are often pre- or post-show Q&As with the filmmakers and other special events, and everyone gets voting ballots to help select the festival winners. Readers of Mommy Poppins can save $2 per ticket using the code MOMP19 at checkout.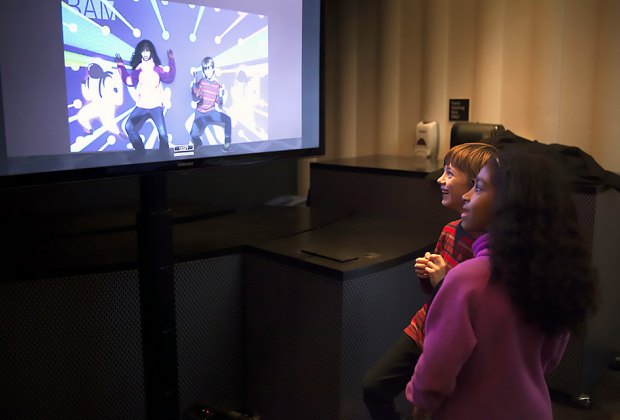 Young BAM visitors watch themselves on a screen at Teknopolis 2017. Photo by Rebecca Greenfield for BAM
Teknopolis— Fort Greene, Brooklyn
Saturday, February 23– Sunday, March 10
Get ready to enter a high-tech wonderland as BAMkids hosts a cutting-edge, two-floor digital playground. Technology and the arts fuse to create a variety of immersive and interactive installations such as virtual reality adventures, motion capture stations, and digital environments you manipulate with your body. Tickets are sold in 90-minute slots, and this event always sells out.
Honorable Mentions
NYC always has so many incredible things going on that it's difficult to choose. Here are more cool events worth considering for your February calendar.
On Saturdays in February, kids can earn FREE ice skate rentals in exchange for attending storytimes and reading books (how easy is that?), plus get free books to take home at the Read-to-Skate Program at Bryant Park.
Rise with the sun to find out whether Staten Island Chuck predicts an early spring on Groundhog Day, Saturday, February 2, at the Staten Island Zoo. FREE
Bring your sleeping bags to sleep with the fishes (in a good way) at Sharks After Dark, an overnight sleepover for families hosted by the New York Aquarium in the awe-inspiring Oceans Wonders: Sharks! exhibit, Saturday, February 2.
Rock out to an animated adventure set to Beatles-esque tunes at Just Kidding's The Gustafer Yellowgold Show Saturday, February 2.
Get your girls moving on Saturday, February 9 at NYC Parks' She's On Point! A Celebration of Girls in Sports with a slew of athletics. FREE
Cuddle up with adorable doggies at the annual AKC Meet the Breeds, part of the Westminster Kennel Club Dog Show, on Saturday, February 9.
See audacious acts of acrobatic skill performed without wires, trampolines, or other fancy props—just strength, skill, and agility—in the new show A Simple Space, running February 9-24.
From Monday, February 18 through Thursday, February 21, enjoy no-cost admission and special nature activities at the Brooklyn Botanic Garden during its February Break Discovery Days. FREE
Celebrate Jackie Robinson's trailblazing legacy at Jackie Robinson Family Day at the Museum of the City of New York on February 19, and explore the new exhibit in his honor.
Head to the Queens Botanical Garden for one of their February Break Programs from February 19-22, like the I Heart Worms workshop.
Go underground for Day-Off-From-School programs from Tuesday, February 19-Friday, February 22 at the New York Transit Museum, where kids can design their own crazy imaginary subway lines...like an L train that actually runs.
Dancers from the School of American Ballet explain exactly how ballerinas twirl and dance on their tiptoes at The Beauty of Ballet on February 24, with demonstrations from favorite ballets. FREE