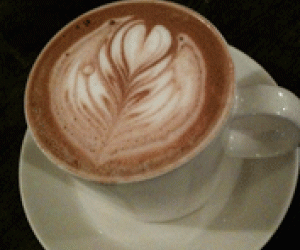 12 Great Hot Chocolate Spots in Brooklyn
Punxsutawney Phil saw his shadow, which means six more weeks of winter. Luckly, we've lined up 13 of the best places to grab hot chocolate in Brooklyn, just in time for the cold, dark February weather. And if Phil is to be believed, you'll be enjoying a hot cup well into March.

See our posts on where to get a great cup of hot cocoa in Manhattan and Queens also.

Brooklyn Heights/DUMBO

Almondine Bakery
85 Water St
(718) 797-5026
The bakers here melt Valrhoma chocolate chunks over an open flame before mixing in whole milk and heavy cream. Customers love to call this uber-chocolately mix a "chocolate soup." Small $3, medium $3.50, larg $4.50.

Jaques Torres
66 Water Street
(718) 875-9772
Start with a classic hot chocolate and add orange, caramel or peanut butter flavor. Or go straight for the Wicked hot chocolate, made with ancho and chipotle spices. Each is rich, decadent and made from the premier Brooklyn shop's chocolate. Small $3.25, Large $4.25; flavors cost an additional 50-cents.
Cobble Hill

Marquet Patisserie
221 Court Street
(718) 855-1289
A mild cup of hot cocoa made with steamed milk and cocoa powder. $3, small.

One Girl Cookie
68 Dean Street
(212) 675 4996
Made with chocolate ganache and topped with a homemade marshmallow, this cup has a milder taste good for young pallates. A variety of small cookies, 4 for $2.25, are a good accompaniment. Also, you might want to have a paper and pen ready, as the owners' family tree—on display in the sitting area—might inspire kids to draw their own.


Carroll Gardens

Sweet Melissa
276 Court Street
718-855-3410
The hot chocolate here is made from semi-sweet chocolate chips and topped with a marshmallow the size of a Duplo block. Beware, it's piping hot. Small $3, Large $3.50. Also in Park Slope at 175 7thAvenue.
The Chocolate Room
269 Court Street
(718) 246-2600
This chocolate heaven serves up a classic hot chocolate as well as dark and spiced varieties that are very strong. They also have two coffee/chocolate blends available. One size, $4.50.
Provence en Boite
263 Smith Street
(718) 797-0707
You can get the hot chocolate to go, but if you have the time stay and watch your kid sip it straight from a saucer roughly the size of a swimming pool. One size, $3.
Le Petit Cafe
502 Court Street
(718) 596-7060
Go for breakfast or lunch, make the cocoa an extra treat. A standard cup of mild hot cocoa made from powder, $3.
Park Slope

Chiles and Chocolate
54 7th Ave
(718) 230-7700
Both varieties served here are rich and unique. The Mayordamo is flavored with almonds and cinnamon; The Chiles and Chocolate is made with crushed chipotle peppers tastes of Red Hots. $3 and $4, respectively.

Boerum Hill

Nunu
529 Atlantic Ave
917-776-7102
The hot chocolate here has a bittersweet tang, thanks to the shop's signature dark chocolate blend. Kids can steal glimpses of the chocolatier's at work from the cozy sitting area. Youngsters too little to swallow a full-sized portion can share yours; the barrista will happily pour a kid-sized dose into an espresso cup—perfect for little fingers.

Betty Bakery
488 Atlantic Ave
(718) 246-2402
This cake shop serves up rich, creamy hot chocolate prepared from milk chocolate blended with Callebaut cocoa. Watch the Atlantic Avenue traffic pass from a seat by the window while you dunk one of shop's wide selection of finger-sized cookies.