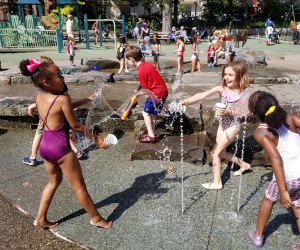 50+ Ways to Keep NYC Kids Off Screens This Summer
"Brain drain." "Summer slide." No matter what you call it, the phenomenon of students losing months of math and reading skills during the eight-week summer vacation scares parents and teachers alike.
Luckily, we live in a city that offers tons of opportunities for summertime excitement and learning, many of them FREE. We've put together a list of more than 50 of our favorite NYC activities, events, and even at-home challenges that get kids to exercise their brains, and keep them (and us) off our screens!
So get out there to try some of these ideas for enriching exploration and edu-tainment around NYC with kids this summer. You can find even more ideas in our STEAM Guide, and don't forget to check out our NYC Schools Guide as September approaches.
Try Creative Crafts and Games at Home
1. Instead of playing video games, have the kids create their own beat-the-heat crafts for summer days.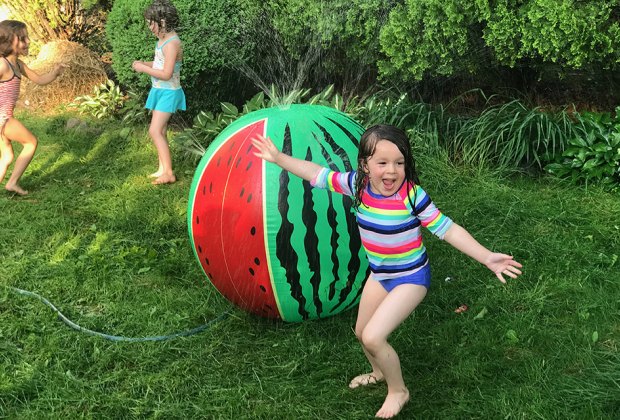 Water games are always affordable fun on a hot summer day! Photo by Rose Gordon Sala
2. Indulge in a boredom-busting outdoor water game or toy that will make summer a hit, for cheap!
3. Get creative making science-based crafts such as a marshmallow catapult or a baking soda submarine for an engaging hands-on mini physics lesson.
4. Introduce your preschooler to STEM by building an apple boat or a toothpick-marshmallow castle.
5. Create a tornado in a bottle, a working sundial, or perform a simple science experiment with stuff you already have at home.
6. After kids have moved on from Legos, stimulate STEM-focused play with one of these cool building toys.
7. Turn family game night into spelling bee by playing Scrabble, Boggle, Bananagrams or one of these fun family word games.
Explore a New-to-You Part of NYC
RELATED: 100 Free Things to Do this Summer in NYC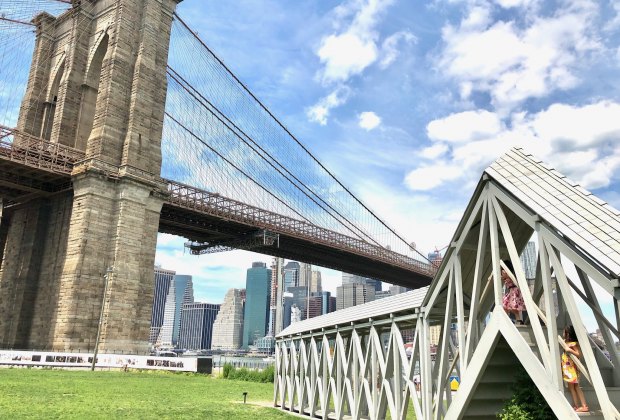 Explore some of NYC's best new public art. Photo by Janet Bloom
8. Check out some seriously cool public art on the streets of NYC. It's easy to sneak some culture into a day of play thanks to the many free art exhibits around town.
9. Plan a day of exploration and play at one of NYC's most (in our humble opinion) underrated parks.
10. Visit one of our favorite off-the-beaten path NYC museums.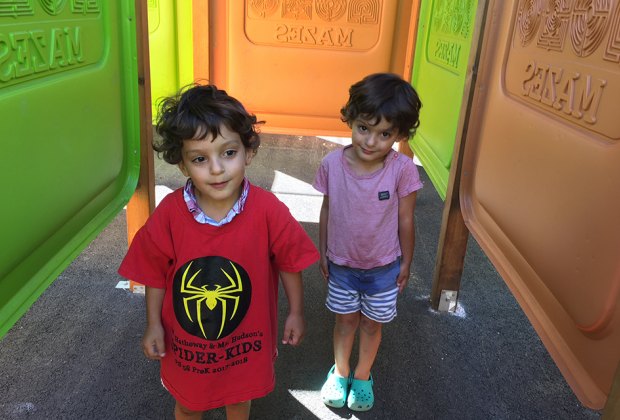 Get lost in "Amaze" on Governors Island. Photo by Sara Marentette
11. Enjoy a day of play on Governors Island. Go fishing, biking, or climbing and enjoy the free public art.
12. See NYC's true scale with a bird's-eye view of the whole of the city at the Queens Museum's Panorama of the City of New York.
Take Advantage of Summer Enrichment Programs
13. Science classes that they'll actually love? We've found some awesome options that will have your kids hooked from the start with fun takes on science and technology.
14. Pick up a new language. Register them in a summer-long language immersion camp available in Spanish, French, or Mandarin.
15. Get creative at one of NYC's art camps, including many that feature professional artists who moonlight as teachers.
16. Seek out athletic activities in the concrete jungle at a sports and outdoors program.
17. Make this summer both memorable and educational by signing up for a STEM camp.
Get Kids into Reading Over the Summer
18. If you haven't yet, get a library card. You'll wonder why you waited!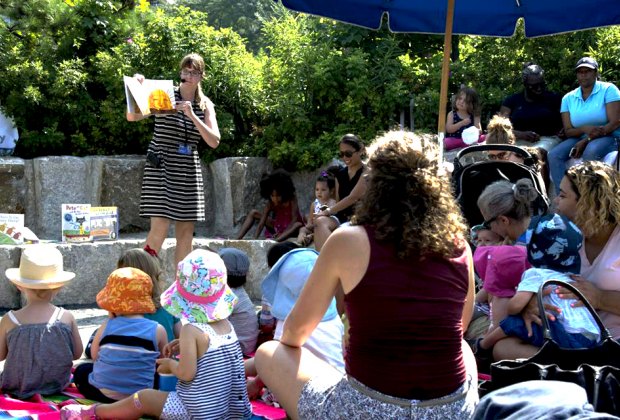 Listen to a story then explore the piers at Brooklyn Bridge Park. Photo courtesy of BBP
19. Get wrapped up in a story at the Brooklyn Public Library's storytime at Brooklyn Bridge Park, enjoying the breeze from the water.
20. Stock up on reading material at some of our favorite NYC libraries for kids, including the Children's Center at 42nd Street, the Central Branch of the Brooklyn Public Library in Prospect Heights, and the Children's Library Discovery Center in Jamaica, Queens. Now it's time to take the Summer Reading Challenge 2019.
21. Don't forget NYC's indie bookstores: Shops in Manhattan, Brooklyn, and Queens offer free storytimes and sometimes other special kid-lit-themed activities.
22. Drop into one of the city's newer bookstores, including Stories Bookshop and Storytelling Lab (Park Slope), Books Are Magic (Cobble Hill), and a new outpost of Greenlight Bookstore (Lefferts Gardens, Brooklyn).
23. Read to your kids, and read to yourself. Let your kids see you reading a book, Kindle, newspaper, or magazine. Talk about what you're reading.
24. Read classic books such as the Little House series, Charlotte's Web, or Harry Potter to inspire family playtime or to create a building-wide book club.
Get Out Into Nature Around NYC
25. Go kayaking, rowing, or canoeing.
RELATED: NYC Summer Fun Guide: Festivals, Pools, Day Trips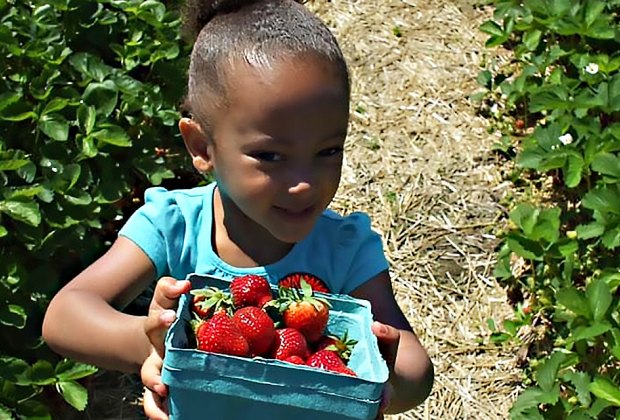 Pick strawberries (or whatever fruits and veggies are in season) at Johnson's Corner Farm. Photo courtesy of the farm
26. Visit a nearby pick-your-own farm for everything from peaches to flowers and veggies.
27. Star-gaze and spark interest in the solar system for your family.
28. Dig into the dirt at one of NYC's best children's gardens.
29. Go camping: in NYC or outside the city, you'll be surrounded by the natural world where screens just seem dull.
30. Take a whale-watching trip.
31. Fishing can help kids practice being patient and foster an appreciation for nature. In NYC, kids don't need a license or equipment to try the sport. Kids can try their luck fishing in Hudson River Park, and they'll learn a few environmental lessons in the process.
32. Have a bird-call imitation contest. See who can do the best owl screech, blue jay squawk or chickadee tweet or one of these other 99 creative summertime play ideas.
33. Take a hike in the Hudson Valley, New Jersey, or even some memorable parks within the five boroughs. Research shows that a walk in the woods positively impacts brain function.
34. Work on writing skills while learning about our country's National Parks by participating in the Junior Ranger program. There are 10 national parks in NYC.
Hit NYC's Best Museums and Culture Spots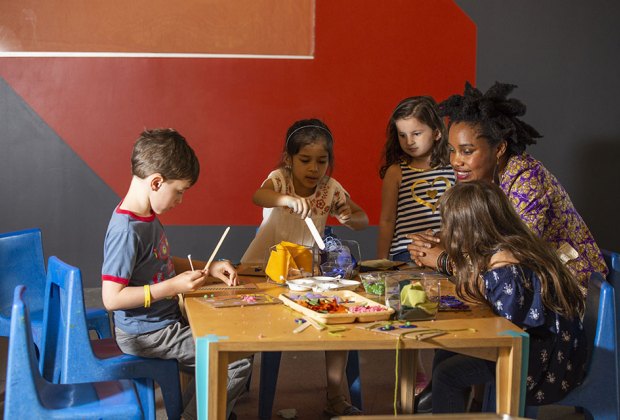 Explore the ColorLab at the Brooklyn Children's Museum. Photo courtesy of the museum
35. Check out ColorLab, a family art studio at the Brooklyn Children's Museum in Crown Heights that will inspire kids through independent exploration, hands-on collaboration, and experimentation.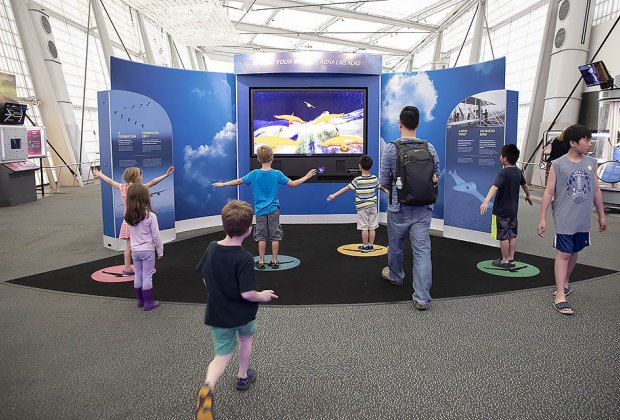 Check out some bugs at the New York Hall of Science. Photo by Photo by Ann-Sophie Fjellø-Jensen for the NY Hall of Science
36. Expose budding scientists to the many spectacular exhibits at the New York Hall of Science, one of Queens' best places to visit with kids, and one of our favorite STEM-based museums for NYC kids.
37. Plan a sleepover at one of their favorite cultural institutions for an unforgettable experience.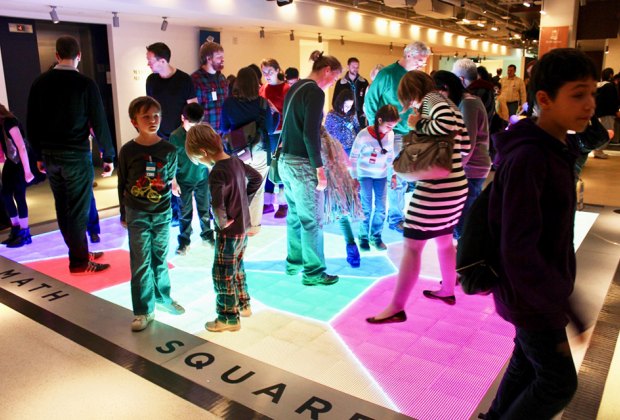 Dance on the Math Square at the Museum of Mathematics. Photo courtesy of the museum
38. Encourage everyone to fall in love with math at the Museum of Mathematics, featuring creative hands-on attractions.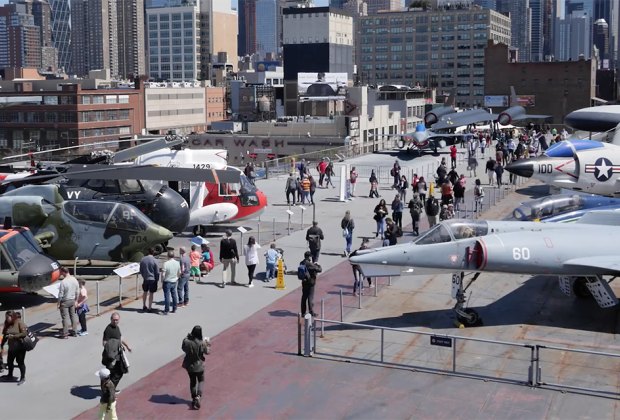 Walk the deck of the Intrepid to see some amazing aircraft. Photo courtesy of the museum
39. See a WWll aircraft carrier and NASA space shuttle Intrepid Sea, Air & Space Museum.
40. Get up close and personal with dinosaurs, including T. Rex, at the American Museum of Natural History.
41. Journey to the Caribbean with the Cumbe: Center for African and Diaspora Dance as it performs an interactive Afro-Caribbean music class.
42. Get dramatic with the NYC family theater scene, where you'll find something for all ages and tastes.
Encourage Brain-Boosting Play
43. Spend a morning at one of NYC's best brain-boosting playgrounds, with climbing structures and play areas that encourage problem-solving, engineering, physics, cooperation, imagination, resilience, and teamwork.
44. Turn a trip to these NYC sandboxes into a math lesson by bringing along measuring cups and plastic spoons.
45. Let their imaginations run wild at the Imagination Playground near South Street Seaport, complete with a collection of giant foam blocks, spheres, semi-circles, pipes, troughs, and balls designed to (what else?) foster imagination.
46. Help kids hone critical-thinking muscles with analog board game play at Brooklyn Strategist, Brooklyn Game Lab, Good Games in Astoria, Queens (which replaced The Geekery in 2019), The Uncommons in Greenwich Village, or Hex & Co.

Test your agility at the Alley Pond Adventure Rope Course. Photo courtesy of NYC Parks and Recreation
47. Hit the ropes as a family at the Alley Pond Adventure Rope Course in Queens.
48. Improve team-building skills by attempting to beat an escape room. Don't know where to go? We discovered Harlem's Hoodwinked and loved it.
49. Test everyone's skee-ball and pinball skills at one of NYC's retro arcades.
50. Groove to a FREE outdoor kiddie concert; studies say dancing relieves stress while music improves learning and language.
A version of this story was published in 2017; it has been updated for 2019.