25 Beat-the-Heat Crafts for Hot Summer Days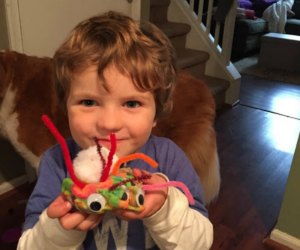 6/30/18
- By
Erin Ryan
Summer's here, the kids are out of school, and some days are made for staying indoors to relish in the A/C instead of weathering an outdoor event in 90+ temps and 85% humidity. The same old indoor activities can get boring for you and your crew though, so we've scoured our resources to bring together creative projects your kids are bound to enjoy. Make the day even more memorable and invite some friends over to join in the fun.
Here's a list of 25 unique arts and crafts that can really help you stay cool (literally and figuratively) with your kids. Heads up, save your recyclables!
1. Salad Spinner Artwork: If you don't already have these items in stock, visit your local big box retailer and snag everything you need for this craft in one trip: Plastic salad spinner, water-based acrylic paint, and some paper plates. Then head home and prep your table (and your kids) for minimal mess. If needed, cut the paper plates so they fit inside your spinner, have your kids drop in a few drops of paint, and spin away!
2. Toy Rocket Ship: Dust off your hot glue gun for this activity. You'll also need an empty soap bottle, which serves as the rocket body, as well as a wrapping paper tube, single sock, felt, yarn, cardboard, and aluminum foil tape.
3. Salt Paintings: Construction paper, salt, glue, and watercolors are the only items you need for this project. Kids simply drizzle glue as they'd like on the paper and then pour table salt over the glue pattern. Shake off excess salt. While the glue is still wet, have them brush watercolors onto the salt. Voila!
4. Marshmallow Catapults: Your kids can enjoy a craft and a sweet treat at the same time with this mini-catapult project. Use chopsticks, rubber bands, a few stacked flat erasers, and a plastic spoon to create a launching pad for a fun game of catch-a-mallow.
5. Painted Branches: This activity does require a quick trip outside, but the sprint into the heat is worth it! Collect a few tree branches and gather various paint colors, brushes, pom-poms, glitter, and whatever else you think your children will enjoy decorating with. Line a table for easy clean up and let your kids get creative. Once the branches dry, place them in a vase and showcase in your home, or hand them off to your kids for their own wizard or fairy wands.
6. Celery Stamped Roses: Use what you already have in your fridge to create unique floral paintings. Grab some celery and cut the stalks down for easy handling. Then dip the tops in paint colors of your choice and stamp on construction paper. Paint or glue pipe cleaners for stems.
7. Spinning Top Toys: This activity requires a bit of manual dexterity, so keep it in mind for older kids. Toothpicks, a ruler, scissors, and newspaper cut into strips and taped together are all you need to make this project turn heads. Just tape one end of the long strip to the toothpick and wind around, keeping taut as you go.
8. Easy Straw Whistle: This whistle, reminiscent of Peter Pan's flute, can be the lead instrument for a fun band day at home. Just snag a bag of plastic straws, using eight straws per whistle. For each whistle, trim one straw on an angle and roughly half an inch shorter than the next. Fold tape over the bottom of each straw. Once you've finished all eight, place a piece of tape around the center of your group of straws to keep them secure.
9. Pipe Cleaner Bird Feeders: This is a great activity for preschoolers to practice their fine motor skills. Gather pipe cleaners and Cheerios. Tie a knot on one end of the pipe cleaner and have your little ones string the cereal pieces. When they're done, tie the other end. Head outside and have them pick out a branch near a window so they can see birds flock to the feeder any time, from the comfort of home.
10. Mini Slingshots: First thing, create some ammunition by dampening newspaper strips and rolling them into small balls. Next, cut off the mouthpiece of a plastic bottle and attach a balloon to the lip of the bottle piece. This easy craft will lead to hours of fun, inside the house and out. Instill a little competition in your house by hanging a homemade bull's eye on the wall to see who's got the best shot.
11. Blown Glass-Inspired Art: Have your kiddos re-create colorful art "sculptures" based on the glass pieces of American artist Dale Chihuly. This arts and craft activity simply calls for plastic cups and permanent markers in various colors. After the cups are decorated, pop them in a preheated 350-degree oven. Watch them as they bake and remove from the oven when they begin to melt. Keep your oven mitt on after you take them out and push on them slightly to stretch and shape.
12. Recycled Lawn Ornaments: Have any aluminum pie plates or take-out containers? Draw objects or animals on them and cut out the pieces. Then color with permanent markers, glue to a skewer, and quickly brighten your planter box or garden.
13. Shrinky Dinks: Check your recycle bin for #6 and #1 plastics! Trace designs onto the plastic, then color them in with permanent markers and cut out the designs (punch a hole in each piece if you will be hanging). Flatten out the plastic by baking in a preheated oven for a couple of minutes.
14. Story Stones: If you don't already have smooth stones in your yard, you can pick some up at a hardware or gardening store. Then just gather some stickers, brushes, and Modge Podge and have your children decorate the stones. The best part of the activity is when the craft complete. Have your kids create a story all their own based on one or more of the images they see!
15. Toy Parachutes: Boys and girls alike will enjoy when this craft takes flight. You just need a few supplies that are probably lying around your home, including a plastic bag, string, and a small plastic or Styrofoam cup.
16. Paper Plate Wings: Decorate two sets of different sized paper plates, for a total of four wings, cutting and accessorizing depending on the type of wings you're going for--butterfly, dragon, fairy, etc. Then staple the plates together. Cut two pieces of ribbon sized to fit around your child's body comfortably, and staple one piece of the cut ribbon to the top set of plates and the other to the bottom set. Use these to tie the wings onto your child's back.
17. Milk Jug Piggy Banks: Your kids will really get into putting crisp dollar bills and found change into a piggy bank they've created. Have them paint a milk jug pink and complete the pig by adding eyes, ears, and a tail. The cap acts as the nose, and also provides an easy way to make a withdrawal!
18. Toy Race Car Tracks: Any Amazon boxes lying around? Get creative with your kids and make your own Indianapolis 500 event at home. Cut cardboard to make intricate speedways complete with ramps and obstacles. Have your kids paste advertisements along the track walls or decorate as they'd like.
19. No-Cook Play Dough: Pour one cup of flour into a bowl, followed by a half cup of salt and a half cup of water. Mix the ingredients until the consistency is where you want it. Then add in food coloring.
20. Ice Crayons: Get your ice cube trays out! Mix food coloring with water and freeze. Bring out white cardboard or thick paper and have kids color with their ice crayons.
21. Collaborative Mural: Turn your craft drawer or closet inside out, and gather all things creative to get your kids feeling like Picasso for the day. Lay long craft or butcher paper across a table. Decide on a theme or let their imagination take over. When the mural dries, hang it in a hallway or shared family space.
22. Marker Tie Dye T-Shirts : Insert a plastic cup in between the front and back of a shirt (or other fabric) you'd like to tie dye. Place a rubber band over the top of the shirt so it fits over the cup. Use a permanent marker to decorate the part of the t-shirt that you've sectioned off. Then slowly drop about 20 drops of rubbing alcohol over the colored area, working from the center outward. Continue as desired with the rest of the shirt. When you're done, be sure to heat in the dryer for 15 minutes to set the colors. Alternatively, if you don't mind a crisper design, consider buying fabric markers for a color-and-go option.
23. DIY Slime: Borax, water, and white glue is all it takes to make a basic slime. Add food coloring or glitter to jazz things up.
24. "Lava" in a Bottle: Well, this activity can't be called a lava lamp project because there's no actual light, but the lava lamp look is what we're going for here. And who knew it could be as easy as grabbing a 1-litter bottle and pouring in water, vegetable oil, food coloring, and Alka Seltzer, in that order? See specific measurements here and instructions here.
25. Glittery Volcanoes: Gather together a vase for your volcano and a pan for your base as well as baking soda, vinegar, food coloring, and glitter, and you've got a crafty experiment. Tie in a quick lesson about volcanoes, and pat yourself on the back for squeezing in a science lesson during summer break.
Try out these indoor summer activities and let us know what you think! Post a comment on our Facebook page and share this article with your friends.
*Top photo courtesy of Ally Noel