Educational Toys for Kids: 7 Construction Sets that Teach STEM Skills Through Play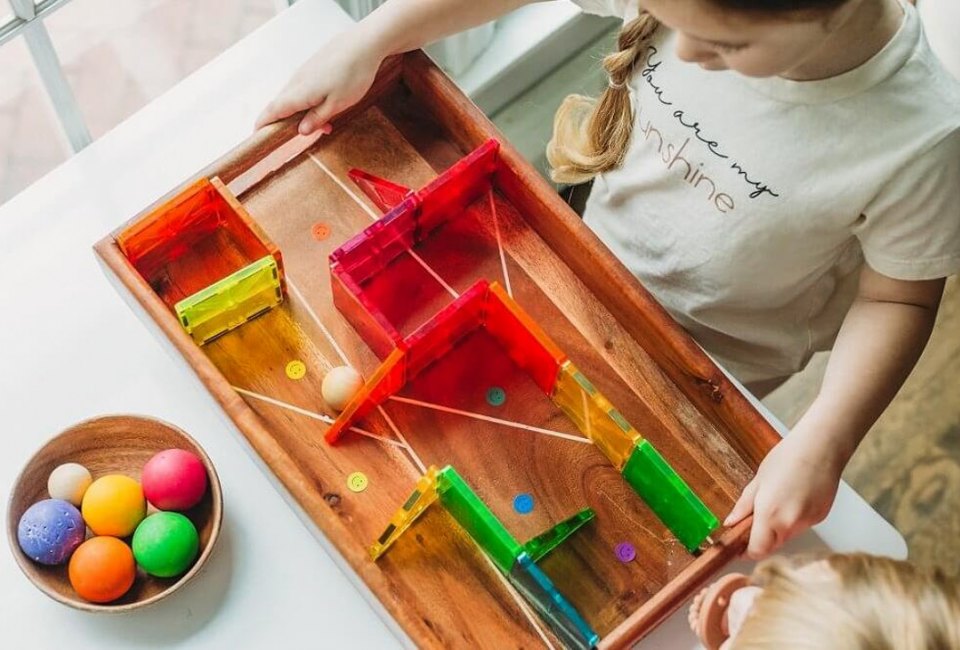 12/8/13
- By
Stephanie Ogozalek
STEM isn't just a big education buzzword. Hands-on science, technology, engineering and math experiences for kids are all the rage outside the classroom, too, from interactive makerspaces, to studios for aspiring inventors, to state-of-the-art museums focused on math, technology and science.

But you don't need to leave your apartment to inspire a love of STEM subjects. A few months back I shared some of my family's favorite board games that make math fun. Today, I'm highlighting educational toys that teach kids of all ages engineering basics in an engaging way, and go way beyond the ubiquitous Legos. You can find more great gift ideas in our Holiday Shopping Guide.
Roominate
Ages 6 and up
Created by a pair of young female engineers, Roominate is a high-tech DIY dollhouse that kids get to design, build and wire. While the website features how-to videos and ideas, the sets are designed for open-ended play. There are two kits: basic and deluxe, and both come with all the pieces needed to build a room or a mini-house. Add-ons are also available.

Magna-Tiles
Ages 3 and up
Yes, this building set is pricey, but Magna-Tiles has an incredibly long shelf life for a toy. My son got his set when he was four and he's now eight and still plays with it regularly. The flat magnetic tiles come in several geometric shapes so you can easily fashion a wider variety of structures than with regular blocks and bricks. My son usually uses them to build 3D sculptures like pyramids and orbs, but since the tiles can lay flat he comes up with 2D creations, too. With Magna-Tiles, if kids can imagine it, they can build it.

Haba Blocks and Marble Tracks
Ages 1 to 6
Haba's high-quality wooden blocks are the perfect gift for the youngest budding builders on your list. They come in so many different styles that my son was obsessed with them when he was a toddler. From an early age, he was interested in puzzles, mazes and chain-reaction machines, so I knew that Haba's marble tracks would be a big hit. He loved combining his regular blocks with the half-pipes, funnels, cascades and various tracks to create giant layouts to let his marbles loose and watch gravity do its thing. This sort of play helped hone his problem-solving and fine-motor skills. I admit, we spent a small fortune on these fancy blocks but they provided hours of building fun and he still pulls them out from time to time to create new Rube Goldberg-style inventions.

Erector Sets
Age 5 and up
This classic building toy has been around for more than a century and it has completely evolved with the times. In addition to the classic metal construction sets that inspire older kids to create helicopters and trucks, there are also plastic model kits for preschoolers with larger pieces for little hands, and cool voice-enabled robots that can be made in three easy steps.

littleBits
Ages 8 and up
My son and I came across littleBits at the 2013 Maker Faire. These clever kits introduce the world of electronics in such a simple and intuitive way that my son was able to figure out how to make the most basic circuit without any assistance. These stylish modules snap together with magnets so kids can try one of littleBits projects or dream up their own creations.

Snap Circuits
Ages 8 and up
Similar to littleBits, these sets let kids play with electronic circuits. However, instead of modules that snap together, Snap Circuits are built on little grid bases. The instructions are easy to follow so kids can work independently, and each kit offers several electronic projects. My son will be finding the Snap Circuits kit for this motorized remote-control rover under the tree this year.

GoldieBlox
Ages 4 to 9
Regardless of how you feel about GoldieBlox's much blogged about kerfuffle with the Beastie Boys, it's a popular construction toy for the younger set that comes with an accompanying picture book about a girl inventor named Goldie. As kids read, they build along, trying their hand at making belt drives, wheels and axles, and other simple machines. Downside: It's not as open-ended as the other toys on this list.

Find other great gift ideas in our Holiday Shopping Guide.

Sign up for our free
newsletters.
Mommy Poppins is a family activity website that helps people find things to do with kids.
©
2023
MommyPoppins. All Rights Reserved.
mp-prod4-v4.32.99
We use cookies and other data collection technologies to provide the best experience for our customers.
Learn More