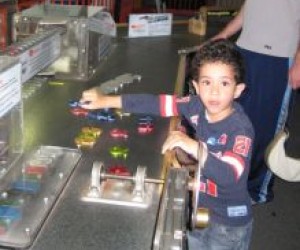 8 Spots for Young NYC Inventors: Places Where Kids Can Create Robots, Buildings and More
Children are natural inventors. They're always creating, building and tinkering, and coming up with inventive ways to solve life's problems. Take my oldest son, who after watching me scramble for his little sister's discarded sippy cup for the umpteenth time proposed that we add pop-out wings to her stroller to catch whatever she chucked.

While he never did figure out how to develop that product, he's certainly kept busy over the past few years inventing all sorts of other things at a variety of creative places. Here are eight NYC spots where your budding Benjamin Franklins can be inspired to make robots, model buildings, video games and lots of other cool stuff.
Skyscraper Museum – Battery Park City
39 Battery Place near West Street
The museum's Saturday morning Family Programs are my personal favorite. They're just $5 per family and always feature hands-on activities and educational themes, like Stack 'Em High Woolworth, in which kids construct block models of famously tall buildings, or St. Patrick's Day: Greening the City, when they learn ways to make NYC more eco-friendly. Most workshops are for children ages 4 to 10, though some of the more intricate ones specify 7 and up. Find a complete schedule of upcoming Family Programs on the website. Pre-registration is required.

Sony Wonder Technology Lab – Midtown East
550 Madison Avenue at 56th Street
We're always raving about this interactive technology museum, which is free to visit. In addition to its engaging stations, the Lab also hosts special children's workshops like Bot Building, Hands-on Nano Demos, Soldering Circuits and more, usually costing $5 to $15. All programs require advance reservations and they usually fill up fast, so be sure to call 212-833-8100 in advance to try to snag a spot. While the most challenging workshops are listed for children ages 8 and up, we've sneaked our seven-year-old in before. Bonus: While your big kid puts on his inventor's hat, you can take your younger kids to a free screening in the museum's high-definition theater.

RoboFun – Upper West Side
2672 Broadway at 102nd Street
My third grader intends to be a secret agent—not the guy in the field getting shot at; he wants to be the brain behind the desk designing cool gadgets and computer programs. He's already started building his portfolio for the FBI (really!) using SCRATCH, a programming language developed at MIT specifically for kids. He took an introductory class at the library hosted by RoboFun, and it really set his imagination and creativity in motion. RoboFun is currently offering classes in SCRATCH Video Game Design, along with LEGO Robotics and camps for students in first through fifth grades.

Maker Space at the New York Hall of Science – Corona
47-01 111th Street at 47th Street
Inspired by the annual World Maker Faire, the museum's opened this year-round hands-on project lab where little builders can work on high-tech projects like 3D printer renderings, as well as no-tech creations like quilts and paper buildings. Although the museum hopes to add drop-in hours, for now Maker Space is only open during scheduled workshops. You can find the schedule on the website. Most Maker Space programs are free with museum admission, and those that aren't are usually under $10.

Brooklyn Robot Foundry – Gowanus
303 Third Avenue near Carroll Street
Mechanical engineer Jenny Young and doctor of educational technology Dave VanEsselstyn opened this hands-on robot building studio in 2012. Elementary schoolers learn the mechanical and electronic principles of robotics by designing, building and playing with giant robots and vehicles in the Foundry's well-equipped work space. After-school classes, camps, clubs and one-off workshops, and even open playtime are all on offer.

ConstructionKids – Brooklyn Navy Yard
Building 92, Brooklyn Navy Yard, 63 Flushing Avenue near 4th Street
At this program's state-of-the-art studio, budding builders participate in hands-on projects, using real hammers and nails, and other tools of the trade. Classes, camps and parties are offered, and kids make their own toys, models and even skateboards.

Engineering for Kids – Citywide
Manhattan-based program comes to you
Designed for children ages 4 to 14, Engineering for Kids offers customized activities and classes for individuals, groups, schools, camps and even birthday parties. The program focuses on building problem-solving skills and encouraging kids to figure out how things work and how to make them better via real-world engineering. The founder, a mom who holds a master of science degree in technology education, was inspired to start the program when she couldn't find anyplace she wanted to send her own school-age kids. Contact nyc@engineeringforkids.net for more info.

B.R.I.D.G.E.S: Build, Research, Invent, Design, Grow and Explore through Science – Morningside Heights
Salvadori Center, 475 Riverside Drive between 119th and 120th Streets, Suite 1370
A partnership between the National Science Foundation and the New York City Housing Authority, B.R.I.D.G.E.S is an after-school program where children ages 8 to 12 learn how to analyze practical problems and then present their solutions via written and oral reports. Hands-on activities include building scale models of New York City bridges, learning how skyscrapers stay standing, and creating green designs for everything from skateparks to entire communities. By 2013, the Salvadori Center hopes to expand its program to 25 community centers across all five boroughs, so check the website for a location near you.

More inventive inspiration: Both New York City chapters of the Boy Scouts and the Girl Scouts of America offer inventing merit badges for members who conceive, design, build and test out a prototype.

Child a DIY type? Kid Inventors' Day is coming up on January 17 and the event's website features tons of resources about contests, conventions, online clubs and tips for young inventors.

Kids already invented something? The United States Patent and Trademark Office is ready for them. There's even a special kids' page.