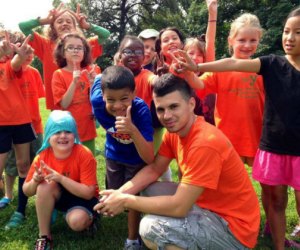 Foreign Language Camps for NYC Kids
New York City is home to an estimated 800 languages, and by virtue of living here, our kids are exposed many of them. It's no surprise, then, that NYC has a number of language-immersion summer camps for kids interested in going beyond hola! and bonjour. Whether your child yearns to master Chinese, French, German, Italian, Hebrew, or Spanish, summer is a great time to give language learning a try in a relaxed camp environment. Many of these programs include swimming, yoga, cooking, arts and crafts, music and dance, games, and other typical summer camp activities to supplement and enhance the instruction. Instructors and counselors are fluent or native speakers and not only teach kids the language but also expose them to the culture through activities and field trips.
For more ideas on summer camps, check out our Summer Camp Guide for NYC Kids. Got a preschooler? We've also rounded up immersion preschools for dual-language learning in Manhattan and Brooklyn.
Note that summer camp information for the 2020 season is changing daily. Please click the links to the individual camps below to see which ones are offering programs this year.
Bank Street Summer Camp — Upper West Side
606 West 115th Street (between Broadway and Riverside Drive)
Ages preschool–eighth grade
As a renowned school and educational graduate program, Bank Street offers both a regular day camp and a non-academic, experiential Spanish-immersion camp. The full-day Spanish camp is divided into developmentally appropriate units, the Lower Camp, Middle Camp and Upper Camp. The youngest kids have more classroom time, with daily park forays and weekly field trips, while the Middle Campers have less classroom time and spend their days exploring the city (museums, shows). The Upper Campers have daily trips and very little classroom time. All campers swim twice a week at a private pool in Riverdale, a 10-minute bus ride away, with their regular counselors and the aquatics staff. The camp caters to native speakers as well as beginners, and has special experience with kids who may understand but not speak Spanish.

Bonjour NY — Carroll Gardens & Upper West Side
330 Smith Street (at PS 58, between Carroll Street and First Place)
32 West 92nd Street ( at PS 84, between Columbus Avenue and Central Park West)
Ages 3.5–11
Each week, language instruction is based on a theme at this French immersion camp, from animals to clowns, carnivals to enchanted forests. Activities include visual and performing arts, games, dance, music, sports, outdoor and water activities, as well as field trips around the city.

Children's Academy Summer Camp at Long Island University — Fort Greene
1 University Plaza (between DeKalb and Willoughby Avenues)
Ages 3–6 (language immersion)
Ages 6–12 (traditional camp)
While Children's Academy is a traditional summer camp for older campers, younger kids can pick a language track—English, Mandarin, or Spanish—while participating in gymnastics, origami, music, yoga, and swimming in LIU's spectacular indoor pool.

Collina Italiana – Upper East Side
1556 Third Avenue (between 87th and 88th Streets)
Ages 3–6
This camp helps young bambinos learn Italian through a combination of play, acting, art projects, movies and cartoons, lessons, and museum outings.

Kings Bay Y at Windsor Terrace Hebrew Dual Language Camp — Bay Ridge
Fort Hamilton Army Base
Ages kindergarten–tenth grade
Though this camp is run by the Kings Bay Y at Windsor Terrace, it is held in a bucolic outdoor setting in Bay Ridge, and bus service is provided. Campers are immersed in Hebrew through music, games, reading, drama, storytelling, and field trips, and there is swimming four times a week. Other activities include yoga and dance, self-defense, Israeli culture, arts and crafts, cooking, and sports—plus a kosher breakfast and a snack are provided. Older kids can also participate in sleepovers and overnight trips.

HudsonWay Immersion School Summer Camp – Upper West Side
175 Riverside Boulevard (between 68th and 69th Streets)
Ages 2–12
This Upper West Side school's 100 percent immersion summer program takes campers on a journey to a different Mandarin- or Spanish-speaking region each week while learning the language from native speakers. As the classrooms take on the theme of that country—from rainforests to deserts—campers learn about the area's culture and ecosystem through science, art, music, cooking, and other hands-on activities.

International School of Brooklyn Summer Programs – Carroll Gardens
477 Court Street (between Nelson and Luquer Streets)
Ages preschool–first grade; CIT program for seventh–ninth grade
Suitable for fluent native speakers as well as beginners, ISB's French and Spanish camp for young children includes arts and crafts, group games, sports, cooking, music, storytime, drama, and plenty of outdoor play in nearby parks.

Juguemos a Cantar Summer Program — Park Slope
357 Sixth Street (between Fifth and Sixth Avenues)
Ages 2–8
Each week of this camp for native speakers and beginners focuses on a different Spanish-speaking country. Language instruction is supplemented by yoga, soccer, music, creative movement, field trips, structured play, and workshops.
La Petite Ecole – Upper West Side & Tribeca
159 West 82nd Street (between Amsterdam and Columbus Avenues)
45 White Street (between Broadway and Church Street)
Ages 2.5–5
Campers learn French via indoor and outdoor activities throughout the city, including park and museum field trips, cooking, singing, arts and crafts, and water play.

Planet Han — Upper West Side & Upper East Side
401 West End Avenue
1556 Third Avenue
Ages 2.5–10; leadership program for 11 and older
Planet Han offers half-day summer Mandarin classes for preschoolers and a full-day immersion program for older children. In addition, fluent speakers ages 11 and up can join the leadership program and work with Planet Han's teachers to try teaching; leadership students will also write, design, and type their own Chinese books.

Pusteblume Summer Language Camps – Chelsea
244 West 14th Street (between Seventh and Eighth Avenues)
Ages 2–9
Campers learn either German or Spanish through age-appropriate weekly themes, such as outer space, dinosaurs, rainbow colors, bugs, pirates, and the ocean. Each week includes activities and excursions and at least two water-play days.
Top photo: Kids at Hebrew Camp courtesy Kings Bay Y.
This article first published in March 2013 but has since been updated.