13 Dual-Language and Immersion Preschools in Manhattan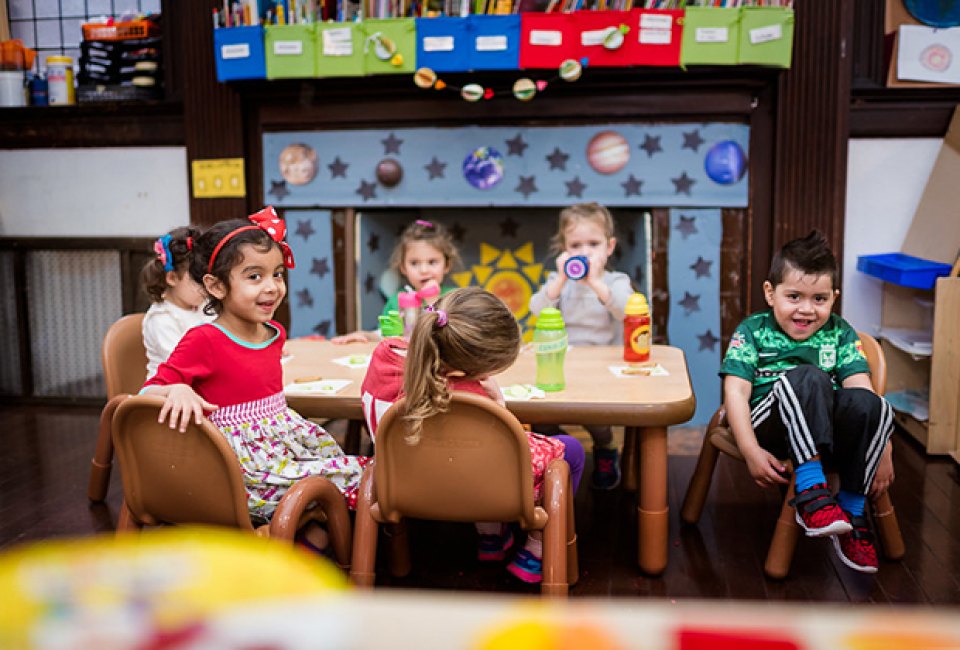 5/16/16
- By
Sarah G
Whether your toddler already speaks a second (or third) language at home, or if you're simply hoping to give your monolingual child the gift of another language, there are plenty of great preschools where NYC kids may begin, or continue, learning another language.
As with mastering any new skill, regular (and fun) practice makes a big difference in how quickly a child becomes comfortable speaking another language. We previously rounded up great Spanish language learning centers for school-aged kids, as well as Spanish sing-alongs for toddlers. Now, we're turning our attention to the preschool set, pulling together a sampling of immersion and dual-language preschool programs available in Manhattan. All our picks accept a mix of children at different levels of language proficiency, including absolute beginners.

Read on to find out where your tot can learn German, French, Mandarin and Spanish, and be sure to look through our NYC Preschool Listings and Directory for even more options, including dual-language playgroups and preschool alternatives.
As your child gets ready for the next step, you might also take a look through the NYC Department of Education's extensive list of pre-K programs. Just use the "dual-language" filter to narrow down the long list. Just note that many of our choices below also offer pre-K.
German and Spanish
Kinderspiel – Battery City
Ages 2-5
This German and Spanish immersion preschool offers a structured, play-based curriculum with a strong emphasis on music. German classes are offered morning and afternoon; Spanish classes are offered afternoons only. Extended day and a summer immersion program are also available.
RELATED: 25 Things to Do with Your Preschooler Before Age 5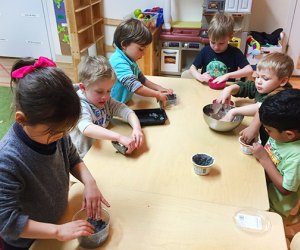 Creative learning and play at Pusteblume International Preschool. Photo courtesy of the school.

Pusteblume International Preschool – Chelsea
Age 2-5
With a Spanish immersion mixed-age program for children ages 3 to 5, and a German immersion program for kids ages 2 to 5, this school combines educational philosophies from German- and Spanish-speaking countries, as well as from the United States. Based on inquiry and play, the curriculum is rich in art, music and cultural experiences.
French, Spanish and Mandarin Chinese
Two Terrific, Three Fantastic – Upper East Side
Ages 2-4
This play-based preschool combines structured activities with free play and the choice to learn Mandarin Chinese, Spanish and French in a bilingual setting. Classes are co-taught by an English-speaking teacher and a native-language speaking teacher. Children enrolled five days per week choose two languages, children enrolled two or three days per week choose one language. These are morning-only programs; there is also a full-immersion afternoon program.
French
Ecole Internationale de New York – Flatiron District
Ages 3-5+
Children enjoy a French-American education at this dual-language, French-founded school that runs through 8th grade. "Pre-elementary" (nursery) students can expect to be taught by both native French and English speakers as they go about their day of art, music, sports, language and more. Three days of their week will be taught exclusively in French, while the other two are taught in English. Note: No pull-ups or diapers allowed!
La Petite Ecole – Tribeca & Upper West Side
Ages 2.5-4
Combining arts with an immersion French language and culture curriculum, this preschool aims to teach kids early language literacy while building confidence in basic math and science. Children may attend from two to five days per week, half or full days, and there is an extended day option.

L'atelier French Preschool – Upper West Side
Ages 2.5-5
L'atelier splits its small program into mornings for younger children ages 2 through 3.5, and afternoons for older children ages 3.5 through 5. This immersion preschool follows a traditional French école maternelle model, with an American inquiry-based preschool philosophy mixed in, where teachers focus on forming nurturing relationships with students while teaching socialization and individualization.
RELATED: 10 Questions to Ask During Your Preschool Tour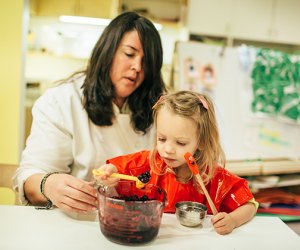 All activities take place in French at FIAF, even cooking lessons! Photo by Sasha Arutyunova/courtesy of the school.

FIAF Preschool – Upper East Side
Ages 3-4
This French immersion program offered by the French Institute Alliance Française is also based on combining the école maternelle model with an American preschool experience, introduces toddlers to reading, writing, scientific exploration and numbers. Teachers speak exclusively in French to the kids. There are morning, afternoon, full-day and pre-K options.
Mandarin and Spanish
HudsonWay Immersion School – Upper West Side
Ages 2-4+
This well-known preschool offers immersion learning in Mandarin and Spanish with native speakers as the teachers. The curriculum touches on the arts, reading, writing, social studies, science, math and, for the 4-year-olds, technology. It also just added an all-Mandarin, play-based afternoon preschool program beginning in the fall of 2016 at its NYC location. Children can attend two, three or five-day sessions. It also offers preschool and language classes in Summit, New Jersey, an NYC suburb.
International Academy of New York – Upper East Side
Ages 2-4+
Language immersion begins in preschool at this nursery through eighth grade international-focused school. Students can choose from either Spanish or Mandarin, and will be taught by a native speaker of their preferred track. Throughout the day, children switch back and forth, using English during certain subjects and their second language in other classes. Small class sizes are boasted at all levels.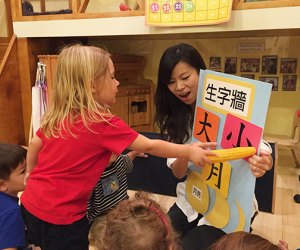 Kids learn Chinese through all sorts of games at Mandarin Seeds. Photo courtesy of the school.
Mandarin
Mandarin Seeds – Tribeca
Ages 2-4
This mixed-age Mandarin immersion preschool teaches Chinese language and culture via music, art, science, drama, cooking and storytelling. Classes are capped at 12 children and are taught by two teachers. Discovery-based and child-centered, Mandarin Seeds encourages a hands-on, active approach to learning.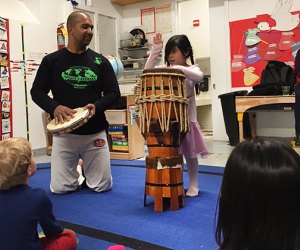 Capoeira drum lessons are part of the dual-cultural and language instruction offered at La Escuelita. Photo courtesy of the school.
Spanish
La Escuelita – Upper West Side
Ages 2-4
Combining bilingual instruction in Spanish and English, La Escuelita offers play-based learning in classrooms where native Spanish-speaking teachers will represent at least two different accents, giving students a good introduction to cultural and linguistic differences. Younger children start off in classrooms taught entirely in Spanish, older children receive a mix of Spanish and English to foster bilingualism.

My Little Language School Montessori – Upper West Side
Ages 2-5
With a Montessori approach that emphasizes the development of a strong sense of self-esteem and confidence, this bilingual preschool focuses on developing the physical, emotional, intellectual, social and linguistic skills of each child.
Hola NYC – Upper West Side
Ages 2-4
With a Montessori philosophy at its core, Hola NYC's Spanish immersion preschool is mixed-age and focuses on play-based, open ended activities, building community and fostering an environment that encourages children to explore and learn in their own individual ways. Teachers are native Spanish-speakers and at least half of the class is made up of native Spanish speakers.

Top image: Immersive learning at Hola NYC. Photo by Meredith Zinner Photography​/courtesy of the school.
Click Here to Sign Up!