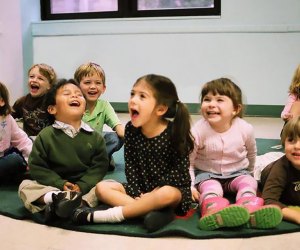 Learn Spanish: Language Classes for NYC Kids
Many New York City public schools offer wonderful dual-language Spanish programs, as well as other languages. But if your child's school doesn't offer a language program, there are lots of Spanish language programs around the city that teach young kids to habla Español. We've rounded up some of our favorite Spanish language learning centers for New York City kids. And best of all: Thanks to the wonderful diversity of New York City culture, your kids will certainly get to practice what they learn in the classroom!
Find more NYC classes in our Classes Guide and Directory Listings, and check out our guide to Foreign Language Camps for NYC Kids.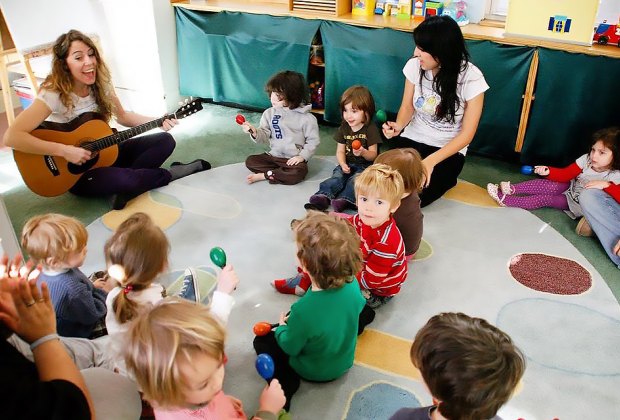 Learn a language through fun, upbeat music at Bilingual Birdies. Photo courtesy of Bilingual Birdies
Bilingual Birdies – Citywide
In addition to group Spanish classes for children up to age 5, Bilingual Birdies offers in-home sessions, birthday parties, and family concerts throughout the city.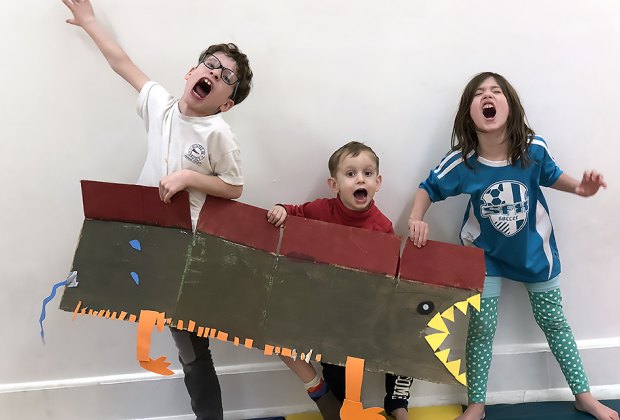 The Brooklyn Beanstalk teaches Spanish through, songs, play and games and more! Photo courtesy of Brooklyn Beanstalk
Brooklyn Beanstalk – Brooklyn
Spanish immersion classes are one of the offerings at this arts-based educational organization, which has multiple locations in Brooklyn. Students learn the language through songs, dramatic play, games, and everyday interaction.
Carousel of Languages – Upper East Side
Weekly one-hour courses, for ages 6 months to 12 years, emphasize the importance of multi-sensory learning through verbal, visual and tactile association.
Easy Español – Midtown West and Queens
Easy Español's courses, summer camps and after school programs are designed to deliver high-quality Spanish enrichment that is both fun and effective.
El Taller Latino Americano– East Harlem
In weekend and after-school classes, kids study "Spanish of the Americas" through music, theater, arts and crafts, and conversation. Students start by learning how to say hello, name their body parts, order food, and identify colors and common objects. The class is taught in a bilingual format and beginners are welcome. There's also a baby-and-me class and an immersive Spanish Arts Summer Camp for school-age children.
Hola! A Playgroup in Spanish – Chelsea
This program has been around since 2001, helping children as young as 2 months old get comfortable with Spanish. After-school and summer programs are all conducted in Spanish.
I'm Bilingual! Languages Through Music – Citywide
I'm Bilingual offers a range of Spanish immersion classes for kids up to age 5, including music classes, story time, and "Spanish and puppets." Founder Yolanda Borras also creates her own Spanish children's books and learning materials for families and schools, and a number of videos for kids in Spanish are available to watch on the website.
Juguemos a Cantar – Brooklyn
This well-established Brooklyn program offers group classes for babies and toddlers up to age 5 and a Spanish immersion preschool, as well as after-school programs, playgroups, camps, and even a drop-in playspace.
Lango: Foreign Languages for Kids – Brooklyn
This Boerum Hill center offers a Spanish immersion after-school program with walking pickup from neighborhood schools, weekend classes, and a toddler playgroup. Summer camp is also offered.
The Language Workshop for Children – Upper East Side
With drop-off classes for children ages 3 to 8, the Language Workshop for Children employs music, props, and play to teach Spanish—as well as French, Italian, and Chinese—in a group setting. Children 6 months to 3 years can take a Languages for Tots class with a caregiver, and there is also a summer camp and a language immersion preschool.
NY Kids Club – Citywide
The Spanish classes for kids offered at these play and learning spaces throughout the city encourage active involvement. For children under 3, teachers bring four elements together (a letter, a number, a shape, and an animal) in every class, and encourage adult participation.
Tribeca Language – Tribeca
Maurice Hazan, owner and founder of this school, developed the QTalk Method, which associates a specific picture with every word for easier learning. The goal is to teach children a core of 300 or so words that make imaginative play possible and build a larger vocabulary from there. Private and semi-private classes are offered. The school is now mobile and can no longer arrange group lessons for children at their location, but in-home lessons can have up to three children with a single point of contact.
For other ways to develop your kids' language skills, check out our Classes Guide for more enrichment programs in NYC.
This post originally published in March 2013 and has since been updated. Katie Nave Freeman contributed additional reporting.