Beyond Ni Hao: Chinese Language Lessons for NYC Kids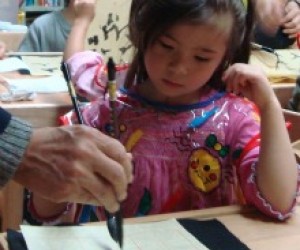 Oh, to be young again! Like tennis, ballet and good hygiene, a second language is best started when you're young. And local kids are lucky: New York City is such a melting pot, they've got plenty of language classes to choose from.

The most widely spoken language in the world, Mandarin, is also one of the most popular to learn. Of course, watching Ni Hao, Kai-lan can only take your kid so far, but hearing my daughter count to three in Mandarin inspired me to research Chinese language lessons for kids in the city.

Here's what I found.


Bilingual Birdies - Citywide
Locations vary. Visit the website for info.
646-443-1313

Ages 5 and under
Specifically aimed at preschoolers, the classes use singing, instruments and props to teach kids language basics. Every instructor attends the school's Teach a Bird to Fly Teacher Training Program, which emphasizes early childhood education. Enroll your child in a group class, or enjoy a private class at home—a great option for families with more than one kid.
Bilingual Buds - Upper West Side

175 Riverside Boulevard at 68th Street

212-787-8088

Ages 1-10
Most teachers at this language immersion school hold degrees in bilingual and/or early childhood education. The curriculum includes science, art, math and music. There are weekly Mommy & Me classes for children ages 1 to 3, a preschool program for 2- to 6-year-olds, and after-school classes for 5- to 10-year-olds, two afternoons a week.
The Carousel of Languages
 - Multiple Locations
144 West 72nd Street between Columbus and Broadway or 1300 Madison Avenue between 92nd and 93rd Streets
212-501-8524
Ages 6 months-12 years
There are myriad programs to choose from, including weekly classes and afterschool offerings, so learning Mandarin can be incorporated into the busiest schedules. The classes are small.

Chinese Book Garden - Midtown West
2 W 32nd Street between Fifth Avenue and Broadway
212-868-8180
Ages 5-10
This spot offers serious after-school and Saturday classes for students looking to become fluent in the language. The low student-teacher ratio allows for individualized attention, and parents receive frequent updates on their child's progress. The curriculum also includes singing, cooking and other cultural activities.
Language Workshop for Children - Multiple Locations
888 Lexington Avenue at 66th Street or 129 West 67th Street between Broadway and Amsterdam Avenue
800-731-0830
Ages 6 months-9 years
Founder François Thibaut believes that kids remember the words that make them happy, so the teachers always keep that sentiment in mind with lessons that use songs and games. There are classes for young children to attend with a caregiver, preschool immersion classes and afternoon play-based classes, all taught by native Mandarin speakers.

The Mandarin Treehouse - Multiple Locations
52 Mercer Street at Broome Street or 220 East 86th Street at Third Avenue
917-327-6900
Ages 18 months-7 years
A group of moms started this program in 2004, and it's been growing ever since. Native Mandarin speakers teach classes at two locations, and include lessons on Chinese culture. Preschoolers are introduced to the characters, while older kids learn hanyu pinyin, the Mandarin phonetic system. Check website schedule, sometimes Babies Playgroup (for 6-18 months) is offered.

Planet Han - Upper West Side
401 West End Avenue at 79th Street
212-724-2421
Ages 12 and under
Using the M.A.T. method—Model, Action, Talk—this school says it will have your kids speaking Mandarin within a year! At every session, teachers speak exclusively in the language, introducing new words and leading conversations. Students then learn via movement, song, play and art. Lessons are tailored for each age range (parents must accompany tots under 3) and kids receive individualized attention and at-home support materials.
Want to learn other tongues? Check out our roundup of foreign language play groups.

Image: Chinese Book Garden