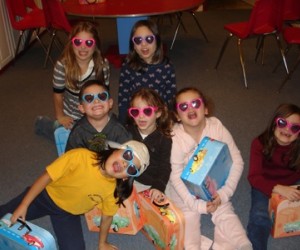 Foreign Language Playgroups for NYC Kids
[UPDATED: August 17, 2012]
Whether you want to preserve your heritage, develop your child's brain, or prepare them for the eventual Chinese world dominance, there are many foreign language playgroups in New York City, ready to help you out. Studies show that even brief, regular exposure to a foreign language at a young age can help your child's ability to pick up languages later in life as well as developing their ability to think abstractly and to focus.
Here are some foreign language playgroups to try out:
The Mandarin Treehouse
What started out as a group of mothers hosting Mandarin playgroups in their own homes, has grown into a business with two locations; UES and Downtown plus afterschool programs. Children learn Mandarin language and culture through immersion (class time is mostly conducted in Mandarin) while participating in a wide group of activities including art, science, movement and music. Children learn to write traditional Chinese characters as well as participate in Chinese dance, folklore and festival celebrations. Classes are offered for children aged 18 months to 7 years and sometimes a Babies Playgroup (6-18 months) is offered.
Let's Play in Japanese
NYCNDA, or NYC Let's Play in Japanese, is inspired by the Japanese hoikuen preschool model. Children ages 0-6 years learn Japanese language and culture through participating in play, music, arts and crafts and reading. Located in the East Village, NYCNDA offers Mommy and Me, Playgroup and Hiragana Practice for older children who can learn to read and write in Japanese. Check website for schedule, prices and policies.
Bright Minds Center
Located at the Synagogue for the Arts in Tribeca, Bright Minds Center offers a Russian language immersion program for those who are interested to preserve their heritage or add a new cultural experience to their child's life. Children are immersed in Russian language and culture. The classes are conducted using unique methods of presenting Russian as a second language to young kids, based on a European approach. First Steps is a program for toddlers 12-24 months old. The Day Care program and Preschool program is for children ages 2 to 5.
¡Hola! A Playgroup in Spanish
¡Hola! offers many different classes for children ages 12 months to 9 years. From the young toddler program to after school programs to special classes where children can explore Spanish culture, learn yoga, flamenco dancing, ballet or even radio; all immersed in Spanish—classes at ¡Hola! are packed with fun and excitement. Classes are offered at various locations, including Tribeca, Flatiron, Chelsea and the UES.
Little Language Playhouse
Children learn Italian through musical play, immersed in Italian while learning classic Italian nursery rhymes and traditional songs as well as a wide array of different activities. Little Language Playhouse is in Dyker Heights Brooklyn. Classes are offered for children aged 0-12.
German Language School
Tucked away on the FDR is the German Language School of New York which offers Saturday morning German classes for kids of all ages. Their playgroup "Knirpse" is a Mommy and Me class for children aged 1 and up.
Musical Kids International
Musical Kids International offers music or language classes in French, Hebrew, Mandarin, English, Spanish and Korean for 0-6 year olds . The Spanish Bilingual Preschool Alternative immersion program focuses on developing the entire child through an arts based curriculum and will be available again in 2013. Classes are offered on the UES and other locations.