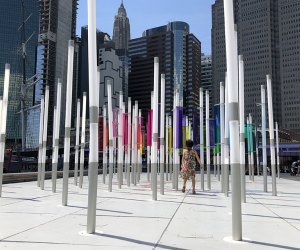 Cool Public Art to See in NYC with Kids This Summer
Summer in the city means endless outdoor fun, countless street festivals, and some pretty rad splash pads. But summer also brings some seriously cool public art to the streets of NYC, making it easy to sneak some culture into a day of play. Check out our roundup of some of the many free art exhibits around town and dazzle your kids with colorful displays that also just happen to flex those left-brain creative muscles. And be sure to follow us on Instagram if you don't already—we're always finding new exhibits, pop-ups, and interactive installations to explore with kids.
The Nautilus — Seaport
This interactive art exhibit is especially cool for kids because it responds to touch. A "constellation" of 95 poles parked in the iconic South Street Seaport in lower Manhattan lights up different colors when you touch them, and also play a personalized tune composed with eight different notes. The installation, which aims to demonstrate "how technology can produce an experience that's inherently human, responsive, and sensory," was co-created by Lincoln, Atlantic Re:think, and SOFTlab, and is on display until September 10.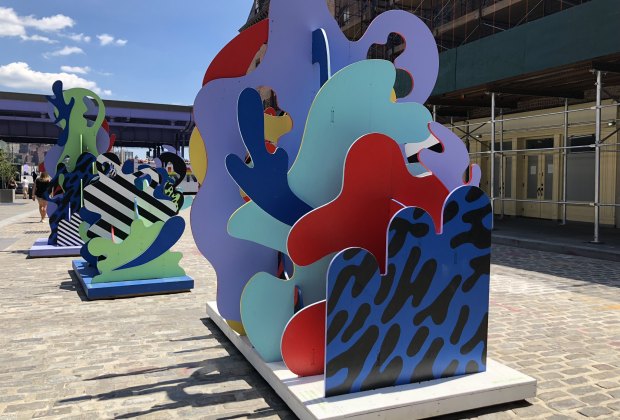 Colorful sculptures pay homage to the ocean at Fulton and Front Streets. Photo by Janet Bloom
Seascape Sculptures — Seaport
Another colorful public art installation downtown, the marine life-inspired sculptures by Wade and Leta tap into the maritime history and vibe of the Seaport neighborhood. Located at Fulton and Front Streets and on view until September, the sculptures are a fun visual gateway for kids on their way to the Imagination Playground.
Becoming Biodiversity — Flushing Meadows Corona Park, Queens
A New York City Art in the Park exhibit, Becoming Biodiversity by Amy M. Youngs is worth its own separate visit, but could easily be a starting point for a full day in Flushing Meadows Corona Park. The interactive exhibit uses augmented reality (via an app you can download onto your iPhone or Android) to educate kids about nature and the biodiversity that exists right here in the city, as you follow the Willow Lake trail to find eight stations. While you're in the park, there's also the New York Hall of Science, the Queens Museum, the World's Fair globe and adjacent fountain, the U.S. Open tennis courts, a zoo and petting farm, and so much more. Enjoy an amazing lunch at one of the nearby joints that won't break the wallet, or stay for dinner at the Queens Night Market.
RELATED: 100 Free Things to Do With Kids This Summer in NYC

There's a new bridge in town: Bridge Over Tree, at Brooklyn Bridge Park. Photo by Janet Bloom
Bridge Over Tree — Brooklyn Bridge Park
In the shadow of the towering Brooklyn Bridge, the Public Art Fund has recreated a groundbreaking piece of public art first conceived in the 1960s by Iranian-American artist Siah Armajani. Surreal and beautiful, the enormous, interactive piece invites exploration, and also makes an excellent conversation-starter with kids about how the natural world and man-made structures intersect. On view in Brooklyn Bridge Park through September.
RELATED: 13 NYC Playgrounds That Boost Creativity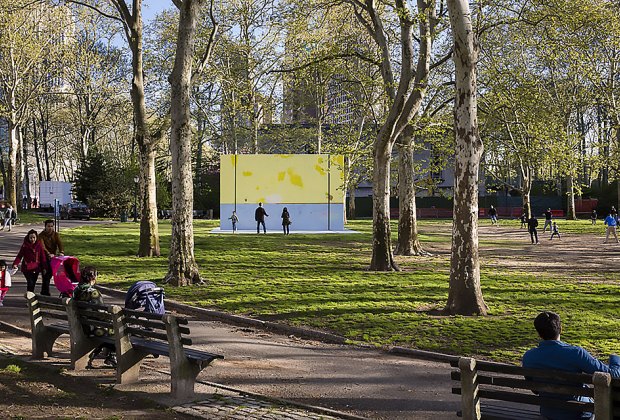 Subliminal Standard was inspired by was inspired by New York City's handball courts. Photo courtesy of Ancart
Subliminal Standard — Cadman Plaza East, Brooklyn
This art exhibit doubles as an athletic court. Created by Belgian-born artist Harold Ancart, this painted concrete sculpture was inspired by New York City's handball courts. If you're raising kids in New York, they ought to know about the importance of handball, the quintessential sport of many a city kid's summer, and my own go-to sport growing up. Checking out the exhibit is a fun way to cap off a day exploring nearby Dumbo or Brooklyn Heights. This will be on display through 2020.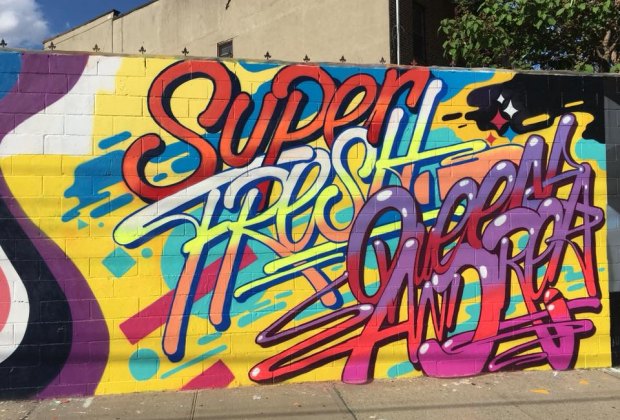 The Welling Court Mural Project began in 2009 when Ad Hoc Art was invited by the community of Welling Court to visually beautify their neighborhood. Photo courtesy of the project
Welling Court Mural Project — Astoria, Queens
If you haven't been to this raw and stunning art project in family-friendly Astoria, put it at the top of your summer to-do list. You can take the ferry to within a block (catch the NYC ferry to the Astoria stop), and walk around a few square blocks to see some of the most colorful and powerfully messaged art in the city. This ongoing mural project, now in its tenth year, was started by local Jonathan Ellis and the group Ad Hoc Art. It features both new and well-known artists with life-size murals that range from the silly to the political to the absolutely mind-awakening. The project is soulfully reminiscent of the famous, now-defunct 5Pointz.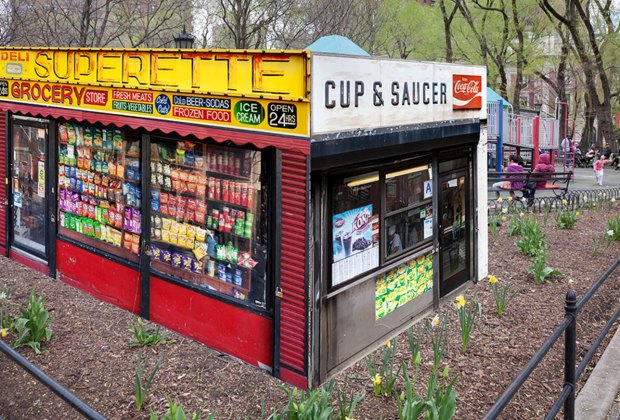 The Mom and Pops of the LES is a life-sized recreation of mom and pop stores that no longer exist because of rising rents. Photo courtesy of Art in the Park
Mom and Pops of the LES — Lower East Side
This exhibit in Seward Park in Manhattan's Lower East Side went up last year and remains a worthy excursion, with its life-sized recreations of mom and pop stores that no longer exist because of rising rents. It's a great way to teach your older kids a hands-on lesson in gentrification, while also being a fun and colorful stop for your younger kids. The piece was created by James and Karla Murray as part of the city's Art in the Parks UNIQLO Park Expressions Grant Program. Included in the exhibit are a diner, a vintage store, a newsstand, and of course, a bodega.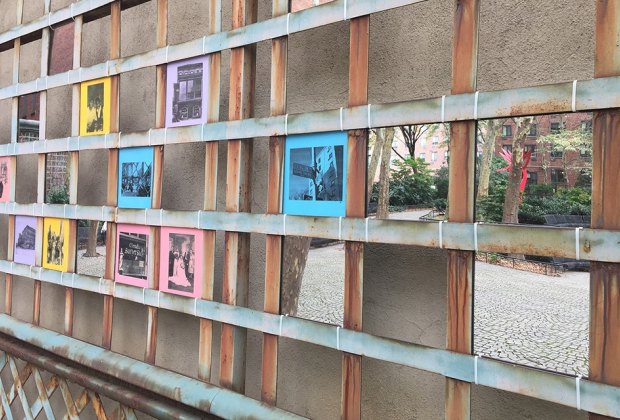 Present Histories: An East Harlem Photo Album by Kathleen Granados. Photo courtesy of Kathleen Granados
Present Histories: An East Harlem Photo Album — Harlem
This exhibit created by Kathleen Granado is an engaging and poignant look at the people who make up the rich mix of Harlem. On display through August in Harlem Art Park on East 120th Street and Sylvan Place, this colorful, large frame includes images from the lives of people in Harlem. There's a mix of historic and contemporary images featured, and even mirrors to reinforce the role you play in shaping the culture of the neighborhood.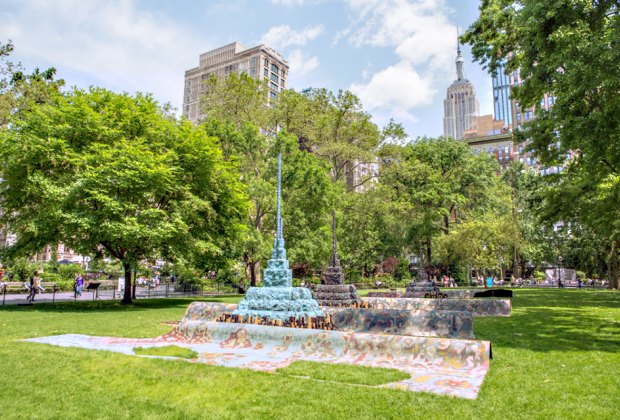 City in the Grass by Rashimi Grill. Photo courtesy of Madison Square Park
City in the Grass — Flatiron
What better way to spend a summer afternoon than to grab Shake Shack and then let the kids run around in Madison Square Park to burn off some burger calories (and excess energy)? The latest in the ever-rotating public art exhibits in Madison Square Park includes "City in the Grass," a topographical work that features a paint and sculpture cityscape and makes viewers feel like they're a part of the piece. The exhibit is on display through December.