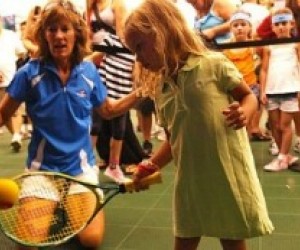 Free and Fun Things to Do This Weekend for NYC Kids: Arthur Ashe Kids' Day, Taste of Brooklyn, Space Camp August 27-28
Everything below has been cancelled!
All Weekend
Taste of Brooklyn – Crown Heights
The Brooklyn Children's Museum hosts this culinary celebration. Kids can enjoy all kinds of hands-on food activities, including candy experiments, animal feedings and international cooking workshops where they can make hummus, lassi, African pastels and other dishes. Free with museum admission: $7.50. Indoors!

GE Carousolar– South Street Seaport
Although this solar-powered merry-go-round was closed briefly last week (we're guessing the rainy weather caused it to power down), it's back up and turning. Yes, it's a giant advertisement for General Electric, but it's a fun and free ride for the kids, with charging stations for parents' mobile devices. FREE

QuickStart Tennis Clinic – Multiple Locations
Kids and parents can learn how to play tennis courtesy of BumbleBee Tennis, which is sponsoring clinics all over the city. FREE

Saturday, August 27


Arthur Ashe Kids' Day – Flushing
Kick off the U.S. Open with the kids at this annual family favorite. Enjoy tennis clinics, watch big-name pros practice, run obstacle courses and play games, and get your faces painted. Tennis and sports activities are FREE. We hear tickets to the big performance at 1pm, which features Bradley Cooper and the Fresh Beat Band, are sold out. But there's plenty of fun on the grounds!

Inwood Space Camp – Inwood
Aspiring astronauts can learn all about our solar system by peeking through a solar telescope, studying the planets and making toy planes at the Inwood branch of the New York Public LIbrary. That evening (weather permitting), head to Inwood Hill Park to stargaze with the Amateur Astronomers Association of New York. FREE

235th Anniversary of the Battle of Brooklyn – Brooklyn Bridge Park
Get ready for a real history lesson, no classroom required. This historic reenactment features the Fulton Ferry Landing, maritime history, camp life and community, and explains the battle's role in the Revolutionary War. FREE

ISTWA! Storytime For A Small World – Lower East Side
Say goodbye to this year's Fringe Fest with this family-friendly show that brings four famous international folktales to life. In advance: $10 for kids, $15 for adults. Indoors!

Pirates Go to School – Soho
Swashbucklers can head to the Scholastic Store to hear a reading of Pirates Go to School, and then go on a hunt for hidden treasure. FREE and indoors!

Macy's Fishing Clinics – Prospect Park
Enjoy the last fishing lessons of the season. Kids learn about the sport and practice fish-friendly techniques before casting their own lines. FREE

See all Saturday events.

Sunday, August 28

UPDATE: As of Friday, all of these events have been canceled.

African Film Festival's Family Day Celebration – Governors Island
Head to the isle to learn all about African culture. Catch short films, take dance and Double Dutch classes, listen to stories and sample inexpensive cuisine. FREE CANCELED

Bhangra Kick – Union Square
Although the Indian Day Parade was last weekend, you can continue celebrating at this Bhangra dance showcase. Watch the pros or try it out yourself. No experience necessary. FREE CANCELED

The Encounter of Juan Bobo and Pedro Animal – Central Park
Giggle at the bilingual high jinks of these comical folk tale characters as they learn about friendship and self-esteem. It's your last chance to see this traveling kids' show! FREE CANCELED

Harlem Meer Performance Festival: The Dennis Day Ensemble – Central Park
It's the penultimate show for this summer-long performance series. Today, groove to the smooth jazz sounds of The Dennis Day Ensemble by the picturesque lake. If it rains, this program is canceled. FREE CANCELED

A Clearing in the Forest: Art & Haiku – Central Park
Over on the other side of the park, families can hear lovely haikus and then create Asian landscape art. If it rains, this program is canceled. FREE CANCELED
See all Sunday events.


Outside NYC

Head to Avian Activity Day in Beemerville, New Jersey to hang with animals, learn how to handle snakes, identify nests and birds, and build your own nest out of twigs.

Didn't get a chance to celebrate Ferragosto a few weeks back? You can still party Italian-style at the Annual Italian Festival at Cellini Lodge in New Hyde Park on Long Island.

Head to Connecticut for the 63rd annual Terryville Country Fair.


Don't forget: There's more fun to be found in our Event Calendar.
Planning an event? Submit it to our calendar here.
Did someone forward you this email? Subscribe here.