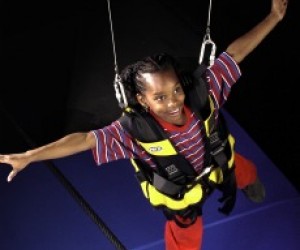 Circus! Science Under the Big Top at the New York Hall of Science
Ladies and gentlemen, boys and girls: Step right up! The circus is in town, and you're invited to join them!

If you've ever wanted to walk a tightrope, somersault in midair or play lion tamer, your fantasies will be fulfilled at the interactive exhibit Circus! Science Under the Big Top, which opens this weekend at the New York Hall of Science.

Families can also learn all about the science behind the spectacle, including how carnie folk swallow swords and contort their bodies, and why cotton candy smells so good (at least to kids). In addition, Circus! features tons of vintage photos, big top legends and lore, and cool artifacts from the heyday of the traveling troupes.

Here are some of the derring-dos you can try (or learn about) when you step into the ring.
Walk the High Wire
Find out if you have what it takes to be a funambulist (a.k.a. tightrope walker) by taking a stroll on a cable suspended 12 feet above the ground. Don't worry parents: The kids are safely strapped into a harness. Down below, visitors can learn about the physics of balance and famous tightrope walkers.
Be a Lion Tamer
Little kids will really love this section, which showcases celebrated animal entertainers like Jumbo the Elephant and Gargantuan the Gorilla. Science-wise, it's about how creatures communicate. See if you can figure out the meaning behind their various growls and grunts.

Steal the Show
Be the star of the circus in your own little ring! Kids will have a blast dressing up as ringmasters, acrobats, ferocious beasts and other entertainers, and then stepping out onto a small curtained stage for an impromptu performance.


Laugh it Up
Love 'em or hate 'em, every circus has clowns. A visit to Clown Alley will get you giggling, with peepholes that contain silly surprises. There are also intriguing bits of clown lore and history, including info on the first bozo to sport a red nose and white face.


Sideshow Freaks Revealed
At the big tent at the back, you can learn the secrets behind (un)common sideshow attractions. See photos of multitalented little person Tom Thumb and other famous "freaks," along with explanations of their various conditions. Test your strength against the Mighty Atom, who could reportedly pull 21,000 pounds with his hair. Scientific explanation: leverage. I had always thought that sword swallowers used some sort of collapsible blade; now I know the real trick, and you can try it out on a mannequin. The Human Pretzel was my favorite; I loved learning the science behind packanatomicalization, a.k.a. the ability to fold your body into a miniscule box. Kids will love testing that out!
Fly Through the Air
Pretend to be the daring young man (or woman) on the flying trapeze with the Elastic Acrobatics attraction, which allows you to soar, somersault and try other flying trapeze-style moves.


Other highlights include an interesting quiz on parlari, the private language spoken by circus folk. Turns out that words and expressions like ballyhoo and dog and pony show come from this patois. There's also a section on circus music, smells and even scat (ew).

This entertaining and enlightening exhibit was created by the Ontario Science Center, which explains why cotton candy is called floss (and why it's presented in both French and English). Don't miss it.

Circus! Science Under The Big Top is on view at the New York Hall of Science through September 4. Free with museum admission: $11 for adults, $8 for kids ages 2-17, free for kids under 2. The High Wire and the Elastic Acrobatics attractions cost an additional $3 each. To participate, children must be at least 44 inches tall and sign a waiver.