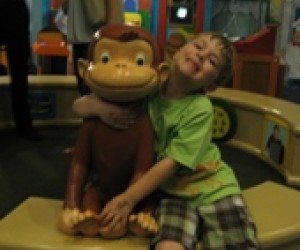 Curious George: Let's Get Curious! Kids Can Explore Math, Science and Engineering at the Children's Museum of Manhattan
Unlike the Curious George exhibit at the Jewish Museum last year, which focused on the creators Margret and H.A. Rey and was really aimed at adults, the Children's Museum of Manhattan's Curious George: Let's Get Curious! is totally for little monkeys.

The brand-new interactive installation was designed by the Minnesota Children's Museum, and uses the iconic kid-lit character as the catalyst for hands-on explorations of math, science and engineering.

It's a really fun exhibit (my kindergartner is already begging to go back) that invites kids to learn through adventure-—ust like their favorite inquisitive little primate.

Here's how my son and I spent our time at Curious George: Let's Get Curious! at CMOM.
In addition to George, who is, of course, everywhere, visitors will spy the Man in The Yellow Hat, Chef Pisghetti and other regulars from the PBS animated series in large wall murals. Yes, this exhibit is inspired by the show (which took a lot of its material from the books), and features eight familiar locales from George's TV neighborhood to play in.

The Apartment Building
The front of the high-rise has wheels and pulleys that the kids can use to "wash" the windows. Inside the building, they can hit different stations to experiment with lights, shadows and patterns.

The Produce Stand
A familiar (but for kids, endlessly fun) interactive, this sidewalk shop allows kids to sort vegetables and fruit, or take turns playing customer and cashier.




The Construction Site
Kids get to play engineer by putting giant foam cubes onto a hand-cranked conveyor belt, and watching as they travel around the site. Other activities include building with blocks and working on blueprints at the drafting table.




City Park
Perfect for George's youngest fans, this enclosed area is full of hands-on manipulatives that are just the right height for toddlers. Bonus: There's seating for parents!

Mini Golf
This three-hole setup is a big draw, and allows kids to learn about rudimentary physics while getting their game on. One hole has lots of tubes, pipes and foam banks to experiment with; another has a hand-cranked turntable; and the third has a small gap to hit the ball over. Be warned: During our visit, this area was quite chaotic. There weren't enough balls or clubs to go around, and lots of antsy kids didn't want to wait their turn.


Rocket Slide
Many George fans will remember when he took off for the moon, and now your kids can too. This makes for a great photo op. Be sure to get your kids to peek out of the porthole before they slide down.


The Farm
Kids can explore cause and effect by using air blasters to power the windmill, pinwheel, chimes and other spinners. Afterward, they can make their own paper pinwheel or wind sock to take home.



Museum in a Museum
This section will be of more interest to parents than kids, and I found it fascinating. It covered a lot of the information featured at the Jewish Museum last year, including the Reyes' amazing history and the origin of Curious George. I also perused old books and vintage memorabilia while my son was otherwise engaged.


The exhibit is aimed at 3- to 7-year-olds, and strategically timed to coincide with summer vacation. I wondered if my 6-year-old son would find it too babyish. Happily, that wasn't the case at all. In fact, he was the perfect age for many of the activities. Preschool George fans will certainly have a ton of fun, but they may not get the math, science and engineering concepts. Kindergartners and first graders will really get into all of the scientific stations and experiments. Nothing like sneaking in a little learning when school's out!


Curious George: Let's Get Curious! is on view at the Children's Museum of Manhattan through September 25. Free with museum admission: $10.
Check out reviews of other cool exhibits for kids, including Circus! Science Under the Big Top, in our Museum Guide.