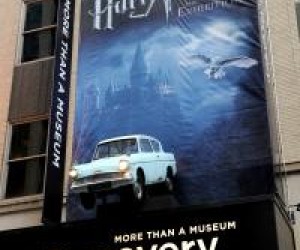 8 Things Parents Should Know About Harry Potter: The Exhibition
Harry Potter: The Exhibition is open and ready for Muggles, wizards and Potterheads everywhere. I'm a Harry Potter fanatic: I fully admit to lining up at midnight for book releases, hitting the theater on opening day for the movies and, yes, owning a pair of plastic Potter specs. I tried to control my giddiness—which can rival that of any 12-year-old Potter geek—while exploring the exhibit at Discovery Times Square last weekend. If there's someone in your abode who dreams of studying at Hogwarts and knows the name of Ginny Weasley's first boyfriend (answer: Michael Corner), this display of props and costumes used in all eight films—including the soon-to-be-released Deathly Hallows: Part II—is an unbelievable treat.
There's Harry's invisibility cloak, beds from the Gryffindor dorm, a larger-than-life Dementor and a lot more. But before you don your cape and fly off with your brood to the exhibit, here are eight things you should know.
1. I'll say it up front: It's expensive. Tickets are $25 for adults, $22.50 for seniors, $19.50 for children ages 4 to 12, and free for kids under 4 (although they'll most likely be bored). Timed tickets are required, so you'll probably end up waiting a bit before you can enter. Of course you can use that time to stump Dad with some challenging Harry Potter trivia.
2. Dress up! The museum's staff told me they had some wizard wannabes come in robes, as well as a few Dumbledore lookalikes. If you want to wear a coat to hide your geekiness, don't worry: There's a free coat and bag check (all backpacks need to be checked for safety reasons).


OUR LATEST VIDEOS
3. Splurge for the audio tour. I realize you've already spent a lot, but it's only seven bucks more, and I highly recommend it. As you walk through the exhibit, there are signs with numbers by the artifacts, like Snape's costume (one of my fave characters). Key in the number and you'll hear the costume designer give details about her work. There are wonderful nuggets of behind-the-scenes info throughout, and it really heightens the experience.
4. Be aware: This isn't really an interactive exhibit. There are a few fun things to do: You can sit in Hagrid's chair (and get a sense of just how huge he is), or shoot a Quaffle through a few Quidditch goal hoops, but there are a lot of "Please Don't Touch!" signs.


5. The exhibit is divided into seven areas: Gryffindor Common Room, Classrooms, Quidditch, Hagrid's Hut, the Forbidden Forest, Dark Forces and The Great Hall. Make sure you go downstairs! The exhibit is on two levels, but it's not obvious. I almost left without seeing a few of the areas!
6. The wands are a must-see. It's amazing to see how intricate and different each one is. Other things not to miss: All of the fabulous details on the written props, like O.W.L. exams and textbooks. Die-hard fans will go gaga over these. The costumes should be inspiring to budding fashionistas.


7. If you're bringing younger kids, be warned: There's a lot of text, so be prepared to read to those who can't (and bring your bifocals). Also, while the video montage leading into the exhibition is great, there are some scary clips. Nose-less Ralph Fiennes as He-Who-Must-Not-Be-Named can be mighty frightening—especially on a big screen in a large, dark space.
8. The exhibit store is strategically located right where you exit. In fact, you must walk through It to get back to the coat check or the street. Have your best "We don't need that, honey" mojo going. If you do succumb, the good news is that there are wares at every price point, from expensive T-shirts and wands to much more reasonable items like bookmarks and pencils.
Harry Potter: The Exhibition is on view at Discovery Time Square through Sunday, May 7, 2013. Tickets are $25 for adults, $22.50 for seniors, $19.50 for children ages 4 to 12, and free for kids under 4. You can buy combo tickets to this exhibit and Spy: The Secret World of Espionage for $42 for adults, $39.50 for seniors and $33.50 for children ages 4-12.
Find out about other awesome exhibits at NYC museums in The Mommy Poppins Museum Guide.
Photos courtesy of Warner Brothers Entertainment.