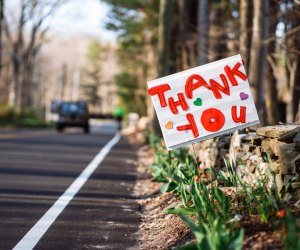 The Long Island Places and People Who Saved Our Sanity in 2020
Years from now, our kids will reminisce about what they were doing in 2020. They'll trade quarantine stories and smiles about the family memories they made during this unprecedented year. While memories of quarantine birthday parties, homemade forts, or living room recess activities might be dominant themes during a year of stay-at-home activities, we couldn't have survived without the greater Long Island community.
As we close the book on 2020, we're taking a minute to offer some well-deserved gratitude to the Long Island spots that stayed open, reinvented themselves, and overall saved our sanity this year. Here are 10 Long Island destinations worth raising a glass to as we turn the page to 2021.
1. Parks and Playgrounds
While playgrounds were off-limits at the beginning of the pandemic, they became a mainstay for kids who needed fresh air and room to run when they opened up again this June. Check our list of the best children's playgrounds on Long Island for ideas on parks to visit in 2021.
RELATED: 10 Things Families Resolve To Do More of in 2021

Caumsett State Park is one of the many Long Island greenspaces we flocked to this year. Photo courtesy of the park
2. Walks and Hikes
Even the staunchest homebodies learned to appreciate the sanity the great outdoors provided this year, especially because many of our state parks opened to the public and waived their fees. One of the highlights of this year was all the family-friendly hikes we enjoyed. Even the smallest outdoor enthusiasts could enjoy the many stroller-friendly hiking trails on Long Island.
3. A Latte Fun
A Latte Fun, the South Huntington play café that opened its doors in January 2020 is a survivor. When the pandemic started, it was forced to close its doors but adapted its business model to give quarantined kids something to look forward to by providing character drive-bys and delivering sensory bins for at-home fun. When the doors finally opened again, it rolled with the punches, providing workshops and private playdates in its toddler-friendly play space.
4. Once Upon a Treetop
While public "open-play" sessions may feel like a thing of the past (at least for now), Once Upon a Tree Top, a staple of toddler life on Long Island, has opened its doors for private play sessions and toddler-friendly classes. Small groups of kids can socialize and learn together while maintaining some semblance of normalcy.
RELATED: Silver Linings? All The Things I Hope Stick Around After This Crisis Passes

Drive-ins were the only way to see a flick early on in the pandemic. Photo courtesy of LI Movie Nights
5. Drive-ins
Pop-up drive-in theaters opened all over the island this summer, providing families with fun outings. While many closed as the weather cooled, some staples, like the drive-ins at Gateway Playhouse and The Vanderbilt Museum, have continued their showings well into the cooler months.
6. Long Island Aquarium
One of the first Long Island destinations to re-open its doors to the public in early summer, The Long Island Aquarium has welcomed guests back since early June. Operating at limited occupancy, guests must reserve tickets in advance for timed entry or arrange a private tour.
7. Children's Museums
We're giving a big shout out to the children's museums of Long Island, who have worked wonders to create safe spaces for children to learn and play in 2020. The Long Island Children's Museum, The Children's Museum of the East End, and The Cradle of Aviation have all provided virtual and in-person learning opportunities for children throughout the year.
8. Local Libraries
Long Island libraries may be the unsung heroes of 2020. When the world shut down in March, they never skipped a beat in transitioning the activities and content we rely on to virtual mediums and arranging for book pickup and delivery to those without digital access. When libraries were allowed to re-open, they continued to get creative, inventing social distancing friendly learning opportunities for kids and adults alike.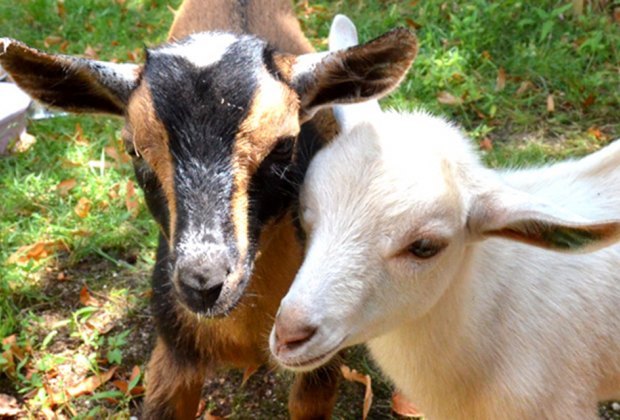 Face time with the friendly goats of CSTL was a welcome diversion. Photo courtesy of CSTL
9. Center for Science Teaching and Learning
The Center for Science Teaching and Learning continued to provide kids (and families) STEM-friendly learning activities at its Tanglewood Preserve home throughout the year, including its tiny tots' program, zoology, and dino drawing classes for older kids, holiday camps, Spooky Fest during Halloween, and its ever-present dinosaur exhibit.
10. Long Island Farms and Petting Zoos
Long Island was originally farmland. This year, we went back to our roots, enjoying the great outdoors and family-friendly activities at our local farms like The Suffolk County Farm and Education Center, Harbes Family Farms, and Benner's Farm. Petting zoos like White Post Farms, the Long Island Game Farm, and the Animal Farm Petting Zoo of Manorville all provided kids with some safe interspecies socializing.