Exploring the Vanderbilt Museum with Kids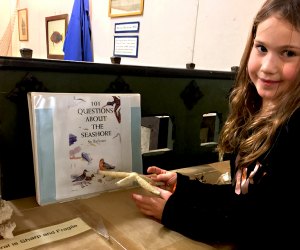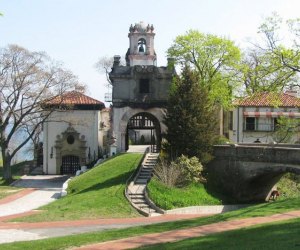 William K. Vanderbilt II's Gold Coast-era estate in Centerport.
William K. Vanderbilt II's Gold Coast-era estate is nestled in the winding roads of Centerport. When you first arrive through the massive, ornate iron gates, head along the cobblestone path, passed the Corinthian columns and breathtaking views of Northport Bay towards the planetarium: there you'll learn about the planetarium shows and museum tours available that day. If you prefer to plan ahead, you can purchase planetarium show tickets online, but mansion tour tickets are first-come, first-serve, so arrive early.
Vanderbilt Mansion and Museum
Explore the Spanish-revival mansion, known as Eagle's Nest, on your own or with a guided tour. Tours are geared for children ages eight and over. Eagle's Nest is listed on the National Register of Historical Places and visitors can witness what life was like during Long Island's Gold Coast heyday of the early 20th century on the tour of this opulent 24-room mansion. Tours last about 45 minutes to an hour. If children are too young or aren't up for a guided tour, families can explore the mansion and museum galleries on their own. Although certain living areas are only open for the guided tour, much of the mansion is transformed into a museum with jaw-dropping exhibits and intriguing artifacts.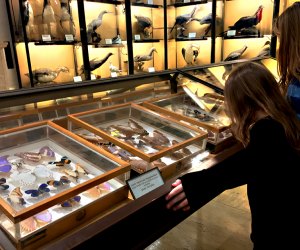 Look at the beauty of butterflies.
In the Memorial Wing children won't want to miss the preserved invertebrates, such as octopus and sea cucumber. The taxidermied birds, cases of colorful butterflies, and the collection of ethnographic artifacts will impress visitors both young and old. On the lower level, children can touch sea stars, coral, and other marine-life favorites. The Turntable Gallery, just beyond the touch exhibit features Vanderbilt Cup Race memorabilia and Mr. Vanderbilt's 1928 car.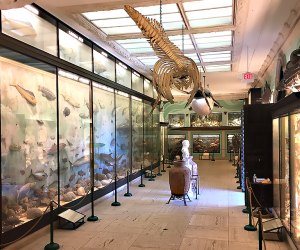 Hall of Fishes Marine Museum showcases marine life. Photo courtesy of the museum
Across the Spanish-style courtyard, visit the Nursery Wing, and downstairs you'll discover an astounding 32-foot whale shark (the world's largest taxidermied fish) ominously hanging overhead in the Habitat Gallery. Curious young explorers will dart through the Stoll Wing's galleries to see wildlife in their authentic habitats, including an up-close encounter with an intimidating polar bear in his snow-covered environment. The Hall of Fishes Marine Museum showcases marine life from Mr. Vanderbilt's countless sea expeditions.

Check your weight on other planets.
Vanderbilt Planetarium
The Reichert Planetarium/Observatory provides visitors with an opportunity to travel through the universe. Planetarium programs include live star talks, fulldome films, laser shows, and concerts. The live star talks take audiences on a live tour of the night sky from the comfort of reclining theater seats. Audiences go on an adventure of unimaginable distance to the infinite depths of the universe. Fulldome films range from One World, One Sky: Big Bird's Adventures (thirty minutes in length and ideal for children ages two to eight) to shows geared for the whole family like Stars: The Powerhouses of the Universe. If your children are older and you're feeling ambitious, the planetarium's sky observatory has free night sky viewings through their nighttime telescope every Friday at 9 p.m. In the afternoon, the daytime telescope allows viewers to observe the sun. This option is available only when conditions are just right.
More to Explore
Mr. Vanderbilt's former garage for his race cars is now the Carriage House/Learning Center, which offers educational and fun workshops for children. Workshops are available for preschool to third-grade students and are held during school-year breaks and summer break. Advanced registration is required. Children participate in creative activities, including repurposing art to create kinetic fish sculptures and making owl dioramas. Beyond visiting and attending a workshop, children can celebrate their birthday with a space-themed birthday party at the planetarium.

The museum has great views of Northport Bay and Long Island Sound.
When the weather cooperates, families can take full advantage of the beautifully maintained gardens and lawns: there are picnic tables and benches dotted around the estate. Stop at Hometown Bake Shop on the way to the Vanderbilt for fresh and delicious pastries and pies or pack your own picnic and embrace the fresh air and spectacular views of the glistening Northport Bay and Long Island Sound. Families with fur babies can take advantage of DogSpot at the entrance of the Vanderbilt Museum and Planetarium. It's a comfortable and safe dog house for your dog to hang out while you explore the museum and planetarium.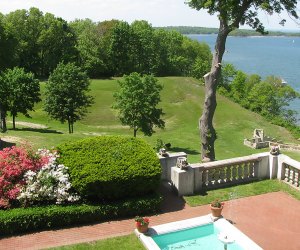 Summertime in the gardens is a beautiful sight. Photo courtesy of the museum
General admission is $8 for adults; $5 for children 12 and under and free for children age two and under; general admission permits visitors to explore the Memorial Wing, Nursery Wing, Habitat and Stoll Wing and Hall of Fishes Marine Museum. There's an additional cost for the planetarium shows and for guided tours. Planetarium shows or mansion tours are $14 for adults; $11 for children 12 and under and free for children age two and under. More ticket details and pricing as well as opening hours are available on the website. Your local library may offer a museum pass for the Vanderbilt Museum and Planetarium that is valid for general admission and planetarium tickets for one show for up to two adults and four children.
Unless noted, photos by the author