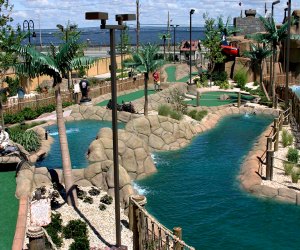 Best Long Island Beach Towns for Families That Aren't in the Hamptons
Long Island has some great beaches…and surrounding these beaches are some really great beach communities. And we're not just talking about the Hamptons, Montauk and the North Fork.
On both coasts of Nassau and western Suffolk counties, there are communities that boast gorgeous seashores and so much more. From bustling boardwalks and marinas to harborfront shopping ... from dining to playgrounds and parks with water views to free outdoor music and events, these beach towns are the perfect stay-cation spots for Long Island families looking for alternatives to the East End.
We've put together a list of a dozen beach communities not on the East End that are definitely worth exploring this summer. These destinations are more accessible to those who live in Nassau or western Suffolk and some even have Long Island Rail Road stations nearby in case you'd rather not drive.
These communities are so charming you could check out a different one each week and still have a few left over to visit come fall.
For more fun things to do, see our Summer Fun Guide and events calendar
Family-Friendly Beach Communities in Nassau
Bayville
Probably the biggest attraction of this North Shore community is its very own amusement park. Bayville Adventure Park has a pirate-themed mini golf course, rock climbing, bumper boats, water slide, an arcade, and much more. Cool off at Charles E. Ransom beach right across the street. You can eat at the park's restaurant, Basil Bay's Beaches & Cream Soda Shoppe, or head to one of Bayville's waterfront dining spots such as Wall's Wharf Restaurant or Breakers Restaurant.
RELATED: The Best Beaches for Families on Long Island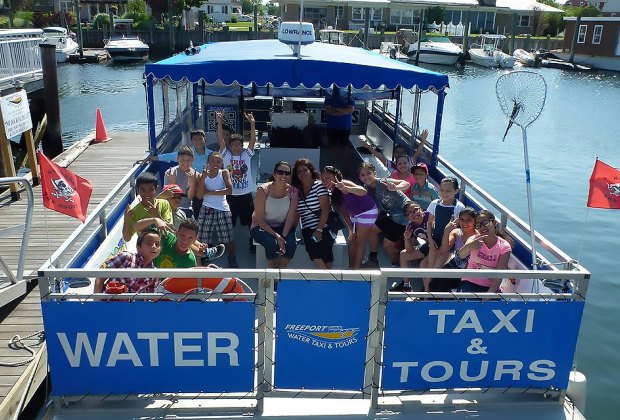 Freeport's water taxi is an ideal way to learn about the wonders of Long Island's waters. Photo courtesy of Freeport Taxi
Freeport
Freeport's famed Nautical Mile is definitely worth visiting in the summer. Restaurants and shops line the street, and Crow's Nest Mini Golf is a perfect stop for families. Afterward, take in the sights of the many boats as you walk along the canal. At the end of your stroll, head to Freeport Water Taxi & Tours, which offers boat rides, including a one-hour day cruise, seal watching tours, sunset cruises, fishing excursions, and more.
Glen Cove
Actually called the City of Glen Cove, this community celebrated its 350th anniversary in 2018. While most beaches are only for Glen Cove residents, Garvies Point is open to all and features a one-mile promenade, waterfront parks, walking and bike trails playgrounds, and much more. The Morgan Park Summer Music Festival offers free concerts in July and August. St. Rocco's Feast, is one of the community's biggest celebrations every summer. Garvies Point Museum and Preserve is another great spot for kids.
Long Beach
Another Nassau County city, Long Beach is known as the "City by the Sea." Accessible by car (parking can be difficult) or the LIRR, this community boasts gorgeous beaches and an awesome 2.2-mile boardwalk, where families can enjoy an arts and crafts fair on summer weekends. The Family Fun in the Park program features FREE activities for kids in different parks throughout Long Beach. Anyone hungry? Head over to the Shoregasboard food truck market, where there's something for everyone.
RELATED: Great Things to Do in Long Beach With Kids

Theodore Roosevelt Memorial Park and Beach in Oyster Bay is near the 26th president's former home. Photos courtesy of Town of Oyster Bay
Oyster Bay
The historic North Shore community claims President Theodore Roosevelt as its most famous former residents. You can tour his beautiful home, known as the Summer White House, at Sagamore Hill National Historic Site. Have a picnic, swing on the swings, or go for a swim at Theodore Roosevelt Memorial Park and Beach. Afterward, stroll down Main Street for shopping and dining. And, come October be sure to visit again for the annual Oyster Festival.
RELATED: Swimming Pools, Water Parks, and Water Slides for LI Kids

Port Washington's Manorhaven Beach Park offers a host of outdoor activities in the summer. Photo courtesy of the Town of North Hempstead
Port Washington
Close to Manhattan (less than 40 minutes by train), Port Washington is a beautiful, waterfront community on the North Shore. For a fun excursion, take a tour of the harbor aboard a Port Water Taxi. Head to one of the community parks on Main Street such as Manorhaven Beach Park and Blumenfeld Family Park. North Hempstead Beach Park, open to nonresidents, has a beach, board ramps, picnic areas, and more.
Family-Friendly Beach Communities in Western Suffolk
Cold Spring Harbor
Although small, Cold Spring Harbor is packed with things to do for families. Its charming Main Street has lots of trendy shops and restaurants. Enjoy lunch at the Gourmet Whaler and some sweet treats at Sweetie Pies on Main. Or bring your own food and head to Cold Spring Harbor Park, where you can picnic along the waterfront. A definite must-see is the Whaling Museum & Education Center, a family-friendly museum that focuses on Long Island's maritime heritage.
Huntington
This community has it all: museums, parks, beaches, and a bustling Main Street packed with restaurants and places to shop, including two venerable toy stores, Little Switzerland Dolls and Cow Over The Moon. Book Revue, a fabulous independent book store, boasts a large children's section. At the heart of the Village is Heckscher Park, which hosts seasonal family-friendly festivals (including the popular Summer Arts Festival), a large playground, and the Heckscher Museum of Art. Gold Star Battalion Beach is open to nonresidents.
RELATED: Great Sprinkler Parks for LI Kids

Enjoy Northport Family Nights in the quaint North Shore community. Photo courtesy of Northport Chamber of Commerce
Northport
Another quaint North Shore community, Northport is admired for its lovely Main Street and beautiful harbor setting. Live concerts are regular evening events during the summer both at Northport Village Park and on Main Street. On select Tuesdays in August, Northport Harbor Family Nights take over as Main Street is closed to traffic, restaurants pull tables out front, and family-friendly games and activities abound. Popular local beaches include Crab Meadow, which features a boardwalk, snack bar, restaurant, and playground. It's also a venue for outdoor movie nights in the summer.
Patchogue
The Village of Patchogue has undergone quite the renaissance these last few years. The South Shore community is a hugely popular spot for families, and no wonder! There's Shorefront Park with its pirate-themed playground, beach, and outdoor concerts. Alive After Five street celebrations feature live music, food, arts and craft vendors, and plenty of activities just for kids. And, don't miss the annual Great South Bay Music Festival. The 2019 event, which includes music, art, and more, takes place Thursday, July 18 through Sunday, July 21.
RELATED: Family-Friendly Boat Rides on Long Island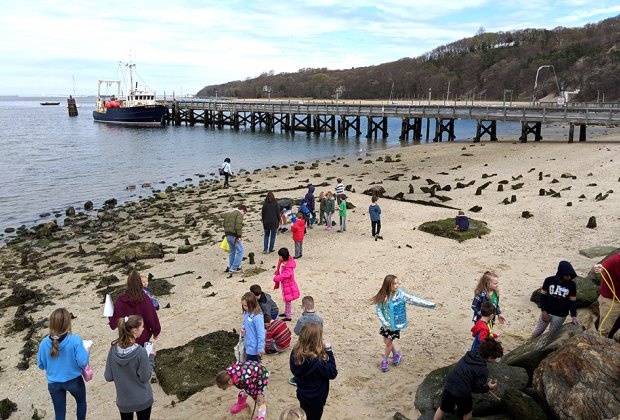 Port Jefferson celebrates Long Island's maritime heritage. Photos courtesy of Long Island Explorium
Port Jefferson
Whether it's by car, train, or ferry, you definitely should get to this picturesque, harborfront community that offers so much for families to do. Jeanne Garant Harborfront Park is a gem, complete with a playground, picnic area, pier, and promenade along the shoreline. Rocketship Park is another popular spot for kids as is the Long Island Explorium, where kids get to explore all things maritime. Up, down, and all around Main Street are plenty of restaurants and shops to satisfy everyone's needs and wants.
Sayville
Perhaps not as well known as nearby Patchogue, Sayville is just as inviting. There is a wonderful downtown that's lined with places galore to grab a bite to eat. Be sure to save room for dessert so you can check out the goodies at Sayville Chocolatier and Sweet Gourmet. Sayville General Store is a charming spot to shop for toys, handmade goods, and more. Head over to the Long Island Maritime Museum for a look at exhibits that tell the story of boating, fishing, and maritime rescue on Long Island. The museum also hosts the community's annual Seafood Festival, which in 2019 takes place Saturday, August 24 and Sunday, August 25. Corey Beach in nearby Blue Point offers calm bay water for swimming and a popular beach playground.
Family-Friendly Beach Communities on Fire Island
Don't forget Fire Island. Take a ferry from Bay Shore, Sayville, or Patchogue, and in 30 minutes, you can be at one of the many family-friendly communities that make up this gorgeous part of Long Island. Head to Ocean Beach, Ocean Bay Park, or Seaview for longer stays, while Kismet and Watch Hill are the perfect day-trip destinations (Watch Hill also is great for camping). Fire Island's western edge is home to Robert Moses State Park, while the eastern edge abuts the beaches of Smith Point County Park. Note: Cars are not permitted on Fire Island, so pick your destination wisely. Likewise, beaches on Fire Island are alcohol- and radio-free. Ocean Beach is considered the most family-friendly community. Elsewhere, Sailors Haven is highlighted by Sunken Forest, a 40-acre collection of beach trees that appears sunken due to the abundance of ocean dunes. Fire Island Lighthouse, one of four lighthouses on Long Island open to the public. is a one-mile walk along the scenic boardwalk from Robert Moses.